Huff Daddy

Week of 03/06/20
Actual headlines from the internets. You Google 'em.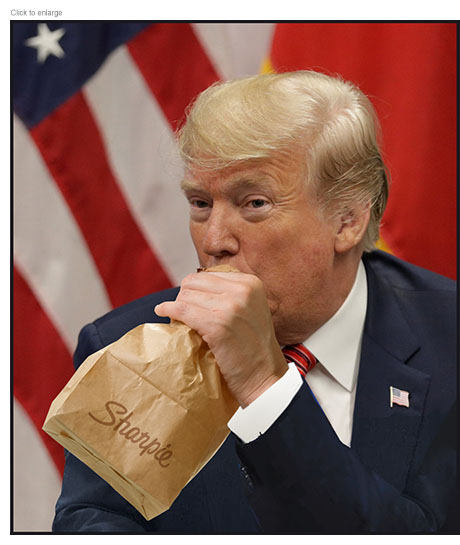 Cases of infection pass 100,000, and the W.H.O. calls for wider action.
–– Sez WHO?
Biden wages likability war on Sanders
–– Like popularity contest vs. COVID-19.
Top NIH Dr. Anthony Fauci says the coronavirus outbreak could be 'one of those things we look back on and say boy, that was bad'
–– 'I mean, not all of us will be around, but…'
Trump Taps Rep. Mark Meadows as WH Chief of Staff, Replacing Mulvaney
–– Like flat keg of Bud Lite.
Trump cancels, then re-reschedules trip to CDC after coronavirus scare
–– Right, wait till outbreak is confirmed.
Air Pollution Pandemic Kills More People Prematurely than Smoking: Study
–– As improper spread of 'Pandemic' decimates headlines.
Air Pollution Vanishes Across China's Industrial Heartland
–– Probably saving more lives than virus will take.
SXSW canceled due to coronavirus after Austin declares 'local disaster'
–– Austin pity limits.
OJ Simpson ridiculed after stockpiling toilet paper and water amid coronavirus outbreak
–– And ill-fitting gloves.
A Middle Eastern restaurant in London keeps getting attacked by a stinking substance that causes nausea and vomiting
–– Makes patrons felafel.
Bond film 'No Time To Die' gets pushed to November due to coronavirus concerns
–– Takes title little too seriously.
Trump is now trying to blame Obama for his coronavirus response
–– Uses time travel scenario from Avengers: Endgame.
Mike Pompeo refuses to deny conspiracy theory that coronavirus is 'hoax created to damage Trump'
–– Prompting infectious laughter.
Coronavirus is Trump's 'Churchill moment' and will seal his re-election, says former aide Steve Bannon
–– 'Never was so much owed by so many to so confused.'
President Trump Says He's Considering Closing Southern U.S. Border as More COVID-19 Cases 'Likely'
–– Will build itsy-bitsy wall to keep virus out.
Mike Pence said smoking "doesn't kill" and faced criticism for his response to HIV. Now he's leading the coronavirus response
–– And ran with Red Death.
Pence says Trump Jr. 'justified' to claim Democrats hope coronavirus 'kills millions'
–– 'Or that Democrats planning to slaughter millions of white babies and blame it on Administration.'
Mike Pence calls Donald Trump Jr.'s inflammatory coronavirus comments an 'understandable' response
–– 'By morons like me.'
'Preppers' have endured years of mockery. Coronavirus fears have given them a booming self-survival business
–– Silver Lining of the Week.
Camilla Parker-Bowles Cracks Coronavirus Joke As She 'Self-Isolates' From Prince Charles
–– Bowles crowd over.
Boris Johnson spokesman insists coronavirus will not delay Brexit transition
–– Or any other ill-conceived plan.
Boris Johnson Says It's 'Tricky' To Answer Whether He Will Change His Baby's Nappy
–– When both so full of shit.
Queen Elizabeth, Prince Philip Reportedly Prepares For Final Years
–– So which one?
Queen's Cousin Princess Alexandra Reportedly Described Prince Charles As 'Gruesome' Via Royal Letter
–– Verifying they've met.
Trump said that if he's reelected he'd cut entitlements such as Social Security and Medicare to shrink the trillions in national debt
–– And shoot cute dog in middle of Firth Avenue.
Six former wrestlers say Rep. Jim Jordan knew about abusive OSU doctor
–– It's a lock.
Louie Gohmert And Steve King Take To House Floor to Suggest The Deep State Killed a Man
–– Like Sue Grafton wrote A Is For Asshole.
Trump speaks with senior Taliban leader by phone, a first between a U.S. president and insurgent force since Afghan war began
–– Promises troop withdrawal if they'll put fatwah on Biden.
Director describes interviewing Bill Clinton about Lewinsky
–– 'Awk-ward!'
Woodpecker dies in bizarre pecking accident in Alabama. Photo shows final moments
–– Who gave pecking order?
How beef eaters in cities are draining rivers in the American West
–– Thirsty after all them thar steaks.
Swamp Wallabies Can Get Pregnant While Pregnant
–– Why babies born with own pouches.
Why passenger pigeons went extinct a century ago
–– Not enough leg room.
The Chicago Field Museum Celebrates the Work of African American Taxidermist Carl Cotton
–– Get stuffed.
Artist Sharona Franklin Displays a Decomposing Jelly Cake—and Explores Fresh Forms—in Her New Solo Show
–– Oy, Sharona.
'Star Wars' Outrage Grows After 'Rise of Skywalker' Novel Reveals Truth About Rey's Father
–– Rey of hopeless.
'I quit!': 'Masked Singer' reveal of eliminated contestant Taco shocks panel
–– Taco billed.
Dogs' Cool, Wet Noses May Be Able to Detect Heat
–– Here, Rex, sniff this burning stick.
Three Fourths of Dogs Are Angst-Ridden--and Owners May Be Partly to Blame
–– Keep shoving hot objects in nose.
Emotional support animals can endanger the public and make life harder for people like me who rely on service dogs
–– Particularly comfort badgers.
Brain regions found in rats that drive stress response
–– From scientists sticking probes in head.
Rats avoid harming other rats. The finding may help us understand sociopaths.
–– Or mice, at least.
The Best Irish-Inspired Dinners You'll Make All Year Long
–– All include six-pack side.
Jared Kushner sells shares worth $25-$50 million in company benefiting from tax break he pushed
–– Coincidence of the Week.
Dubai ruler kidnapped and detained two of his daughters, UK court rules
–– For their birthdays.
English Philosopher's Dressed-Up Skeleton Goes on View in New Glass Display
–– If you have bone to pick.
Netanyahu: So Tantalizingly Close, But No Cigar
–– Like tip snipped off.
Israel Hits Political Impasse Again As Netanyahu And Allies Short Of Majority
–– And scruples.
What Autumn de Wilde's 'Emma' Gets Right About Jane Austen's Irony
–– Fact it had smaller domestic opening than version released 24 years ago?
I Was A Middle-Class Drug Mule
–– Smuggling to make ends meet.
Do We Really Need to Send Humans into Space?
–– Some.
Mexico to illegally destroy protected mangrove trees to build $8bn oil refinery
–– And the U.S. is paying for it!
New Species Discovered in Earth's Deepest Trench Has Plastic in Its Body
–– From pleopod replacement surgery.
A Mayor on Easter Island Is Up in Arms After a Runaway Pickup Truck Knocked Over a Sacred Statue
–– Don't get big head about it!
Man Accidentally Shoots Girlfriend in Leg While Paying Dinner Bill
–– Maybe she should've offered to leave tip.
NASA's Space Lettuce Is Safe, Paving Way for Crops on the Moon and Mars
–– And salad bars on Venus.
AOC blasts Democrats who won't back a Sanders nomination
–– Insists, 'winning isn't everything.'
David Frum Says Sanders Supporters 'May Forget to Pay Their Cable Bill'
–– Dude, who has cable bills when you can pirate like whatever?
'Electability' Is Now Code for Not Wanting to Vote for Bernie
–– Or: He'd make an awful President.
Friend describes 'terrifying' moment Princess Latifa was kidnapped, after unprecedented ruling against father
–– Then she became Queen and rap posse protected her.
Duvet salesman dubbed the 'real David Brent' goes viral on Twitter
–– Cold comforter.
'AJ and the Queen' Canceled After One Season at Netflix
–– Knock down, drag out.
Chrissy Teigen Says She's Been Tortured By Recurring Nightmare, Wakes Up In Sweat
–– No one, including John Legend pretending to listen, gives fuck.
The young conservatives who believe Greta Thunberg and want to bring Republicans with them
–– Consistent in their delusions.
The Great Barrier Reef Is Heading for a Mass Bleaching of Unprecedented Scale
–– Will see if blonds have more fun.
Coral reefs in Turks and Caicos Islands resist global bleaching event
–– Love natural look.
Summers Now a Month Longer as Climate Change Bites in Australia
–– Includes 6 weeks of burning?
Everyone's Distraught Over The Way "Grey's Anatomy" Explained Alex Karev's Departure, And Here's Why
–– dis·traught /dəˈstrôt/ adjective –– deeply upset and agitated?
A black hole 'burp' devastated a distant galaxy cluster
–– No 'excuse me?'
Suicide Squad 2 Takes Harley Quinn on Quite the Journey Teases James Gunn
–– Back from disaster of Birds of Prey?
Ben Affleck Nearly Quit One Of His Biggest Movies, But Was 'Too Embarrassed' To Do So
–– We were thrilled to quit Pearl Harbor after 15 minutes.
Index card found in sunken ship helps implicate former Nazi concentration camp guard living in Tennessee
–– Shouldn't have included Zylon B gas on shopping list.
Vatican to open controversial WW2-era files on Pope Pius XII
–– In folder marked 'Dear Adolf.'
Bars near one Florida university are giving women a secret way to alert bartenders if they feel unsafe on a date
–– Formerly secret.
Ben Carson gets into testy exchange with Democratic lawmaker over transgender access to homeless shelters
–– Wasn't testes exchange.
Moderate Drinking Tied to Lower Levels of Alzheimer's Brain Protein
–– Finally some good news about dementia!
Taika Waititi to Tackle 'Charlie and the Chocolate Factory' for Netflix
–– Will he wank 'er?
Chrissy Teigen Candidly Reveals She Has Breast Implants — But Says She Wants 'Them Out Now'
–– Points to door, tells them 'Git!'
Noose once placed on locker of shooter at Molson Coors, company says
–– Well, that explains everything.
Popeyes, McDonald's, And Wendy's All Have Fish Dishes On Their Menus That You Can Enjoy During Lent
–– If you have no taste.
A 95-year-old man has been 'working' at his local 7-Eleven for decades. He's paid in coffee.
–– Equal packets for overtime.
'I'm done': Spike Lee refuses to return to New York Knicks over 'harassment' by owner
–– He's gotta have had it.
Nicolas Cage Holds Hands with New Girlfriend in N.Y.C. After Visiting His Tomb Together
–– In his, hers matching shrouds.
Brit Hume Tweets Not One, But Two Screenshots With 'Sexy Vixen Vinyl' Tab Open in Browser
–– Was obviously researching Mike Pence rubber fetish.
Eric Trump says father held rally for 30,000 in venue only capable of fitting 8,600
–– So now we're making fun of fact he can't count? Shame.
Jason Statham abruptly quits Kevin Hart movie 'weeks before shooting'
–– Always good at dodging bullet.
Family films had as many women in lead roles as men for the first time, new study finds
–– While maintaining level of utter mediocrity.
Los Angeles County DA's husband points gun toward Black Lives Matter protesters
–– On their front porch, mind you.
BMW redesigns its iconic logo
–– BFD.
Venezuela's Maduro urges women to have six children
–– With him!
Pornhub to Release First Ever Non-Adult Film, About Black Lesbian Strip Club Culture
–– Expect soft opening.
Ronan Farrow Cuts Hachette Relationship Over Publisher's Decision To Release Woody Allen Memoirs
–– Chop Hachette.
Hachette Says It Won't Publish Woody Allen's Book
–– Bury Hachette.
Lori Loughlin's daughter Olivia Jade is getting back into influencer marketing on Instagram, as her parents face charges in the college-admissions scandal
–– Too late to get on her reform school application?
Joe Biden may have overtaken Bernie Sanders as the Democratic frontrunner, but his 'anti-millennial' stance has left him with half as many young voters as Sanders
–– Three-quarteres of which won't go to polls.
Trevor Noah: Voters must now choose between 'an old man, or an even older man'
–– Gee, that Noah really keeps zingers coming.
Senate Republicans promise to release Biden probe ahead of election to 'answer questions' for primary voters
–– Mostly 'is he bigger crook than Trump?'
Billionaire Bloomberg who pumped $400 million into race says he achieved the impossible after winning American Samoa
–– Spending that much and getting only 9 delegates.
Super Tuesday: Bloomberg loses badly then rolls out Trump jokes
–– Were Eric, Don Jr. there on tricycles?
The end of Bloomberg: How the most expensive primary campaign in history failed to launch
–– For the love of Mike!
Warren assessing campaign's future after poor showing on Super Tuesday
–– She wistfully reflects: 'Whatever happens we'll always have Bloomberg.'
Elizabeth Warren, Once a Front-Runner, Drops Out of Presidential Race
–– Elizabeth doleful.
Elizabeth Where Will Warren's Delegates Go? We Talked to One
–– Indigo Girls concert?
Elizabeth Warren Could Never Escape The Baggage Of Being A 'Female Candidate'
–– Remember how it stopped Hillary from getting nomination?
Elizabeth Warren's exit interview is a warning for the dirtbag left
–– Who, Sanders?
Tulsi Gabbard is still running for president
–– Plaque still causes tooth decay.
Majority of Russians Do Not Want a Woman to Be President
–– Sorry, Tulsi.
Trump gloated after his former Attorney General Jeff Sessions failed to win the Alabama GOP Senate primary outright, blaming it on disloyalty
–– On bright side, he stayed out of prison.
Susan Collins declines to say whether she'll support Trump
–– Takes another courageous stance on fence.
Tennessee State Prison where 'The Green Mile' and 'Walk the Line' were filmed was severely damaged by tornado
–– Knicks in a twister.
Mickey finally has his own ride at Disney World
–– With Minnie grinding in lap.
Chris Matthews retires from MSNBC after string of recent controversies
–– Echo of grating voice expected to interrupt guests for up to year.
James Lipton, Creator and Host of 'Inside the Actors Studio,' Dies at 93
–– God, at pearly gates: "Next."
'Judge Judy' is coming to an end after 25 seasons
–– By mercy rule.
Police find a fully grown alligator living in the basement of an Ohio home
–– Homeowner charged with Gator Aid.
Half of the world's beaches could disappear by the end of the century, study finds
–– Or 'be relocated'?
Comedian changes name to Hugo Boss to protest brand's treatment of small businesses
–– You go, boss!
Jack Welch, G.E. Chief Who Became a Business Superstar, Dies at 84
–– Welched on deal.
Spandex, Soccer Kits, and Extreme Pointy Shoulders Seen at Balenciaga
–– And extreme pointy heads.
Texas police officer trying to recruit cops to alleged anti-government group preparing for 'full blown civil war', says report
–– Full-blown cover.
British Prime Minister Boris Johnson, 55, and Carrie Symonds, 31, are reportedly engaged and expecting a baby
–– Guess he forgot to Brexit.
Bernie Sanders Hit With Cease and Desist from Flavor Flav
–– Flavor extract.
Public Enemy fires Flavor Flav after dispute over Bernie Sanders rally
–– Punch clock.
Vegan mother 'humiliated' by KFC staff who served her chicken and then 'laughed at her'
–– Can she hear us laughing at her?
North Korea fires two unidentified projectiles, South Korea says
–– From both ends of Kim.
Amy Klobuchar will end 2020 presidential campaign and endorse Joe Biden
–– Amy wind downs.
Pete Buttigieg announces decision to suspend campaign while in South Bend
–– Sus-pend Indiana.
Hashtag 'ThankYouPete' trends on Twitter after Buttigieg suspends presidential bid
–– Silly, but I judge.
Judge says Ken Cuccinelli unlawfully appointed to lead US immigration agency
–– Coochie Coochie coup.
Javelinas Like This? Baby, They Were Born to Run
–– Worst Springsteen-inspired headline of last 10 years.
Elizabeth Warren's campaign announces big February fundraising haul and predicts an unsettled race going forward
–– So pathetic it qualifies as charitable contribution on taxes.
Why Elizabeth Warren thinks she can still win the nomination
–– She smokum hash pipe.
Andrew Yang's campaign manager had zero political experience. This is how he built an insurgent candidacy that outlasted powerful rivals.
–– And more tips from losers.
McDonald's is giving away free Egg McMuffins just as Wendy's launches breakfast
–– Many will launch free McMuffins by lunch.
Actresses walk out of 'French Oscars' after Roman Polanski wins top awards
–– No Roman Holiday.
Adam Levine apologizes after fans criticize Maroon 5's performance at Viña del Mar festival in Chile
–– Got Chile reception.
Welcome to London's rental market, where $2,000 a month gets you a bed beside the toilet
–– Additional $500 to use it.
Undecided voter asks Biden 'what is your fire?'
–– Produces Zippo lighter.