Terms of Infection

Week of 02/28/20
Actual headlines from the internets. You Google 'em.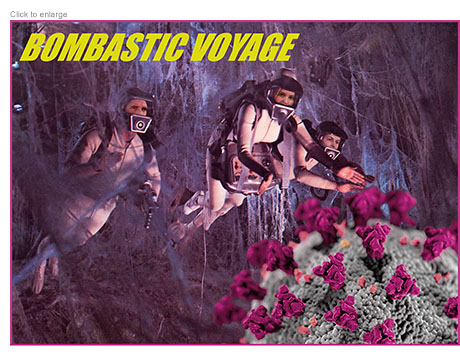 Trump puts Pence in charge of US coronavirus response
–– Looked most convincing just saying, 'No.'
Dow falls another 1,000 points
–– Trump vows to sue Dow.
Pence's history managing HIV crisis in Indiana under scrutiny now that he's overseeing coronavirus
–– Can't he ignore it away, too?

Elizabeth Warren on Mike Pence leading the coronavirus response: 'I cannot think of a worse person'
–– C'mon, Liz, that Angel of Death nurse is still out there.
Trump is reportedly 'furious' that US stocks have tanked on coronavirus fears — and he's accusing the 'fake news' media of throwing fuel on the fire
–– Should throw fool on fire.
Trump claims coronavirus is 'going to go away' despite mounting concerns
–– Like many of the infected.
Iran says official who played down virus fears is infected
–– Wouldn't it be just awful if that happened in US?
Iran to Sentence Citizens Who "Spreads Rumors" about Coronavirus to Flogging, Three Years in Prison
–– Things obviously tense with tenses.
Rush Limbaugh is under fire for claiming the coronavirus is a 'common cold' being 'weaponized' to bring down Trump
–– Wasn't he just diagnosed with athlete's foot?
Trump Is Making Coronavirus Crisis All 'About Himself,' Says Psychiatrist
–– Not surprising he identifies with life-threatening infection.
Hundreds of guests in coronavirus-hit hotel in Tenerife ignore quarantine to lie on sunbeds
–– Bacteria get nice tan.
Wuhan-born 'Mulan' star talks coronavirus: 'I'm really hoping for a miracle'
–– Like mewlin' helps.
Most Coronavirus Cases Are Mild. That's Good and Bad News.
–– Death tolls do drive clicks.
Horror Director David Cronenberg Says Coronavirus is "Great Stuff" for Science Geeks
–– "Just wish it could make heads explode."

Moscow police seize a fully-functional Batmobile replica
–– Putin in Riddler costume gloats mercilessly.
Black Crowes Join List of Musicians Who've Said: 'Shut the F--- Up'
–– Crowd chants same in response.
'Locke & Key' Fans Think Finale Gives a Big Clue to the Nature of the Keys
–– Feel they understand Parrot Heads a little better.
The FBI Just Arrested a Bunch of Neo-Nazi Atomwaffen Members
–– Forcing thrash metal band to cancel tour.
What Did Donald Trump Eat in India, and When Did He Eat It?
–– Filet-o-fish Biryani with Taco Bowl Vindaloo.
Beanie Feldstein Joins Grey's Anatomy as an Eager New Intern
–– Who prescribes Beano.
Why Aren't There Any Ugly People on Netflix's 'Love Is Blind'?
–– Because TV execs aren't.
Elisabeth Moss and Fred Armisen Both Agree That He's a "Terrible" Husband
–– And each other lousy actors?
'Invisible Man' Male Director Asked Elisabeth Moss to Correct His Script, Ensure Female POV
–– Offered to undergo lasik surgery to correct male gaze.
Snooki, JWoww & Deena Say Angelina's Wedding Was 'Beautiful' After Bride Says She Wants 'Redo'
–– Another boob job?
Athena Calderone Loves Sky Ting and Matcha
–– Well, Duh!
Elon Musk's Starlink Satellites Ruins Space Photos, Says Russia
–– Photobombs star selfie.
Florida Man Tries to Burrow Into Gopher Tortoise Nest to Hide From Police
–– They demand: 'Come out of your shell with your hands up.'
Monty Python And The Foreign Object: Vets Pull Something From Snake -- And Keep Pulling
–– Was it Dead Parrot?
Better Call Saul and the Pleasures of Patient TV
–– Mental patient?
'Wheel of Fortune' host Pat Sajak shocked by contestant's impressive, nearly blind puzzle solve
–– He'd poked her in both eyes.
The new Emma movie is all about symbolic Regency clothing sex
–– Is that why it opened to $234K?
Steve Bannon Hosts a Dinner of International Populist Leaders
–– How many ways can you prepare bullshit?
Earth Has Had a Secret Second Moon for Months Now
–– And never told first moon.
US government fines Wells Fargo $3 billion for its 'staggering' fake-accounts scandal
–– Wells, Fark you.
'Do not underestimate the scale of this protest': Greta Thunberg protest in Bristol set to attract tens of thousands
–– She's really getting to sound like Trump.
More people would join Greta Thunberg to protest climate change if they could afford it
–– The embarrassment?
As Gulf swallows Louisiana island, displaced tribe fears the future
–– Gulp of Mexico.
The Sea Is Getting Warmer. Will the Shrimp Get Louder?
–– As they sing Hot, Hot, Hot?.
As Glaciers Melt, a New Island Popped Up in Antarctica
–– Freeing army of giant atomic monsters!
The Sahara used to be full of fish
–– And might soon be again.
Polar bears turning to CANNIBALISM because of climate change
–– In bite-sized Klondike Bars.
Oldest Known Cave-Dwellers Are 99-Million-Year-Old Cockroaches
–– Moved into Roach Motel, never left.
Why human feet evolved arches—and what happens if you lack them
–– You'd have nothing but beat cops.
Walmart is quietly working on an Amazon Prime competitor called Walmart+
–– Promises next day delivery even if you had to move trailer in middle of night to new park.
A TikTok influencer 'almost died' after getting trapped under the ice during stunt video — then he did it again
–– Should've kept trying until he got right.
Richard Stanley: 'Audiences don't know if they should laugh, cry or be utterly horrified by Nic Cage'
–– Definitely laugh.
Pope Francis 'sick' a day after meeting masked Ash Wednesday audience
–– Devil masks freaked him out.
Oprah Winfrey and Gayle King reveal to Ashley Graham that they've both had one-night stands
–– Simultaneously as it were?
Jackass – Where are Bam Margera, Johnny Knoxville, Steve-O et al now?
–– al's laid to rest after botched stunt.
Snyder Cut of 'Justice League' Is a 'Terrible Thing,' 'The Invisible Man' Director Leigh Whannell Says
–– You mean 'another terrible thing.'
Hammer-weilding trans woman escapes prison after judge hears there was no way to confirm her gender
–– Police report misspelling didn't help.
The wife of Supreme Court Justice Clarence Thomas is trying to purge the White House of dissenters. She's been boosting Trump for years.
–– Steals toiletries whenever she stays at properties.
Betsy DeVos orders probe after USA TODAY finds college evidently without faculty, students
–– Is Trump U back?
Poland names new head of Jewish museum as tensions rise
–– Awkwardly redubbing position Führer. 
Anheuser-Busch CEO forgoes bonus as the brewer gets clobbered
–– Blasted, hammered, smashed, wrecked.
Human remains found in lion enclosure at Pakistani zoo
–– Along with 5 rupee tip.
Former Baltimore mayor sentenced to 3 years in children's book fraud scheme
–– Fairytale ending.
'Hunters' star Al Pacino names his favorite comic-book hero, and the answer will surprise you
–– The Incredible Ham.
Killed by a cartel. Betrayed by his own? US re-examines murder of federal agent featured in 'Narcos'
–– Kinky Camarena plot.
20-foot waves may be coming to the Great Lakes
–– Hang ten, hosers!
Taylor Swift is literally 'The Man' in new music video
–– The one who can't sing.
Shark Tank host loses $400,000 in a scam
–– Duped by email from Nigerian land shark.
A woman took 550 times the usual dose of LSD, with surprisingly positive consequences
–– How high was this reporter?
Erdogan rules out even 'smallest step back' in Syria's Idlib
–– Wants Turkey to march headlong into death.
Tensions escalate between Kremlin and Ankara after dozens of Turkish troops killed in Syria
–– Occupational hazard.
'Oh my gosh': US ambassador stunned by report of attack on NATO ally Turkey
–– Press briefing her.
Louisiana governor: Judge should resign after racial slurs
–– Resign with racist talent agency.
South Carolina church shooter Dylann Roof staged death row hunger strike
–– Give him chance to save state some money.
Gambia Admits 'Shortcomings' After Lifting Ban on Media Outlets
–– In long game of crushing dissent.
A rare, 'cryptic' rainbow snake was spotted in a Florida forest for the first time since 1969
–– Observer couldn't make head or tail of it.
Facial-Recognition Company That Works With Law Enforcement Says Entire Client List Was Stolen
–– Looks familiar.
A Wrongfully Convicted Kansas Man Who Spent 23 Years in Prison Is Awarded $1.5 Million
–– Hey, $65K a year plus all expenses? Nice work if you can get it.
Congress warns Pentagon not to move money to fund Trump wall
–– But may physically build structure with stacks of $20s.
Trump tightens his grip on intelligence
–– With tiny, heavily-greased fingers.
A Florida woman is being accused of zipping her boyfriend into a suitcase and leaving him to die
–– Pack rat.
Ronny Jackson, ex-White House doctor, says he put cauliflower in Trump's mashed potatoes to improve his diet
–– But Trump alerted when Royal Taster Stephen Miller spit them up.
Trump campaign files libel lawsuit against The New York Times over 2019 opinion piece on Russia
–– Cites Salman v. Khashoggi as precedent.
Trump defends suing NY Times For Opinion Piece
–– "I'm a wannabe dictator who hates criticsm and doesn't understand the Constitution."
Trump mocks intel finding Russia helping reelection as Democratic 'disinformation'
–– As in 'dis information is scary.'
ABC News suspends correspondent for remarks that were secretly recorded by right-wing group
–– In which he accurately identified Trump as 'dick.'
Michael Avenatti is out of solitary confinement, his lawyer says
–– General population in danger of getting sucked into spurious lawsuit.
Court says Trump administration can withhold money from NYC, 7 states in 'sanctuary cities' fight
–– Shelter skelter.
Ann Coulter may have just given the American people 'the best reason to vote for Elizabeth Warren' yet
–– The only.
Warren thanks Cherokee Nation citizens for holding her 'accountable' for falsely identifying as Native American
–– Who gets credit for exposing all her other bullshit?
They Saw Themselves in Elizabeth Warren. So What Do They See Now?
–– Empty pantsuit?
Warren unloads on Bloomberg as Dem debate becomes more personal
–– Like remake of Get Shorty.
James Carville Says Warren 'Hates' Bloomberg 'More Than She Wants To Win'
–– Animus Prime.
Bloomberg says he'll release three women from NDAs if they request it
–– Currently being held in broom closet at Bloomberg HQ.
Earth has a new mini-moon -- but it's only temporary
–– Bloomberg pulled up his trousers.
Bloomberg Says President Doesn't Need to Be a 'College Debater-In-Chief'
–– Nor 'Deer-in-Headlights.'
Pete Buttigieg called Mike Bloomberg's stop-and-frisk record 'racist' before admitting he had a 'lot of issues' with policing in South Bend
–– Like rice cooker available in ivory calling china teapot white.
Buttigieg is unlikely to win any states on Super Tuesday. Here's his strategy to stay alive.
–– Eating, breathing, sleeping.
George Clooney 'saddened' by allegations of Nespresso child labor
–– Innocent kids were forced to write those idiotic ads?
Queen Reprimanded And Gave Almighty 'B***ing' To Prince William: Report
–– Beating? Boofing? Batwing?
Queen Elizabeth feels 'sensitivity' toward Prince Harry, royal historian says
–– Like open sore on bum.
Prince Charles Praised After Sending 'Rare Seeds' To Svalbard Seed Vault
–– Wanked into flower pot.
Prince William Reportedly Held 'Secret Meetings' In Preparation To Take Over Prince Charles' Role
–– Lots of exercises pretending to be signpost.
If you drive an expensive car you're probably a jerk, scientists say
–– Probably?
Hot Pockets heiress Michelle Janavs sentenced to 5 months imprisonment in college admissions scam
–– For Deep Pockets.
UCLA mom pleads guilty in college admissions case after spending 5 months in Spanish prison
–– Was that for child's potential study abroad?
Trump calls for Sotomayor, Ginsburg to recuse themselves from 'Trump-related' cases as he has a lot at stake before the court
–– And any judge who won't swear under oath they voted for him.
As Domestic Terrorists Outpace Jihadists, New U.S. Law Is Debated
–– Jihadists lagging, weighed down by bomb vests.
Patrick Stewart Explains How He And Ian McKellen Became Inseparable
–– Holding tube of Gorilla Glue.
Arkansas man tried to blow up SUV in Pentagon parking lot, feds say
–– After 5-point turn.
Katy Perry thanks first responders after her 'collapse' on 'American Idol'
–– Where were PR responders for career 'collapse.'
Marijuana use is rising sharply among seniors over 65, study says, and there are serious risks
–– Forgetting they forgot where they left keys?
Another University of Oklahoma professor uses the N-word
–– For those keeping score at home.
Disney is adding Impossible to its menus
–– Not more Incredibles?
Freeman Dyson, Visionary Technologist, Is Dead at 96
–– Free man dies, son.
World's oldest living man has died at age 112 in Japan
–– It was Nippon tuck at end.
Lego minifigure creator and 'unsung hero' of the toy industry Jens Nygaard Knudsen dies
–– Buried in coffin made of 30,000 interlocking blocks.
Hosni Mubarak, Egyptian strongman undone by the Arab Spring, dead at 91
–– Buried under pyramid made of 24 interlocking blocks.
Inspiration for the film 'Hidden Figures,' is dead at 101
–– Counted out.
Katherine Johnson's Math Will Steer NASA Back to the Moon
–– She took calculator to grave?
Five hikers rescued on their way back from 'Into the Wild' bus in Alaska
–– On 'Into the Dumb' trail.
What Reagan and Chamberlain can teach Trump about Iran and North Korea
–– Absolutely nothing –– no one can.
House candidate in Arizona suspends campaign after heroin overdose
–– Not ready to get back on horse.
'Guilty as charged': Schumer admits to spending over $8,600 on cheesecake
–– Mostly pin-up shots of Bettie Page.
Barneys, Fabulous Department Store for Movie Stars, Dies at 97
–– At a loss where to buy $24,000 tote bags, $700 sunglasses.
Bernie Sanders just unveiled how he'll pay for his biggest plans, from Medicare for All to erasing student debt
–– Infinity Gauntlet.
Sanders says idea he can't work with Republicans is 'total nonsense'
–– Which was subject of last bill he got enacted.
'Nobody Likes' Bernie Sanders. It Doesn't Matter
–– His total nonsense does.
Putin Would Hate President Bernie Sanders
–– Then we'd finally have something in common.
Buttigieg still leads Sanders after Iowa caucus recount
–– Sanders rails at 1%.
"This Guy Is Pretty Far Out There": How Bernie Could Lose
–– Get nominated.
Bernie Sanders says it's time to stop ignoring 'the suffering of the Palestinian people'
–– Because he's afraid he'll get too many Jewish votes.
Chris Matthews Apologizes For Comparison Of Bernie Sanders' Nevada Win To Nazi Invasion Of France
–– Meant Poland.
Pelosi urges Democratic unity amid Sanders' campaign surge
–– 'Just grab each others asses tight and pray.'
Michelle Obama petitioned to run as vice-president to stop Bernie Sanders, report says
–– Um, hubby can run again for president.
In His Own Words, Joe Biden Was 'Seduced by Real Estate'
–– 'Look, it was this cute little half acre and all's I did was massage her dirt and maybe smell her lawn.'
Harvey Weinstein Says "But I'm Innocent" After Guilty Verdicts In Rape Trial; Sentencing Set For March 11
–– Judge yells, 'Cut!'
Harvey Weinstein was hospitalized for chest pains and heart palpitations after his conviction, his attorney says
— Beating off?
Harvey Weinstein Is Going to Prison. But That's Just a Starting Point.
–– Can podcast be far behind?
Weinstein's acquittal on some charges may hamper appeal of sex crimes conviction
–– Oh, many women still find conviction very appealing.
The Secret to Beauty: A Stranger's Hands Inside Your Mouth
–– Title on page one of Miramax intern's handbook.
Harvey Weinstein Is Reportedly Under Close Watch While In Custody For Fear Of An 'Epstein Incident'
–– Can't experiment with autoerotic asphyxiation?
Jeffrey Epstein accuser claims he killed himself to avoid paying victims
–– So the bastard was cheap, too!
Virus concern grips Washington as Trump dispenses optimism
–– Like Little Miss Scumshine.
Sotomayor issues scathing dissent in Supreme Court order that could reshape legal immigration
–– Scathing on thin ICE.
NASCAR driver Ryan Newman says Daytona 500 crash left him with a head injury
–– Or 'hard infamy.'
Vera Bradley wants to make paisley cool again
–– Again?
'I want to be brave like you': 9-year-old asks Pete Buttigieg to help him tell the world he's gay
–– Out sourcing.
Clint Eastwood backs Mike Bloomberg, wishes Trump would be 'more genteel' in office
–– Raise his pinkie when he violates oath of office.