Open-and-Shot Case

Week of 01/24/20
Actual headlines from the internets. You Google 'em.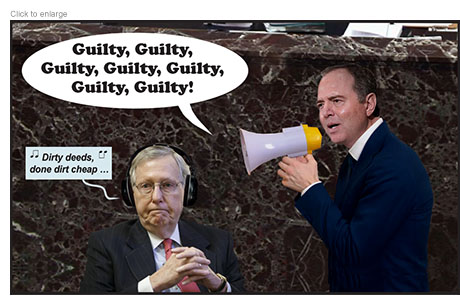 Schiff warns Trump 'will stop at nothing to retain his power'
–– We're already there.
Trump Has an Iran Strategy. This Is It.
–– Covfefe.
Schiff Makes Stirring Case for Why Trump Must Be Removed From Office
–– With soggy paper straw.
Trump says his side in impeachment trial has 'all the material'
–– Made from whole cloth.
Senate Republicans need to end this trial before Donald Trump confesses to anything else
–– Might burst into chamber, shoot somebody, claim self-defense.
New documents show Trump officials laid the groundwork for Ukraine's aid freeze the night before his call to Zelensky
–– The night they raided Zelenskys.
Joe Biden won't testify in Trump's impeachment trial even if it means John Bolton will
–– Quit pro quo.
Sekulow accuses Schiff of taking Hamilton quote out of context in Trump impeachment trial
–– Takes rap?
ABC News' George Stephanopoulos cuts short Trump lawyer Q&A with throat-slash gesture
–– Only Fox would report and wish he had knife.
Instead of airing the impeachment trial, Fox News fed viewers pro-Trump opinion in prime time 
–– Through catheters.
U.S. senators on 'digital detox' as they hear Trump's impeachment trial
–– Must keep fingers out of ass.
Matt Gaetz sees 'brush back' in being kept off Trump's impeachment team
–– We see 'bean ball.'
1 in 3 GOPers think Trump did something illegal. But...
–– 1 in 3 of own actions break law.
'I could've f------ gone!': Trump blamed John Kelly for his own decision to bail on a WWI memorial visit, according to a new book
–– And for bone spurs that kept him out of Nam.
Why Does an Accused Sex-Predator Priest Say He's a 'Senior Vice President' in Rudy Giuliani's Consulting Firm?
–– Sounds better than 'Procurer.'
Rudy Giuliani says he's 'heartbroken' following Lev Parnas accusations
–– 'And I'd like to break his heart after tearing it from his chest.'
Giuliani Throws Parnas Under the Bus: "I Feel Sorry For Him"
–– As tires crush sternum, skull.
Antonio Brown granted bail after turning himself in to authorities, ordered to get mental health evaluation
–– Unlikely to receive pass.
Officials believe they've found the 'Pillowcase Rapist.' The suspect was building a 'dungeon' beneath his home, officials say
–– Refuse to discuss condition of linen closet.
Nancy Drew seemingly has been killed off in a comic, just in time for her 90th birthday
–– Hardy Boys prime suspects.
Comedian Pete Holmes Unknowingly Tells Malia Obama To 'Shut The F**k Up' During Set
–– Holmes slice.
Supreme Court Poised to Overturn 38 State Constitutional Amendments on Church-State Separation
–– And appoint Jesus 10th Justice.
How Saudi Arabia and the National Enquirer are linked to the alleged hacking and blackmail attempt against Jeff Bezos
–– Pecker and Pecker.
Saudi Crown Prince Mohammed bin Salman reportedly taunted Jeff Bezos with a sexist meme in a sign that the crown prince had access to the Amazon CEO's private messages
–– Was sexism that really smarted.
Intimate photos of Jeff Bezos and Lauren Sanchez came from messages she sent to her brother, who gave them to the National Enquirer, report says
–– Sending intimate photos with married boyfriend to brother 'totally normal.'
U.S. and Russia dueling roadblocks create friction near Syria's oil and gas
–– Are they rubbing boom gates together?
Jack Van Impe, End Times Preacher on TV, Is Dead at 88
–– Dream came true.
Terry Jones, Monty Python Member and Director, Dies at 77
–– Mr. Creosote blows.
Jim Lehrer, Longtime PBS News Anchor, Is Dead at 85
–– Dropped anchor.
Singer-songwriter David Olney dies on stage at age 71
–– Couldn't have been first time.
'Joe Exotic' Sentenced to 22 Years for Shooting Five Tigers, Plotting to Murder Animal Rights Activist
–– And generally living up to name.
Cuba Gooding Jr.'s groping trial will feature two witnesses testifying about uncharged alleged conduct
–– Gooding two choose.
Justin Trudeau finds himself deep in doughnut drama after photo takes off online
–– Amongst certain holes.
(Almost) Everything You Know About the Invention of the Vibrator Is Wrong
–– What's the buzz?
We're All in the Bathroom Filming Ourselves
–– Does that explain all the shit on social media?
Radioactive dinosaur skull helped researchers make new discovery
–– X-ray technology may have existed millions of years ago?
Sea foam floods Spanish town
–– Creates beautiful espuma for chef's gazpacho.
Some Mount Vesuvius victims suffered slowly and one victim's brain turned to glass, new research says
–– Cleared his mind.
Voice of a 3,000-year-old Egyptian mummy reproduced by 3-D printing a vocal tract
–– Sounds just like Elaine Stritch.
First US case of Wuhan coronavirus confirmed by CDC
–– Wuhan look.
Snakes could be the source of the Wuhan coronavirus outbreak
–– Or Mexican beer.
Doberman hurls snake 'into another dimension' after owner got scared
–– Had read snakes could be source of Wuhan coronavirus outbreak.
There's a Perfectly Good Reason to Mass-Produce Snake Venom
–– Yeah, Wuhan virus!
Longest North American Snake Breeds in Alabama for First Time Since 1950s
–– Took 60 years to become fully erect.
Ancient Bat Guano Reveals Thousands of Years of Human Impact on the Environment
–– Can't make this shit up.
Pig Bungee Jumping Stunt In China Prompts Global Outcry
–– Squeals of protest.
Could You Bungee-Jump Using Only Magnets?
–– Editor who assigned this, please try.
The night the iguanas fell: Cold snap chills Florida, and lizard meat is up for sale
–– Plot of Tennesse Williams' never-to-be-realized sequel.
Goofy-Eyed Husky Rejected By Breeder Finds Love And Internet Stardom
–– Was not Goofy-toothed with big gap.
The First Time I Said, 'I'm Trans'
–– 'Trans am?'
No, Jared Harris is Not Playing Doctor Octopus in Marvel's 'Morbius'
–– That was reach.
Hugo Weaving says his Red Skull wasn't in 'Avengers: Endgame' because Marvel were 'impossible'
–– Refused to cede Soul Stone.
Piers Morgan's 'mocking' of Chinese language sparks almost 300 complaints
–– Morgan an asshole, but only 300?
Mila Kunis Shows Off Killer Legs On Bare-Faced Coffee Run In L.A.
–– Knees slathered in makeup.
Fast food chain Krystal files for bankruptcy
–– Did Krystal math.
Tennis player Elliot Benchetrit told off by umpire for asking ball girl to peel a banana for him
–– Wasn't like it was grape.
Psychologist Who Waterboarded for C.I.A. to Testify at Guantánamo
–– With soaked towel around head.
Conway says MLK would be against impeaching Trump
–– Would likely prefer lynching.
How Much Racism Do You Face Every Day?
–– Here are 58 questions to help make you feel oppressed.
You won't be flying on a 737 Max anytime soon
–– It's aloft cause.
Robert De Niro presented the case for activism by actors and athletes
–– 'F••k you.'
Jennifer Aniston Shouts Out Adam Sandler After SAG Awards Win: 'Your Magic Is Real, Buddy'
–– 'Now disappear.'
Scottish brothers smash world records rowing across Atlantic
–– With oars?
Clinton says 'nobody likes' Sanders and won't commit to backing him if he's the Democratic nominee
–– And she's expert on unlikeability.
Meghan McCain brushes off Elizabeth Warren's pledge to staff half her cabinet with women: 'None' will 'probably represent my beliefs'
–– So she needs 5% pledge of idiots?
Obama Says Trump Admin's Policies Make Solving Climate Change 'Impossible'
–– Before was merely 'highly improbable.'
Exclusive Poll: 80% of Young Voters Think 'Global Warming Is a Major Threat to Life as We Know It'
–– Terrified rising sea levels will knock out wifi.
A Super-Potent Greenhouse Gas Has Been Leaking Into the Atmosphere, and No One Knows Where It's Coming From​
–– Trump just points at Pence.
Doomsday clock lurches to 100 seconds to midnight – closest to catastrophe yet
–– Should we be ticked off?
Climate change behind Africa's worst locust invasion in decades
–– Global swarming?
These sharks have evolved to walk on land—and they did it quickly
–– Seen strolling vigorously in park.
To Study Mass Die-Offs, Scientists Dumped 15 Tons of Feral Pig Carcasses Into a Field
–– During Maggotpalooza Fest.
Elizabeth Warren wants task force to investigate Trump administration
–– The A-Hole Team?
New York Times editorial board endorses Elizabeth Warren and Amy Klobuchar for Democratic nomination
–– No Tulsi as second runner-up?
NYT Ed Board Member Wrote Out 'Full Draft' of Biden Endorsement, but Scrapped It over His 'Normal' Message and Lack of 'Urgency'
–– Warren or Klobuchar getting pummeled in November should heighten sense of 'urgency.'
Joe Biden's elevator moment may be as good as a New York Times endorsement
–– In campaign of ups, downs.
Capt. 'Sully' Sullenberger: Like Joe Biden, I Once Stuttered, Too. I Dare You to Mock Me.
–– Sully, Sully, bo bully, Banana fana for fully, Fe fi for fully…Sully!
Joe Biden goes to his secret weapon to close the deal in Iowa
–– Laser Gaffe Cannon.
Trump says he doesn't consider brain injuries sustained by US troops during Iran missile barrage 'serious'
–– Figures it will better prepare them to follow his orders.

Senator reacts to Trump calling soldiers' injuries 'headaches'
–– 'Like just calling Trump a bad president.'
A 'headache' could mean brain trauma, President Trump
–– 'Headache' does mean Trump.
Tens of Thousands March in Baghdad Against U.S. Troops in Iraq
–– Racket makes headaches worse.
Conor McGregor lavishes praise on 'Phenomenal President' Donald Trump
–– Confirming own neurological damage.
Trump brags his strike on Soleimani killed '2 for the price of 1' while giving a behind-the-scenes account of the assassination to GOP donors at his Florida resort
–– Soleimani of the Century.
Iran says it will examine the plane it shot down domestically — but a national air safety director admitted that the agency hasn't been able to open black boxes previously
–– Why no Iranian government official has iPhones.
Iran to send flight recorders from downed jet to Ukraine
–– Remix.
Iran MP offers reward for killing Trump, U.S. calls it 'ridiculous'
–– WH aides: 'That's absolutely absurd. How much did he…$3mil? Really?!!'
Prince Charles: We need a new economic model or the planet will burn
–– World turns to septugenarian figurehead-in-waiting for plan.
Harry Dunn death: Boris Johnson vows to discuss 'driving habits' of US personnel with Mike Pompeo
–– Who could never understand driving on left.
Nigel Farage says Brexit Party could go down in history as 'most successful ever'
–– It's already gone down.
Brexit Deal Clears Parliament, Paving U.K.'s Way to Leave the EU
–– Removing 'Road Closed' sign before cliff.
In central Poland, robots replace people as minimum wage rises
–– Good news, bot news.
Trump's Space Force Mocked for Unveiling Camouflage Uniform Design: 'Who Are We Hiding From?'
–– Air Force spokesman: 'Hey, Endor where the Ewoks dwell is a forest moon!'
Building the Perfect Meal With Sheep Lungs and a Suitcase
–– Haggis of God.
'White Only' signs for sale at antiques store spark confrontation
–– Owner claimed it was white sale.
Fans Rebuke Farrah Abraham for Taking Her Daughter Sophia on a Yacht Ride
–– Fans: 'Thou perfidious mother, we venteth our spleen upon thee.'
Daniel Craig Didn't Think He Was 'Physically Capable' of Making Another Bond Film
–– Had to replace cyanide in fake tooth with Viagra.
Colin Farrell says he has 'some time to eat' to pack on weight for his role as The Penguin in the new Batman movie
–– Looking forward to Endless Shrimp at Red Lobster.
The 'Jojo Rabbit' cinematographer said it 'felt strange' being directed by Taika Waititi dressed as Adolf Hitler, but he was still as 'goofy as possible'
–– Shot in Heil-def.
Nick Cannon is 'praying' for Orlando Brown after actor claims they had a sexual encounter
–– That he didn't catch something?
Halle Berry Stretches In Bra & Tight Yoga Pants With Her 'Spirit Animal'
–– Horn dog.
Amy Schumer Just Told Oprah Winfrey She Spends Her Days Cleaning Poop Off Of 'The Tiniest Pair Of Balls You've Ever Seen'
–– Which is no way to talk about your husband.
Oprah Winfrey tells Amy Schumer about her failed attempt to seduce boyfriend Stedman Graham
–– Recommended if you're short on Ipecac.
Rosie Huntington-Whiteley reveals she doesn't eat after 6pm to maintain her model figure
–– The previous day.
Actor Laurence Fox will not date 'woke' women or those under 35
–– Inspired by Bill Cosby?
'The Matrix 4': The Merovingian May Return to the Franchise
–– Several dozen 40-year-old nerds clicked on this.
Tyler Perry Built a Movie Empire by Selling Out Black Women
–– Madea circus.
Former White House Chief Economic Advisor to Trump Says Tariffs 'Hurt the U.S.'
–– Oh, then he's sure to reverse them.
'Worried About Angering Trump,' CIA and NSA Withhold Ukraine Documents From Congress, Says Intelligence Chair
–– Goes from bad to wuss.
Trump: 'I Should Never Have Done That F-cking Vaping Thing'
–– 'I like flavored smoke blown up my ass.'
Police robots keep malfunctioning, with mishaps ranging from running over a toddler's foot to ignoring people in distress
–– Programmied to seem more like real thing.
Some Say Robert Downey, Jr. 'Sabotaged' New Movie 'Dolittle'
–– In latest slang for 'appeared in.'
Meghan Markle and Prince Harry Will Have to Pay Rent on Frogmore Cottage After Stepping Down
–– Plus Amphibian Tax.
Prince Harry And Meghan Markle Will Drop HRH Titles And Start Paying Rent
–– Will adopt new HRH titles: Her and His Regular Hipster.
Thomas Markle Says That Meghan and Harry Are "Destroying" and "Cheapening" the Royal Family
–– With finger in nose, belching.
'Megxit' still has Prince William, Kate Middleton 'reeling,' royal expert says
–– And doing jig.
Kanye West Says He's Running for President in 2024, Along With an Unlikely Competitor
–– Bojack Horseman?
Dershowitz on impeachment reversal: 'I am much more correct right now'
–– And he's defending Trump.
Fox News' Chris Wallace says Lindsey Graham's view on impeachment witnesses 'directly contradicts' his 1999 position
–– Rebuthead.
Trump's Defense Brief Is So Weak He Likely Dictated Parts Himself, John Dean Suspects
–– Used his dick to phone.
Ocasio-Cortez sums up inequality in 5 words after Dow breaks through 29,000
–– Poor choice.
AOC: 'No one ever makes a billion dollars. You take a billion dollars'
–– Marx her words.
AOC criticises Democratic Party: 'We don't have a left party in the United States'
–– Nancy Pelosi wishes she left party.
Mark Wahlberg Debates With Dr. Oz Over Whether to Eat Breakfast or Not
–– And whether Wahlburgers constitute 'food.'
Jennifer Coolidge Loads Up on Vegan Chocolate Bars and Whipped Cream
–– Green gobblin'.
Ousted Recording Academy Chief Given Security Detail After "Disturbing" Threat, Says Lawyer
–– Grammy goose.
Inside the Gay Porn Awards With Host Kathy Griffin and Bruce Vilanch
–– Backdoor peek.
Paris Hilton Reveals Private Side in Upcoming Documentary
–– By lifting skirt.
'Watchmen' likely to end after producer Damon Lindelof passes on more
–– Time's up.
MSG in Chinese food isn't unhealthy -- you're just racist, activists say
–– And it's them giving you headache.
Former Drexel professor arrested and accused of spending $185,000 in grant money on strippers, sports bars and iTunes
–– Insists he was doing research for Strippers, Sports Bars, iTunes and the Economic Imperative.
JFK's grandson called a Pence op-ed on impeachment a 'perversion of JFK's legacy'
–– Defiles in Courage.
'Framers' worst nightmare': House Democrats make their case for removing Trump from office
–– Right up there with Ben Franklin's dirty jokes, Martha Washington's rhubarb cobbler.
Ted Lieu tells Devin Nunes to 'shove it' after Republican colleague threatens lawsuit
–– Lieud remark.