Deuce and Don'ts

Week of 02/07/20
Actual headlines from the internets. You Google 'em.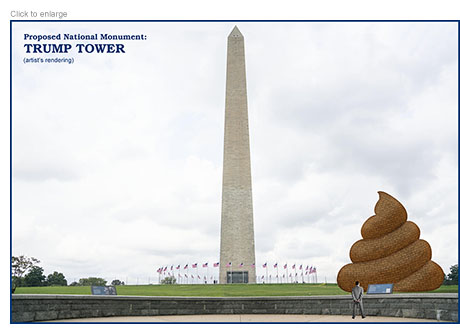 'It was all bullshit': Donald Trump delivers mocking, vitriolic speech after acquittal
–– You still are.
Macron: Use more wood in our buildings
–– Has Green Woody.
Chief Justice John Roberts emerges unscathed from Trump's Senate impeachment trial
–– By not doing a fucking thing.
Trump ousts key impeachment figures Sondland, Vindman days after Senate acquittal
–– Monster tumor's revenge.
Trump slams Democrats and Romney at prayer breakfast as Pelosi looks on
–– Acquitters never win, but winners sometimes quit.
Trump opens National Prayer Breakfast by waving around a stack of 'acquitted' newspaper headlines
–– Proving there is a Satan.
Trump Struggles With Basic Christian Teaching At National Prayer Breakfast
–– Aces Black Mass.
Trump's done with impeachment. Here are his next legal challenges.
–– Schedule only through 2036.
In Private, Republicans Admit They Acquitted Trump Out of Fear
–– Cowering in Senate coat closet.
Trump's impeachment acquittal echoes the collapse of ancient Rome's republican ideals
–– Nero, my God, to thee.
NBC News' Chuck Todd on Trump's 'Cult of Personality': The GOP 'Is No Longer Organized Around Ideas'
–– Ideas were white supremacy, unbridled greed, but still…
Jim Jordan Tapped As Top Republican On Powerful House Judiciary Committee: Report
–– Like keg of flat beer.
'He's obviously very proud of his body': All the weird ways Trump complimented his GOP attack dogs
–– 'Fine coat, powerful haunches, sharp teeth.'
Trump quickly disagreed with Susan Collins that he learned his lesson from impeachment
–– He already knew he could do whatever he wanted.
Giuliani: If the U.S. doesn't investigate Joe Biden, it would be 'one of the great corrupt events in American history'
–– 'Like number seven or eight after all of Trump's.'
Rick Scott Announces Constitutional Amendment Raising Impeachment Voting Threshold in the House
–– How about amendment allowing law-breaking traitors be impeached?
Former Parliamentarian: Senate is letting Trump evade oversight
–– In latest slang for 'commit murder.'
Trump administration acknowledges emails show Trump's thinking on Ukraine aid at center of impeachment
–– No email could show Trump thinking.
The US has reportedly held up roughly $30 million in arms sales to Ukraine, and no one knows why
–– And now never will.
Senate report faults Obama administration's paralysis on Russian election interference
–– Resulting in this stiff Trump.
The FBI Just Put White Nationalists and Neo-Nazis on the Same Threat Level as ISIS
–– Trump: 'Hmm, can we get ISIS to vote this year?'
No, President Donald Trump, troops' traumatic brain injuries aren't just 'headaches'
–– And yes,
Exclusive: Why Millennials and GenZers love going to the bank
–– Like playing make-believe imagining they have savings.
Where to eat in New York, according to its top models
–– Community garden lettuce patch, Lower East Side.
DA Says Couple Accused of Drugging and Raping Up to 1,000 Women Did No Such Thing—Ex-DA Made it All Up
–– Talk about shaggy DA.
Pennsylvania Judge Accused Of Calling Black Juror 'Aunt Jemima'
–– Gets battered.
Fraudster Madoff is dying, wants out of prison: lawyer
–– State should issue fake release papers.
An anti-Putin blogger was murdered in a French hotel, and the killing has the hallmarks of the Russian hit squad causing chaos in Europe
–– Don't order caviar from room service.
A man accidentally killed his neighbor with a crossbow while trying to save him from a dog attack
–– Insisted he saw apple on head.
How Trump's three years of job gains compares to Obama's
–– Why not ask him?
Scottish finance secretary quits over alleged messages to teenage boy
–– And wee bits.
Actress Jameela Jamil says she identifies as queer
–– Fact CNN reports this comes out as odd.
Evangelist preacher Franklin Graham planned a seven-city UK tour. All seven venues have dropped him
–– How Graham cracker crumbles.
Producer Testifies for Harvey Weinstein's Defense: "I Felt Badly That He Was Completely Abandoned"
–– Weinstein felt really badly.
Harvey Weinstein's lawyer says she's never been sexually assaulted 'because I would never put myself in that position'
–– Never fell for boss 'pick up that paper' ploy?
Kenneth Anger Inspires Pop-Up Art Exhibit on the Sunset Strip (Exclusive)
–– Listen to Hollywood babble on.
Madonna Vents Anger as London Palladium Cuts Off 'Madame X' Show
–– On humanitarian grounds.
Madonna Offered Prince Harry and Meghan Markle Her NYC Apartment
–– Will accept only if she uses Madge accent when visiting.
Nic Cage Will Play Nic Cage in a Bizarre Upcoming 'Meta Drama'
–– As he has every movie for last 20 years.
UK man who faked being a doctor tried to kill his family to cover up lies
–– Did he at least offer to perform autopsies?
Jessica Simpson Turned Down a Role in The Notebook For a Very Specific Reason
–– Can't read.
Kirk Douglas, Hollywood Icon and Spartacus Star, Dies at 103
–– Ace in the hole.
Dyanne Thorne, Star of 'Ilsa: She Wolf of the SS,' Dies at 83
–– Thorne on her side.
Pablo Escobar's hit man, known as "Popeye," dies of cancer
–– Smoked lots of 'spinach' in his day.
'Bizarre' turtle managed to survive asteroid that wiped out dinosaurs
–– Yertle: the Hurdle.
Man sets fire to $1M to keep ex-wife from getting it
–– Obviously had money to burn.
'Sell the Team!' Please, for the Sake of Mets and Knicks Fans
–– What'll they do with all the Wilpon, Dolan voodoo dolls?
Macy's is closing 125 stores with the first locations closing soon: Is your location on the map?
–– This year's Thanksgiving Day Parade will feature 18" character ballons from Party City.
Rush Limbaugh awarded Medal of Freedom in surprise State of the Union move
–– Alex Jones asks doctor for cancer diagnosis.
Rush Limbaugh isn't Rosa Parks, Neil Armstrong or Georgia O'Keeffe
–– They were humans.
John Cleese, Michael Palin and Terry Gilliam say farewell to Monty Python's Terry Jones
–– And now for something completely desperate.
Pythons found slit open and cut 'in pieces' in Scottish nature reserve
–– Hopefully not related to above.
Amazing rare salamander hasn't moved from same spot in 7 years
–– Amazing rare extinct salamander.
Jackass Penguin Calls Follow Similar Rules to Human Speech
–– Just listen to any idiot in tux.
Pterosaur Tooth Found in Rare Ancient Squid Fossil
–– Had ordered fried calamari at Bedrock Diner.
Voyage of Stone Age People to Australia Set to Be Reenacted on Replica Raft
–– Mel Brooks' 2000 Year Old Man will be cruise director.
Researchers Piece Together What Happened On Rapa Nui Following European Contact
–– Natives got big heads.
Ancient Pompeii's Drains Back In Use After 2300 Years
–– Plumbers finally clear residue of Jupe Fest pizza party.
Egypt Unearths 3,000 Year-Old Tomb with Sarcophagus Dedicated to Horus
–– With randy hieroglyphs dedicated to whores.
Strange Blobs Washed Up on Beaches Confirmed As 'Whale Vomit': Study
–– Had suspected sperm whale ejaculate.
The Arctic's thawing ground is releasing a shocking amount of dangerous gases
–– Like WH dining room on Taco Day.
AJ Hinch: 'Fair question' if Astros' 2017 World Series title tainted by scandal
–– Has a hinch.
Lesotho's first lady is charged with murdering husband's ex-wife
–– Ivana, Marla Maples step up security.
Barnes & Noble cancels plan to put people of color on the covers of classic books after backlash
–– You mean a blacklash?
Prince Charles names Katy Perry as ambassador for South Asia charity
–– Like Admiral Perry in Japan.
Nancy Pelosi (Literally) Rips Trump's Speech Apart
–– Code Shred.
Fans and critics now nicknaming Pelosi 'Nancy the Ripper'
–– The cut-ups!
Nancy Pelosi says tearing up Trump speech 'entirely appropriate,' says president seemed 'sedated' at SOTU
–– Right said shred.
Trump's desperate embrace of 'one trillion trees'
–– Think of the limbs!
I Feel Personally Judged by J. Lo's Bod
–– It's saying 'the NY Times should be embarrassed to publish your drivel.'
The Joy of Cooking Naked
–– Or My Weiner Roast.
KFC worker with first class degree became millionaire drug dealer after becoming disillusioned with job market
–– Customers were 'extra crispy.'
Princess Beatrice Is Reportedly "Furious" About Delaying Her Wedding Date Announcement Yet Again
–– Has replaced fascinator with flasing red police light.
Pete Buttigieg Once Wrote a High School Essay About His Idol, Bernie Sanders. Tonight, He'll Debate Him
–– Ink not yet dry.
Sanders, Buttigieg in Iowa dead heat with 100 percent of results in
–– Party dead, no heat.
Bernie Sanders declares 'decisive victory' in Iowa caucuses, rips results reporting 'screw-up'
–– Certainly was divisive.
DNC chair calls for a recanvass in Iowa as chaos ensues
–– As KO'd party hits canvass.
Democrats have no Iowa caucus results, blame 'coding issue'
–– Code Red State.
Is anyone really surprised Iowa's caucus app failed?
–– Um, er, yeah?
Yang campaign fires staffers in wake of poor Iowa showing
–– They took it up ying yang.
How Iowa's caucus disaster softened Biden's loss and marred Warren's overperformance
–– Yeah, fifth place personal best.
Trump revels in Democrats' Iowa 'voting disaster'
–– Classic pig in shit.

DNC Shifts Debate Qualifications, In A Boost For Michael Bloomberg
–– Like high chair at McDonald's.
Joe Walsh Ends Challenge to Trump After Getting 1% in Iowa
–– Returns to Eagles' Hotel California 2020 tour.
Edward Norton Says Janeane Garofalo Is 'Mistaken' for Thinking He Cost Her a Fight Club Role
–– Offers to slug it out.
Ewan McGregor's Uncle, Who Played Wedge Antilles in Star Wars, Warned Him Against Obi-Wan Role
–– Gave character metaphorical wedgie.
A school played 'The Lion King' at a fundraising event. Now it has to pay a third of what it raised
–– Not lion's share.
Joe Biden Could Be Impeached by GOP Over Ukraine if He Wins, Iowa Senator Says
–– Way easier to convict on fake crimes.
Polls show Biden's campaign could be hitting the wall
–– Paid for by Ukrainians.
Kesha Suffers Huge Setback in Legal War With Dr. Luke
––May change name to Ke¢ha.
'Marked man' Tekashi 6ix9ine 'plans to leave New York City and move into a home with "Fort Knox-like security" after serving sentence for racketeering and drug trafficking
–– Chose name for anonymity.
Sandy Powell on Working With Martin Scorsese: "The First Thing He Does Is Look at the Costumes"
–– 'Below the neckline because he's short.'
Ex-One Direction star Louis Tomlinson slams BBC Breakfast show for pressing him about his grief
–– Gets them coming and going.
A US national security adviser says 'there is no reason for Americans to panic' about coronavirus as report claims second US plane heads to China to evacuate more Americans from Wuhan
–– 'And I spilled water down the front of these pants.'
Xi says China has achieved 'positive' virus control results
–– 'We are proud to say more and more citizens testing positive!'
Coronavirus Outbreak Leads to Delays in Video Game Manufacturing
–– May slow mental illness in American youth.

Scientists discovered a weed compound that may be 30 times more powerful than THC
–– They were so high, could be 3 or 300.
A high school principal was put on leave for saying Kobe Bryant's death was 'deserved'
–– Speaking ill of dead now hate crime?
Oprah tearfully says Gayle King 'not doing well' in midst of Kobe Bryant controversy
–– Better than him, but…
You might have missed the Kobe Bryant tribute during the halftime show
–– Touched down.
Patrick Mahomes' Super Bowl Rushing Yards Prop Hits Under Due to Kneel-Downs
–– Translation, members of Gamblers Anonymous?
Trump congratulates state of Kansas after Chiefs win Super Bowl but they play in Missouri
–– Trump in Slow Me state.
Lucky's Market Files for Bankruptcy
–– Adds Un prefix to name.
How a beloved organic grocery chain collapsed
–– Big bad wolf huffed, puffed?
Carl Bernstein Predicts Chilling Aftermath Of McConnell's 'Violence To The Constitution'
–– How about horrific present math?
Clinton praises Romney's 'extraordinary' impeachment stand, says others 'voted to betray' Constitution
–– In age where obeying law is 'extraordinary.'
Trump impeachment: Mitt Romney barred from major conservative conference over vote for new witnesses in trial
–– Forced to give back Trump decoder ring.
Trump Administration Finalizes Plans To Allow Development On Downsized Monuments
–– Will carve ten-mile open-air latrine through most scenic stretch.
'Dolittle's' terrible ending was apparently Robert Downey Jr's idea
–– Who to blame for awful beginning, middle?
Fox News' Brian Kilmeade is really mad that Romney would 'bring religion' into his impeachment decision
–– "I just found out he was a Merman, kinda like Aquaman.'
Pamela Anderson Splits from Husband Jon Peters 12 Days After Secret Wedding
–– Took that long to sober up?
Brexiteer pours can of Stella over EU flag at celebrations in Parliament Square
–– Are twat.
Drunk mum of two who attacked cabin crew after being denied six Bloody Marys was flying to rehab clinic
–– Was going to chute in without chute.
Rep. Tlaib boos Hillary Clinton at a Bernie Sanders rally
–– Lock her lips! Lock her lips!
Hillary Clinton Redoubles Bernie Sanders Attack on 'Ellen': Need Someone 'Who Can Win'
–– 'As did I.'
Janelle Monáe Reveals She's Recovering from Mercury Poisoning After Eating a Pescatarian Diet
–– Girlfriend Tessa Thompson: 'Don't look at me.'
James Carville Rages Over State of Democratic Party: 'I'm Scared to Death!'
–– 'Y'know how y'feel when y'see my skeletal puss show up on yer TV? Like that!'

Victoria's Secret Executive Made Lewd Comment About Bella Hadid's Breasts During Fitting: Report
–– Knock 'er?
Lindsey Graham Wants To Call Whistleblower After Trial To Ask 'How All This Crap Started'
–– Ask your mama.
Jill Biden on Lindsay Graham: 'We used to be great friends, and now he's changed'
–– Had soul reassignment surgery.
Lindsey Graham said God won't ask why he voted to acquit Trump
–– Won't be God asking questions where he's going.
Joe Biden kisses his 19-year-old granddaughter on the lips during speech at campaign trail event ahead of Iowa caucuses
–– While Trump has tongue half way down Lady Liberty's throat.
Dershowitz: 'Any citizen' would find Ukraine quid pro quo 'troubling if it were proved'
–– Isn't that 'when it was?'
Nancy Pelosi: It was 'sad' for Mitch McConnell to 'humiliate' Chief Justice John Roberts with witness vote
–– Had originally intended to have Robert wear leash, ball gag during proceedings.