Trial Buffoon

Week of 01/31/20
Actual headlines from the internets. You Google 'em.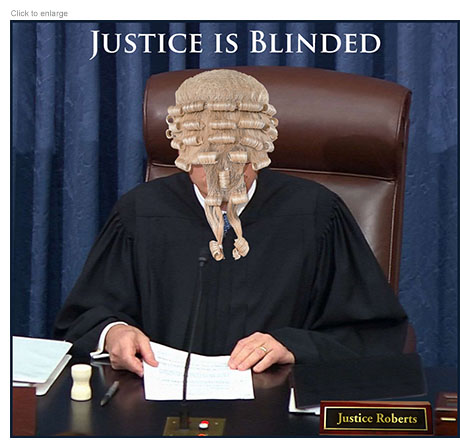 John Roberts, as Senate trial nears end, finally says he won't break ties
–– With GOP Death Cult.
Brexit's done. The UK has left the European Union
–– Turn out lights, potty's over.
Dershowitz: Trump trial is my 'worst controversy'
–– Will cellmate in Hell be OJ or Trump?
Dershowitz: Trump can't be impeached because he believed his reelection is in the national interest
–– Le tit est moi.
Harvard professor slams Trump's lawyer for incorrectly citing him numerous times during Trump's impeachment trial: 'It's a joke'
–– Alan Dearth o' wits.
John Roberts publicly rejects Rand Paul's whistleblower question in Senate impeachment trial
–– History shall long remember his heroic defense of Constitution!
Alexander Says Convicting Trump Would 'Pour Gasoline on Cultural Fires'
–– 'So we burned Constitution instead.'
As Senate Rejects Witnesses, House Considers A Subpoena For John Bolton
–– In alternate alternate reality.
Republicans Now Say It Doesn't Matter If There Was A Quid Pro Quo With Ukraine
–– Move to have 'out-dated' phrase stricken from dictionary.
Parnas Lawyer: Giuliani Delivered Graham Letter Calling for Sanctions on Ukrainian Officials
–– Composed of letters clipped from magazines.
Sen. Lindsey Graham Was 'In The Loop' On Ukraine Scheme, Says Lev Parnas
–– Spinning like a top.
Lev Parnas arrives on the Hill to listen to Senate impeachment trial
–– Every freak show needs geek.
Parnas recording shows Trump talking with indicted businessmen the President has said he doesn't know
–– Feigning Alzheimer's to make him seem Reaganesque.
White House has issued formal threat to Bolton to keep him from publishing book
–– Warn they'll shave mustache off in sleep.
Trump's lawyer says Bolton testimony would set a precedent for future impeachment trials
–– Imagine: witnesses at trials!
Trump's team says trial will "drag on for months" if they subpoena witnesses
–– Think of the fees!
Harvard Law Professor Warns Senators: Call Witnesses Or Face 'Dictatorship'
–– With it's fetid Filet-of-Fish-scented breath.
Ken Starr Argues There Are Too Many Impeachments These Days
–– 'And not enough with really dirty details!'
Joe Scarborough Trashes Trump's Defense Team: 'Confederacy of Dunces!'
–– Or Douches.
Trump Impeachment Team Embraces 'Irreverent' But 'Spot On' Rudy Giuliani
–– More stain on.
Removing Trump would be 'very very dangerous': Defense team
–– 'We could all end up in jail.'
Trump lawyer Sekulow says Bolton book manuscript 'inadmissable'
–– No one wants to cross-examine book, scumbag.
Report: Bolton says Trump tied Ukraine funds to Biden probe
–– With noose.
Bolton Was Concerned That Trump Did Favors for Autocratic Leaders, Book Says
–– As you do for friends with benefits.
Bolton's PAC director: "There was absolutely no coordination with the New York Times"
–– "Look, we can't even touch our fingers to our noses."
Ex-WH chief of staff Kelly says he believes Bolton's account of Ukraine allegation
–– #WHMeToo.
John Kelly: With no witnesses, Senate impeachment trial is 'a job only half done'
–– And that half 100% botched.
Lindsey Graham Pushes Back on Trump's Criticism of John Bolton
–– Like tiny baby with fleshy teat in mouth.
Giuliani Swipes Back at John Bolton: He's a Swamp Character, Backstabber, and an Atomic Bomb
–– 'It's like looking in the mirror!'
There Are More Recordings Of Donald Trump And Lev Parnas, Attorney Reveals
–– Smoky duets with arrangements by Nelson Riddle.
Tape Made Public of Trump Discussing Ukraine With Donors
–– Includes 18.5 minutes of Nixon reminiscing with Haldeman about authorizing Watergate break-in.
'Take her out': Recording appears to capture Trump at private dinner saying he wants Ukraine ambassador fired
–– Trump: 'I meant for borscht, people tell me it's delicious.'
In contrast with Trump legal team, Justice Department lawyer says House can impeach over defied subpoenas
–– Who's up for another round?
Senators break into laughter as Schiff points out ironic difference between Trump's legal defense and DOJ arguments
–– Ironic laugh, death rattle can sound eerily similar.
Adam Schiff: Trump Saying I Should Pay a Price Is 'Intended to Be' a Threat
–– Bill to be delivered in mouth of severed horse's head.
Bipartisan senators essentially ask Trump to promise he'll never do this again
–– He answers: 'Sure, today.'
President Trump holds 'Keep America Great' rally at Jersey Shore
–– Even The Situation embarrassed.
'I build the best product!' A section of Donald Trump's border wall gets blown over and his critics are loving it
–– When he bent over in front of it, passed wind.
Anthony Scaramucci Breaks Down The 3 Stages Of 'Trump Employment Syndrome'
–– How long does 3 –– trying to salvage rep while simultaneously cashing in –– last?
George Soros Raises Fears That Facebook Will Give Trump Advantage in 2020 Election
–– Something only devious trilateralist might be privy to.
NPR, federal watchdog demand answers on Pompeo's evident retaliation over testy NPR interview
–– How could that nutless fuck get testy?
Britain Is Finally Leaving the European Union Today. Here's What Will Change
–– Boris Johnson's lucky underwear.
James Blunt admits he plays 'You're Beautiful' to get customers to leave his pub
–– Beautxit.
Former SNP deputy accuses Sturgeon of 'pretending' there'll be another independence vote
–– And salmon of swimming upstream.
The Spitzer Space Telescope mission ends today. Here are the incredible things it discovered
–– Will celebrate with wine Spitzer.
Bill Pullman's Pitch for a 'Spaceballs' Sequel Has Him Following Mark Hamill's Lead from 'The Last Jedi'
–– At ludicrous speed.
Jessica Simpson addresses forbidden romance with 'Dukes of Hazzard' co-star Johnny Knoxville in new book
–– Was lamest Jackass stunt.
Kathy Bates On 'Richard Jewell' Controversy: "I Worried It Would Affect How People Would Feel Toward The Film"
–– Nope, didn't care either way.
The Bachelor's Alexa Caves Reveals She's Sexually Fluid: 'To Me This Really Isn't a Big Deal'
–– Alexa, dear, no one gives shit.
Authorities discover the longest drug-smuggling tunnel in San Diego
–– Looks like Artie Lang's left nostril.
'American Dirt' Publisher Cancels Book Tour
–– Author to be arraigned on 'trauma fetishization.'
Kristen Bell details 'incredible' fight with husband Dax Shepard triggered by folding laundry
–– Dirty kind she can't resist airing.
Madonna says infamous faux British accent was 'Guy Ritchie's fault'
–– Pissing Madge.
Since my partner and I moved in together, we can't stop fighting and rarely have sex. What should I do?
–– Get married, make it official.
A couple alleges they were kicked off a flight because of their religion. American Airlines claims it was their body odor
-– Smells like BODS.
An American boxer was accidentally head-butted in a fight and suffered a gash so wide you could have stuck a nickel in it
–– C'mon! Maybe a Canadian nickel.
Mother of 'Star Wars' actor Jake Lloyd releases statement on son's mental health 'struggle'
–– How about madness of stage parents exploiting children?
J.J. Abrams will learn from the poor response to 'Star Wars: The Rise Of Skywalker'
–– When he next gets opportunity to botch final chapter of nine-film saga?
Navratilova, McEnroe call for name change to Margaret Court Arena
–– Full Court repress.
I tried planking for 5 minutes every day for a month and it made my back feel great
–– Did get splinters in my ass.
Turkey's Erdogan says Russia not abiding by Syria agreements: NTV
–– And if you can't trust Putin…
Autistic futures trader who triggered crash spared prison
–– Defense off spectrum.
A new Baby Yoda figure is on sale and he's life-sized
–– So height of which shot on what sized screen?
Once-hot DNA testing unicorn 23andMe is in serious trouble
–– Soiled their genes.
Dylann Roof believed he'd be freed from prison after a race war, attorneys say in appeal
–– Sounds like Roof caved in.
Billie Eilish dragged a YouTuber who dressed up like her in public, saying: 'You make me look bad'
–– 'So like, she does get points for accuracy.'
A man bought a Rolex for $345 in 1974. Its current value knocked him off his feet
–– Appraiser put on, took swing.
Fotis Dulos is found unresponsive at his Connecticut home after attempting suicide in his garage by carbon monoxide poisoning 'because he was losing his mind over the possibility of going to jail'
–– Fotis finish.
Harvey Weinstein assured a woman that he had a vasectomy before allegedly raping her, she testifies
–– From Monster's Book of Etiquette.
Harvey Weinstein Slapped With Cleaning Fees After Smoking Inside New Jersey Hotel Room
–– Always smokes after sex … from various orifices.
How #MeToo Is Smashing the Casting Couch
–– Sounds like Weinstein smashed some of those.
Anne Cox Chambers, media heiress and former US ambassador, has died at 100
–– Cold Cox.
Bob Shane, Founding Member of Grammy-Winners The Kingston Trio, Dies at 85
–– Dooley noted.
Wes Wilson, creator of psychedelic rock posters, dies at 82
–– Fillmore Earth.
IS tries to stage comeback amid rising US-Iran tensions
–– The Jihad Day's Night Tour.
The U.S. Army Is Testing a 'Guaranteed Hit' Smart Scope For Its Rifles
–– Ain't technology grand?
This proposed law would prevent people who haven't paid child support from getting a hunting permit
–– Estranged wives relieved.
Kushner calls Palestinians "foolish" for rejecting peace plan
–– He was "asshole" to think they'd accept.
Israel's Netanyahu indicted in corruption cases, hours before Mideast peace plan announced
–– To make him appear more Trumpian.
Trump to halt immigration from Africa's top tech hub, Nigeria
–– Stephen Miller pushing to extend ban to Wakanda.
Kobe Bryant's helicopter pilot was given clearance to fly under worse-than-normal conditions, audio reveals
–– Foul call.
Police scold TMZ after outlet was first to report death of Kobe Bryant
–– Scoopie doo.
Kobe Bryant told a 13-year-old who asked for a selfie 'I'll get you a pic tomorrow' the day before he was killed
–– Not quite Babe Ruth promising to hit kid home run, but…
Washington Post criticized for suspending reporter over Kobe Bryant tweets
–– Moment of silence for rape case.
Khloé Kardashian Urges Fans to 'Love Like You've Never Loved Before' After Kobe Bryant's Death
–– Weird tribute if you consider above.
Strange Sea Creature Baffles Coney Island Fishing Couple
–– Not at Mermaid Day Parade.
A woman choked to death eating Australia's national cake on the country's national day
–– Rather than sing dodgy anthem.
Network apologizes after judge on 'The Masked Singer U.K.' guesses that contestant is Natalie Cole — who died in 2015
–– That was Shrouded Singer.
Trump lifts US restrictions on anti-personnel landmines
–– New policy hasn't leg to stand on.
State Department elevates China travel advisory to 'Do Not Travel' due to coronavirus
–– Next level is 'Aim for Their Legs.'
Mayor of Wuhan, epicenter of coronavirus outbreak, says 5 million people left the city before travel restrictions were imposed
–– Let cat-astrophe out of bag.
China warns that coronavirus can spread before symptoms show, as death toll rises
–– Signs of global panic appear well before actual outbreak.
6,000 passengers held on cruise ship in Italy as Wuhan coronavirus fears spread
–– Macaronivirus new danger.
Wilbur Ross Roundly Ripped For Predicting Coronavirus Will Be Good For U.S. Jobs
–– Will benefit his brother the Crypt Keeper's business.
Farm Bankruptcies Soared 20% Amid Trump Trade War. It's The Highest Rate In 8 Years.
–– Wilbur Ross insists it's good for coronavirus.
Trump in Des Moines: 'If we don't win, your farms are going to hell'
–– 'I'm talking to roughly 80% of you.'
I'm a Pastor Who Ran for Congress as a Republican. Here's Why I'm Encouraging My Fellow Evangelicals Not to Vote for Donald Trump
–– 'We're Christians, for God's sake!'
A US warship sailed along Venezuela's cost to gather intelligence and send a message to Maduro
–– Pendejo in semaphore.
Dead Body of Previous Resident Found in Maryland Home by New Owner: Report
–– Listing did read 'A/C H/T DOA incl.'
Diplo Weighs In After Sia Admits She Texted Him for 'No-Strings Sex': 'She's a Loose Cannon'
–– 'And I got loose balls, baby.'
Adam Sandler will have made 12 Netflix original movies by the time his new deal runs out
–– 0 original.
Louise Linton, Wife Of Steven Mnuchin, Voices Support For Greta Thunberg
–– Divorce him and we'll be impressed.
He Waterboarded a Detainee. Then He Had to Get the C.I.A. to Let Him Stop.
–– Proved technique was all wet.
Paula White, a White House employee and Trump's spiritual advisor, calls for 'satanic pregnancies to miscarry right now'
–– Includes baby in White House?
Cotton defends Trump for saying soldiers injured in Iran attack had "headaches"
–– He can stuff Cotton in his rear.
New Jersey mayor admits getting drunk, taking off his pants and passing out in employee's bed
–– Acting vice mayor.
Trump calls for New York Times to fire economist Paul Krugman in the latest escalation of their longtime feud
–– Econ job.
KFC branch serves customers through wire fence after months of fights and attacks on staff
–– Wearing chicken costumes, clucking.
Outrage as Roman Polanski's new film receives a dozen nominations at 'French Oscars'
–– Hell, César!
Before Casper Smart Was Jennifer Lopez's Boyfriend, He Was Her Chair
–– Her bottom Smarted.
Teresa Giudice Reveals Why She Had a Second Breast Augmentation and Replaced Her Implants
–– Biggest boob Joe left her.
Amy Duggar Bares Her Belly 4 Months After Giving Birth: 'My Body Is Not Magazine Perfect'
–– Brain is box-top average.
Michael Palin dedicates Special Recognition award to Terry Jones in emotional NTAs tribute
–– Dead paisan joke.
Mel Gibson and Danny Glover will be back for 'Lethal Weapon 5', says producer
–– Who's playing 'Sugar Tits?'
Hailey Bieber reveals she has genetic condition in clapback to trolls making fun of her fingers
–– Can somehow clap back with just pinky.
Justin Bieber's Giant New Neck Tattoo Looks Like It Was Painful
–– We hope.
Justin Verlander laughed at after saying Astros were 'technologically and analytically advanced'
–– Astrodumb.
Gene Hackman Turns 90! Fans Pay Tribute to Iconic Retired Actor: 'One of the All-Time Greats'
–– Hoosiers daddy?
'My Heart Goes Out to Our Friends and Family in Oz': How Celebs Are Helping Combat the Devastation in Australia
–– 'Dorothy, Auntie Em, Toto, the old farmer guy.'
Meghan Markle and Prince Harry are planning to move to L.A. this summer
–– Crown was hoping for Portobello, Otago, New Zealand.
Kate Middleton Reveals She and Prince William Have Discussed the Holocaust with Prince George
–– And how 'Daddy's great grand-uncle liked Mr. Hitler.'
Queen appoints Prince William to new role amid royal shakeup
–– Weekly appearance in ginger wig, beard, SS uniform to remind her of Harry.
James Corden says 'intoxicating' fame made him 'behave like a brat'
–– But was 'chastened' having had to 'behave like a Cat.'
James Corden responds to the bombshell allegations shocking the nation that he's not really driving during Carpool Karaoke
–– Steers queer of subject.
Hunters put the squeeze on 80 snakes in Florida's Python Bowl
–– Super boa?
A mom gave birth at an elementary school after her son's awards ceremony. Three teachers rushed to help her
–– Son will never forgive kid sister.
Andrew Yang sang with a black church choir. Not everyone said 'Amen'
–– Some said, 'Pew!'