Lev and Let Die

Week of 01/17/20
Actual headlines from the internets. You Google 'em.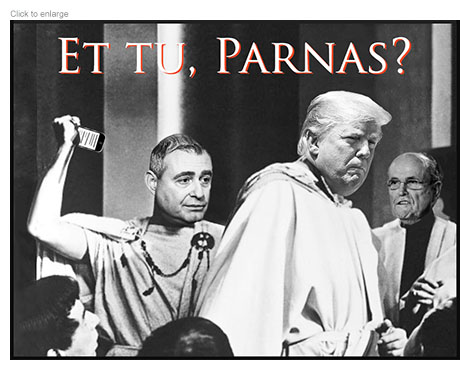 G.A.O. Report Says Trump Administration Broke Law in Withholding Ukraine Aid
–– Fake state deep news!
Lev Parnas: Trump Hotel 'Like One Big Cesspool'
–– Cesspool takes offense.

Capitol Police gave senators phrase cards with suggestions to tell reporters covering impeachment to 'get out of my way'
–– Like: 'I'm walkin' here!'
Trump Impeachment: What to Expect From the House and Senate Today
–– Um, uh, more of same?
Trump's Impeachment Trial a Perilous Duty for Chief Justice
–– Roberts' Rules of Disorder.
Trump impeachment defense team will include Clinton prosecutor Ken Starr and Jeffrey Epstein lawyer Alan Dershowitz
–– And ghost of Roy Cohn.
Trump Just Hired Jeffrey Epstein's Lawyers
–– With promise of little black book thrown in.
Trump on Starr in 1999: Ken Starr is a lunatic
–– Back when Trump could make occasional sane assessment.
Monica Lewinsky Responds to Kenneth Starr Trump Impeachment Team News: 'Are You Fucking Kidding'
–– Level in the blue dress.
Trump: 'I know nothing about' indicted Giuliani associate Parnas
–– In adorable Sgt. Shultz accent.
Trump again denied knowing Lev Parnas. So Parnas' lawyer posted more robust proof.
–– DNA evidence on blue suit.
House Democrats provide new evidence of Giuliani's push to meet with Zelensky
–– Rudy of all evil.
Pelosi angers GOP by using 30 different personalized pens to sign Trump's 'sham' impeachment articles
–– And no Sharpies.
Lev Parnas, Key Player in Ukraine Affair, Completes Break With Trump and Giuliani
–– Rat's out.
Lev Parnas says he watched Trump tell aide to fire the US ambassador to Ukraine
–– Aide and abetting.
Lev Parnas: Rick Perry said he told Ukrainian president aid was contingent on Biden investigation
–– In all fairness, Perry too stupid to know what contingent means.
Robert Hyde, Erratic Ex-Landscaper, Is Unlikely New Impeachment Figure
–– Can't tell you how many rose beds he accidentally mowed.
Kellyanne Conway Melts Down Under Grilling by Fox News
–– Turkey melt.
Trump has 'discredited the American experiment:' Robert Kennedy Jr.
–– 'Like a batch of toxic vax in the lab.'
Trump called top national-security officials 'losers,' 'dopes and babies' when they tried to walk him through the basics of US diplomacy, an explosive new book says
–– Or was it crawl?
Eleven U.S. troops injured in Jan. 8 Iran missile attack in Iraq
–– Pride took hit.
Liz Cheney says she won't run for Senate seat
–– Changing Dick's catheter full-time job.
Iranian protesters take to streets after Tehran admits Ukrainian plane was unintentionally shot down
–– Just an Allah oops.
San Diego student among close-knit Iranian-Canadians killed in Ukrainian plane crash
–– Now Americans can give shit.
Influential Iraqi cleric Sadr calls for anti-U.S. demonstrations
–– Tops hate parade.
'I wished I was on that plane': Iranian general apologizes; missiles pound Iraq base. What we know now
–– Finally, something everyone can agree on.
Trump administration officials have contradicted each other on Soleimani again and again. This is the result.
–– Soleimani still dead.
Trump reportedly authorized the Soleimani strike 7 months ago, throwing a wrench through his argument that there was an 'imminent threat'
–– With which to ratchet up criticism.
Esper Says He Didn't See Specific Evidence Iran Planned to Attack 4 Embassies
–– In latest slang for 'any.'
Chris Wallace to National Security Adviser: Why Can Trump Tell Fox About Embassy Attacks but Not Congress?
–– 'Congress doesn't provide him with hand jobs.'
Watch Fox's Lou Dobbs Smile From Ear To Ear As He Receives Validation From Donald Trump
–– Doing serious damage to face lift.
The US reportedly sent secret messages to Iran via Swiss intermediaries, urging not to retaliate too strongly and further provoke Trump
–– Included dozen Toblerone bars.
The UK is abandoning its alliance with Trump as the United States 'withdraws from its leadership around the world'
–– Not-s0-special relationship.
Trump claims to be 'dealmaker not warmonger' after killing top Iranian general and increasing tensions across Middle East
–– Chaos the deal.
British ambassador arrested after haircut in Tehran slams Iranian authorities for his 'illegal' detention
–– And close shave.
Iran's supreme leader called Trump a 'clown' as he delivered Friday prayers for the first time in 8 years amid growing unrest over the Flight 752 disaster
–– Like John Wayne Gacy.
Professor Fired After Joking That Iran Should Pick U.S. Sites to Bomb
–– Teacher's threat?
Hero who fought off London Bridge attacker with tusk accuses Donald Trump of 'feeding terror'
–– Like krill to narwhal.
Warren appears to snub Sanders' handshake after Iowa debate
–– Afraid to damage brittle digits.
Bernie Sanders applauds Cardi B's interest in being a politician: She knows the 'struggle'
–– Of putting sentences together.
Russian government resigns after Putin proposes reforms that would weaken his successor
–– Moscowed by President.
I'm from South Africa and spent 2 weeks working in New York. Here are 10 things I found bizarre about day-to-day life.
–– 6) Apartheid ended before 1994.
Real-Life Mobster 'Sammy the Bull' Gravano Thinks Scorsese 'Could've Did a Much Better Job' On 'The Irishman'
–– 'Like Sheeran never done Hoffa.'
Kathy Bates on MeToo: 'In my day, if you went to a guy's hotel room, you knew why you were going'
–– Was like Bates Motel.
Kate Upton said 'pressure' to breastfeed her daughter 'was sucking the energy away from me'
–– No, that was actually baby.
Here's what White House press secretary Stephanie Grisham has to say about not holding press briefings
–– To empty room.
White House press secretary dismisses critics, saying she's 'unorthodox' like Trump
–– In latest slang for 'incompetent.'
The Delta pilot who dumped jet fuel on schoolkids told air traffic control moments before that he wasn't going to do it
–– Radioed: 'Psych, over.'
Elon Musk has had the viral song from 'The Witcher' stuck in his head for at least a week
–– Took much weed to smoke it out.
Eminem Pays Homage to Alfred Hitchcock With 'Murdered' Album Cover and Title
–– Suspense disbelief.
Christopher Tolkien, the son of 'Lord of the Rings' author, has died at 95
–– Covered with Middle-earth.
Dolittle Is One of the Worst Movies in Years
–– Talking animals: 'It sucks.'
Best Buy investigates claims that its CEO was romantically involved with another executive
–– Wait, female bosses have sex with co-workers, too?!
A 'naked philanthropist' who says she raised $1 million for Australia's fires is now sending nudes to people who donate to Puerto Rico
–– Of burning bush down under.
Disney drops 'Fox' name and will rebrand its movie studio as '20th Century'
–– 20th Century fux.
Rupert Murdoch's son lashes out against Fox and his father's other news outlets for climate change coverage
–– And Disney for idiotic name change.
Disney CEO Bob Iger's 2019 Pay Drops $18 Million From Prior Year to $47.5 Million
–– Totally Mickey Mouse.
Miley Cyrus Poses Braless With Cody Simpson After Gifting Him Vintage Birthday Present
–– Dry hump in old jeans.
Leave Means Leave 'granted permission to hold Brexit party' in Parliament Square on 31 January
–– Leave lying about?
EU lays out 1 trillion-euro plan to support Green Deal
–– Trump promises 1 quadrillion in Monopoly money.
D.A. Accuses Weinstein Defense of Excluding White Female Jurors
–– Or doing their job.
George Cheeks Exits As Vice Chairman of NBCUniversal Content Studios, Appears Headed To ViacomCBS
–– Cheeks slapped.
MLB rumors: Astros' Jose Altuve, Alex Bregman wore 'devices that buzzed' as part of sign-stealing scandal, report says
–– And joy buzzers when shaking opponents' hands.
Carlos Beltran and New York Mets agree to part ways after sign-stealing scandal
–– Astro Doh!
Grammys Head Deborah Dugan Removed 10 Days Before Ceremony
–– Record spin out.
Sandi Toksvig has quit 'The Great British Bake Off'
–– Cites Toksvig environment.
Leslie Jones Is Ready to Rock the Boat, Hard
–– In her bathtub, maybe.
Pop star Sia has adopted a son and wants 'no-strings' sexual relationship with Diplo
–– No more light bondage?
Al Pacino got so high at the 1975 Oscars that a baffled Jeff Bridges had to tell him what was happening
–– Bridges two bongs straighter.
A Photo Of George Lucas Cradling Baby Yoda Is Melting People's Hearts
–– One of him suckling creature less so.
The TSA apologized after an agent pulled a Native American passenger's braid and said "giddyup!" during a pat down
–– Agency frowns on horseplay.
James Corden admits he wears body control Spanx to host 'The Late Late Show'
–– And Pranx to contain wit.
A Tissue Turtleneck Is the Comfy Essential Your Closet Needs
–– And saves on handkerciefs.
Michael Avenatti arrested after allegedly violating his pre-trial release terms
–– Shot mouth off.
North Korea says leaders' relations not enough after Trump sends birthday wishes to Kim
–– Even life-size Rihanna sex doll didn't help.
North Korea's "Koksan" Big Gun Could Strike Seoul
–– Full name 'Koksan Balls.'
Iran's sole female Olympic medalist says she's defected
–– Iran's male Olympic director admits he's defective.
The Rock and Roll Hall of Fame 2020 inductees are...
–– Unworthy.
Janelle Monae announces on Twitter she in non-binary
–– Possibly dewy-decimal.
Jeffree Star confirms he and Nathan Schwandt are over
–– Had they ever really started?
Will Smith admits 'jealousy' over Jada Pinkett Smith's close friendship with Tupac: 'I couldn't handle it'
–– 'So I offed him.'
Some of San Francisco's robot-run restaurants are failing. It could simply be that we still want to be served by humans, not machines.
–– Or it could be everything tastes a bit metallic.
More than a dozen Saudi servicemen to be expelled from US after review of December shooting at Naval Air Station
–– Apparently got two thumbs down.
JPMorgan first major brokerage to rate Saudi Aramco 'overweight'
–– 'It's like King Abdullah of government oil and gas cartels.'
Poland Urged to Look for Nazi-Looted Art Still Held in Its Museums
–– Ones with swastika watermarks.
Virginia Capital on Edge as F.B.I. Arrests Suspected Neo-Nazis Before Gun Rally
–– Poor man's idea of Richmond.
Hunter bitten on head by venomous snake hanging above him from tree
–– Cop a' head.
Thai king orders new traffic rules to curb congestion from royal motorcades
–– And avoid Thai-ups.
Mexican wrestler dies months after wrestling injuries
–– Injuries retain belt.
Linda Perry Says She and Estranged Wife Sara Gilbert Are 'Evolving Into Something Else'
–– Good God, is that what's under the hat?
Gwyneth Paltrow's selling a £57 candle that 'smells like my vagina'
–– Burnt wick smells like Chris Martin's willy.
Martha Stewart mocks Gwyneth Paltrow's 'vagina-scented' candle: 'I wouldn't buy it'
–– Whoa, Martha, dial down sarcasm.
Hugh Grant's father, 91, set for date with Matthew McConaughey's mother, 88, after actors' match-making
–– A wedding and two funerals?
A dog gives birth to a green puppy, now named 'Hulk.' Here's the science behind it
–– Gamma rays,
duh!
'Incredible Hulk' legend Lou Ferrigno to become sheriff's deputy in New Mexico
–– Now that he has police dog.
Kylie Jenner Declares 'Don't Talk to Me or My Daughter Again' in Cryptic Instagram Post
–– Transmitted to Bletchley Park for decoding.
How 'Parasite' Changed What Foreign-Language Films Can Do At the Box Office
–– Can now cause widespread gastric distress.
How One Librarian Tried to Squash Goodnight Moon
–– By sitting on it.
Baby opossum beaten until blinded on Hilton Head golf course
–– Frustrated foursome behind her said she'd 'played dead.'
Hockey analyst Jeremy Roenick apologizes for making 'inappropriate comments' about his co-workers
–– While trying to be puckish.
Versace Unveils Jennifer Lopez As Face Of Spring-Summer 2020 Campaign
–– Implying she's two faced?
Wendy Williams apologizes for Joaquin Phoenix 'cleft lip' comments
–– Spoke with forked tongue?
Joaquin Phoenix calls out 'meat and dairy industry' at Jane Fonda's climate protest before arrest
–– He must be Jokering.
People are leaving California and New York, and that could shake up the political landscape
–– If they stomp out.
Conservative 'Moms' group slams Burger King for using 'the d-word' in a commercial
–– 'D-word' them to Hell!
Popeyes gives 'Family Feud Canada' contestant $10,000 worth of food after her wrong answer goes viral
–– California Leafy Greens Research Board sends dented can of spinach.
'Jeopardy!' Causes Social Media Uproar By Denying Contestant Answer That Bethlehem Is In Palestine
–– Which is make-believe country.
Could the Avocado-Green Kitchen Make a Comeback?
–– Only in headline of desperate design reporter.
This playboy tortoise had so much sex he saved his entire species. Now he's going home
–– Had glory hole drilled in shell.
Florida fisherman catches 350-pound Warsaw grouper
–– Follower of Elektryczne Gitary apparently drowned.
Australia's indigenous people have a solution for the country's bushfires. And it's been around for 50,000 years
–– And never worked.
Australia is dropping thousands of veggies from helicopters for hungry animals escaping bushfires
–– Wallaby damned!
Megyn Kelly talks about how 'demeaning' it was having to 'spin' for Roger Ailes
–– He kept stationary bike right in office.
Charlize Theron Was Hit 'Really Deep' by Megyn Kelly's 'Validating' Response to Bombshell
–– For not making her seem like complete careerist monster.
Stephen King in Oscars voting row after saying quality trumps diversity
–– Can we quota him on that?
AOC's Reelection Campaign Keeps Half of All Donations to 'Working-Class Champions' PAC
–– Every last Red cent.
Ford Mustang driven by Steve McQueen in 'Bullitt' sells for $3.4 million
–– Hopefully replaced shocks.
The 'Birds Of Prey' Runtime Was Announced, And It's Very, Very Short
–– Which is very, very merciful.
Burt Ward Of 'Batman' Says He Took Pills To Shrink Private Parts
–– Kept in utility belt next to XL condoms.
Hollywood Superman Christopher Dennis' Cause of Death Even Grimmer Than You Imagined
–– Well, we imagined kryptonite.
Could 'Megxit' Be a Royal Fairy Tale for Canada?
–– Or more Meg shit?
Coming or going, Meghan gets the blame -- and it's because of her race
–– Yeah, remember how easy British press was on mother-in-law?
Meghan Markle media coverage not racist, says home secretary Priti Patel
–– But what would brown woman actually living there know?
Meghan Markle's Charity Cookbook Sales Spike Following News She's Stepping Back from Royal Role
–– Recipe for Chicken à la King popular.
Burger King Has A Whopper Of A Job Offer For Prince Harry
–– Prince Charles: 'Me first!'