Tears of a Clown

Week of 06/05/20
Actual headlines from the internets. You Google 'em.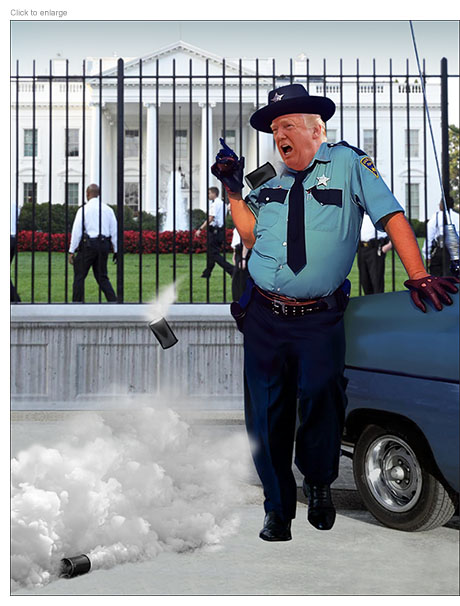 Protesters Dispersed With Tear Gas So Trump Could Pose at Church
–– Read it and weep.
Brands Have Nothing Real to Say About Racism
–– #blackdealsmatter?
Yes, Trump Was Holding The Bible Wrong, Says Former Bible Salesman Malcolm Corden
–– Couldn't get Gideon's take?
Anderson Cooper Dismantles Kayleigh McEnany's 'Like Churchill' Defense Of Trump
–– More like bulldog that looks like Churchill.
Washington DC paints a giant 'Black Lives Matter' message on the road to the White House
–– Black tops.
Esper: I do not support invoking the Insurrection Act
–– Esper drills.
Attorney General Barr denounces those who have "hijacked protests to engage in lawlessness"
–– Not as bad as hijacking WH for same.
'Most of you are weak': Trump rails at the nation's governors, urges crackdown on violence
–– Clean jerk counsels dumbbells.
Resurfaced Trump interview about Tiananmen Square massacre shows what he thinks of protests
–– Would like to give tanks.
'You will move, or you will die': A frightened truck driver's widely shared Facebook post says truckers will 'defend themselves' by running over protesters
–– Give 'em a brake.
The First Time They Hit Me Was From Behind. We Were Peaceful, But They Wanted To Send a Message.
–– But I couldn't read note on billy club.
Gun-toting members of the Boogaloo movement are showing up at protests
–– A septic Boogaloo.
Governors Push Back On Trump's Threat To Deploy Federal Troops To Quell Unrest
–– Like leaning into 6' orange Jell-0 mold.
The Psychology Of Riots – And Why It's Never Just Mindless Violence
–– There is that reasoned 1.8%.
Paul holds up anti-lynching bill. See Harris and Booker's response.
–– It's noose to us.
The top Amazon lawyer who called a Black warehouse employee 'not smart, or articulate' calls for racial justice in leaked email
–– So he was smart, articulate?
Dog returned to white woman who called police on black man bird-watching in Central Park
–– Now fired, humiliated pariah has something to eat.
Filmmakers Rally Behind John Boyega's Stirring 'F**k That' Speech Against Racism
–– Move over, MLK.
Sambo's Restaurant Plans to Rebrand Amid Calls for Boycott
–– Checked with Trademark Office if Pickaninny's available.
Friends star David Schwimmer reunites with ex-wife to share message of support for Black Lives Matter protest
–– Which almost makes all protests worth it.
Seth Rogen, Ashton Kutcher fire back at 'All Lives Matter' comments: 'You don't deserve my movies'
–– No, they do, in constant rotation with eyelids propped open.
Tucker Carlson Blames Jared Kushner for Trump's Protest Catastrophe
–– And Ivanka for sexual frustration that hinders concentration.
Autopsy report shows Floyd had tested positive for COVID-19
–– Carlson: 'So that's why he couldn't breathe!'
George W. Bush Calls George Floyd's Death, Harassment A "Shocking Failure" In Open Letter; Donald Trump Fires Back
–– George WTF Bush!
'You just don't do that, Mr. President': Televangelist Pat Robertson condemns Trump's 'law and order' response to protests
–– God-damned Pat Robertson!
Texas Lt. Gov. Dan Patrick: Racism Won't Stop Until We 'Accept Jesus Christ'
–– 'And we'll nail ya to a cross 'n' burn it if you don't.'
Frank Rizzo Statue Is Removed In Philadelphia: 'It Is Finally Gone,' Mayor Says
–– Rizzo to da schizzo.
Minneapolis CEO Fires Daughter From Company Over Racist, Pro-Hitler Tweets
–– Nepotism, despotism don't mix.
Taco restaurant employees refuse to fulfill catering order for Ohio State Patrol and walk out of shift
–– Give chile reception.
Lifelong Democrat lawmaker turned Trump voter says he won't let Antifa ruin his beloved city of Atlanta
–– Tumor in head agrees.
Facing Protests Over Use of Force, Police Respond With More Force
–– Left flowers in locker.
Police Fatally Shot A Man Who Was Kneeling After Mistaking A Hammer In His Pocket For A Gun
–– He was definitely not just happy to see them.
Wife of officer charged with murder of George Floyd announces she's divorcing him
–– Cited moral high grounds.
Derek Chauvin's wife requests to change her last name in divorce filing
–– Knows male Chauvinist pig.
Susan Rice Blames 'Foreign Actors' for Stirring George Floyd Protests: 'Right Out of the Russian Playbook'
–– Thought she saw Isabelle Huppert, Jackie Chan in crowd.
Police act like laws don't apply to them because of 'qualified immunity.' They're right.
–– Have antibodies armor.
It's been five decades since 1968, and things are somehow worse
–– For the purposes of this story.
Trudeau: Canadians watching US unrest and police violence in 'shock and horror'
–– Northern disclosure.
NYPD's Terrorism Official Says Unnamed Groups Planned Protest Violence in Advance
–– Because poor New York street toughs cooped up three months needed tutors.
Protester loses eye after being struck by police tear gas canister
–– Making deterrent 1/2 as effective.
Woman swipes Cheesecake Factory treat during Seattle protests
–– Will need lots of marching, fist-waving, looting to work off.
Shattered storefronts and 'eat the rich' graffiti: Photos show the aftermath of destruction in luxury stores that were looted and vandalized during the protests
–– 'Eat the rich' should be Cheesecake Factory slogan.
Lady Gaga Says 'Everyday People in America Are Racist' in New Instagram Statement
–– How about every day, not that it's everyone?
Dale Murphy says son was shot with rubber bullet while 'peacefully protesting' George Floyd's death
–– Atlanta brave.
Knicks owner James Dolan on George Floyd silence — 'We are not any more qualified than anyone else to offer our opinion on social matters.'
–– Or running NBA team, apparently.
Iran's Khamenei says Floyd's killing exposes real nature of U.S.
–– 'They treat blacks as if they were as bad as Jews.'
Trump praises Secret Service for deploying 'vicious dogs' against DC protesters
–– Let Barr, Pompeo off leashes?
Trump Was Reportedly Rushed To Underground Bunker For Protection During D.C. Protests
–– Found Melania hiding from him.
Trump Brutally Mocked For Saying He Went To Bunker Just To Inspect It
–– Wanted to make sure Hitler, Eva Braun posters properly hung.
White supremacists attending George Floyd protests, Minnesota officials believe
–– Like auditing poly-sci classes.
President Trump Says ANTIFA Will Be Declared "Terrorist Organization"
–– 'In this speech.'
George Floyd's Brother Says Trump 'Didn't Give Me the Opportunity to Even Speak' During Call
–– Kept asking him to 'take my order.'
Chicago Mayor Lori Lightfoot Says 'F U' To Trump For 'Looting' Tweet
–– F U ever change your mind?
Twitter Had Been Drawing a Line for Months When Trump Crossed It
–– Hard to see after he'd stamped on so often.
Zuckerberg: Trump's 'Shooting' Comment 'Has No History of Being Read as a Dog Whistle'
–– CEO, civil rights historian, semiotician.
'Selma' Overlooked at Oscars Because Cast Wore 'I Can't Breathe' Shirts
–– Caught with pants down.
Black doctor: 'I can't breathe' is deeply personal
–– Lung-winded explanation.
Iowa Rep. Steve King, Known For Racist Comments, Loses Reelection Bid
–– King is dead.
Shaquille O'Neal Reveals What He Tells His Sons to Say to Police: 'Try to Diffuse the Situation'
–– 'Yknow, try to bring in scattered references to make the conversation less focused.'
Seth Meyers Denounces New York Times for Publishing "Sinister" Tom Cotton Op-Ed
–– First Amendment is spooky.
Joe Biden says '10-15%' of Americans 'are just not very good people'
–– He's about 1/3 right.
Trump Campaign's Plea For Video Messages To Celebrate President's Birthday Backfires
–– B-day good or bad?
Grassley puts hold on two Trump nominees until he gets answers on IG firings
–– Chuck grossly.
Trump tried to vote with wrong address while railing against voter fraud
–– Always listed Hell as return address before.
China warns the UK to 'step back from the brink' after Boris Johnson offers 3 million Hong Kong citizens refuge in Britain
–– Brink and you miss it.
Opinion | Britain's 'Golden Era' of China Relations Is Over
–– Pissed away.
Donald Trump Says They Are "Forced To Seek Another State" For GOP Convention
–– Something trancelike, yet agitated.
Trump won't accept Republican nomination in Charlotte, RNC announces
–– Just hold the damned convention at Mar-a-Lago.
Trump Says Joe Scarborough 'Got Away With Murder,' Fox News' Brian Kilmeade Does Not Follow Up
–– Inasmuch as every accusation is based on his own misdoings, obvious question: 'Where'd you hide the body?'
Three Reasons Stocks Are Rising
–– 2. Drive-nails-into-own-head irrational exuberance.
James Mattis Denounces President Trump, Describes Him as a Threat to the Constitution
–– Mattis of fact.
Piers Morgan tells Rudy Giuliani on live TV: You've gone completely mad and you sound deranged
–– Which is now part of standard intro.
Jon Ossoff is back at it, with two competing Senate candidates on his heels
–– Couple more on his toes.
Asteroid possibly as big as Empire State Building to zoom past Earth
–– Heated debate arises over speculation it might actually be closer in size to Chrysler Building.
Forget Xanax. This Company Wants You to Take a Large Dose of LSD.
–– So you'll really forget it.
New Jersey is the first state to add climate change to its K-12 education standards
–– 3rd grade science experiment switched from mini-volcano to melting mini-iceberg.
Scientists iron out the physics of wrinkling
–– Crease in interest rates.
Could OPEC+ Become a Victim of Its Own Success?
–– If they program non-oil-based streaming entertainment.
Russian Power Plant Spills Thousands Of Tons Of Oil Into Arctic Region
–– Will add millions of gallons of vodka to try to cut it.
Turns out our genes can impact how sensitive we are
–– You would say that just to make us feel bad.
Cate Blanchett Says She's 'Fine' After Suffering 'Little Nick to the Head' in Chainsaw Accident
–– Was rehearsing for audition as Ent in LOTR reboot.
Mama June Lands a New Job Delivering Airport Luggage: 'It's Called Real Life'
–– Tries to stuff Honey Boo Boo in bag that fits overhead.
'Dune' cinematographer says first movie is 'a fully standalone epic'
–– You will stand alone on line at theater playing it.
Arnold Schwarzenegger remembers gruesome injury while filming 'Total Recall'
–– Popping eyes out of head had to hurt.
Sean Hannity and Wife Separated Years Before Confirming Split: Looking Back at Their Relationship
–– And trying not to puke.
Pete Davidson Saw King of Staten Island as a Way to 'Move on' Instead of 'Feeling Sorry for Myself'
–– Moviegoers should also move on.
New' Footage of Benjamin, the Last Tasmanian Tiger Ever Seen Alive
–– Benjamin not on Yahoo?
Bald Eagle Nest With Eggs Spotted on Cape Cod for the First Time in 115 Years
–– Buff bird, chicken hawks seen partying in P-town bar.
How to re-wild your garden, from ponds and trees to attracting butterflies and hedgehogs
–– Or just neglect it.
The Right Way to Remove a Tick From Your Cat, According to a Veterinarian
–– Double-barreled 12-gauge.
Antique taxidermy is the stuff of investors' dreams
–– Sew weird.
Pinpointing the origins of Jerusalem's Temple Mount
–– Mounting evidence.
Smokey Bones creates extreme bacon doughnut for Doughnut Day: 'A love letter to our meat-obsessed guests'
–– Holey Heart Attack, Fatman.
These Kids Dressed as Dinos to Surprise Grandma But She Had A Better One
–– Dressed as meteor and squashed them.
Spanish porn star arrested after man dies during 'mystical' toad venom ritual
–– Croaks.
Tourists fined for swimming in Venice Canal
–– Acqua alta kakers.
Skateboarder Sky Brown, 11, hospitalized after horror fall
–– Sky is falling.
Indonesian group dreams of trash barrier idea going global
–– While they address UN naked.
Triple Threat Imperils Millions of People Across Africa
–– Deadly Juilanne Hough can sing, dance, act.
Noisy Cicadas Are Widely Misunderstood
–– Can't make out words with all that chirping.
Herds of Moss Balls Mysteriously Roam the Arctic Together
–– Gather rolling stones.
Humans and Neanderthals Have More in Common than Polar and Brown Bears
–– We're taking afternoon off to ponder.
Cleanest Air in the World Discovered
–– Till researcher cuts one.
Study of 200,000 Galaxies Reveals the Entire Universe Might Have Been Spinning in One Direction Early On
–– Till Creator called 'Do-Si-Do', got all screwed up.
Paleontologists uncover fossils of Earth's earliest parasites
–– In 500 million years DC lobbyists will provide ETs with cool finds.
AMD's Lisa Su was the highest-paid CEO in the S&P 500 last year
–– $58.5 mil not repugnant when a woman?
China says U.S. 'addicted to quitting' over plan to withdraw from WHO
–– Has, um, uh, Yellow Fever?
America Needs a Leader Who Will Confront China's Loan Sharking in Africa
–– And break some knee caps.
Black Americans Have a Message for Democrats: Not Being Trump Is Not Enough
–– And we have so many other choices.
Rio Tinto apologises for blowing up 46,000-year-old Aboriginal site
–– Thought it was only 45,000.
Necco Wafers make their triumphant return 2 years after the factory that made them closed its doors
–– For Neccophiliacs.
Lea Michele apologizes after Samantha Marie Ware accuses her of making 'Glee' a 'living hell'
–– Bows horned head in shame.
Squirrels, Rats and Other Rodents Take Up Residence in Non-Running Car Engines
–– Don Jr. found under hood.
GOP senator says she's 'struggling' on whether to back Trump
–– Murkowski hasn't seen conscience in nearly four years.
Fired watchdog tells Congress he informed top officials about probe into Pompeo and wife
–– Said he was unable to recover either speculum.
Flynn Told Russian Ambassador To Keep Cool Over Obama Sanctions, Transcripts Reveal
–– When you're a nyet, you're a nyet all the way.
Trump promises Stone won't serve prison time: 'He can sleep well at night!'
–– 'Curled up in my ass.'
Elon Musk said he was 'overcome with emotion' over SpaceX launch and the task of bringing astronauts home: 'I'm getting choked up, I'm sorry.'
–– 'Smoke got in my eye. From this stellar doobie.'
NASA astronauts Bob Behnken and Doug Hurley just gave SpaceX's new spacesuits a '5-star review'
–– Mr. Blackwell upchucked in Great Beyond.
'Space Force' Cast Says Show Is 'The Office' but "Shot like a $100 Million Marvel" Movie
–– And nothing funnier than one of those.
Ridley Scott Says 'Alien' Chestburster Scene Floored Stanley Kubrick
–– Ribbed him about it.
Fox Sports anchor apologizes for 'completely inappropriate' Adolf Hitler joke
–– Sad when there are so many appropriate opportunities in Australian National Rugby League matches for Hitler jokes.

'It's affirmation of all the work we've been doing': Trump touts jobs numbers amid protests, coronavirus
–– You're good enough, you're smart enough, and doggone it, people like you!
CDC director is "deeply saddened" by the loss of lives from Covid-19
–– Redfield: 'It's affirmation of all the work we've been doing.'
Mexico overtakes U.S. coronavirus daily deaths, sets records
–– Part of new NAFTA deal.
Boris Johnson says coronavirus may have 'its own kinetic force' amid warnings of second wave
–– 'And can really boogie on down.'
Coronavirus: Sex during lockdown with someone outside your household is illegal from today
–– How about from next cell?
Bathers may need to arrive and leave in their swimwear for a day out at the pool from July
–– And wear on streets till they get home!
Tory MP says sorry after accidentally sending email to constituent with 'insert if there's been a bereavement' note
–– Almost died of embarrassment.
Coronavirus: Equalities watchdog to launch probe into 'entrenched racial inequalities' laid bare by pandemic
–– Wish they'd stick with finding equalities.
How Boris Johnson dropped his promise to reject America's chlorinated chicken
–– Likes Chick-Fil-A in swimming pool.
Coronavirus Turns a Spanish Sea Delicacy Back Into Daily Fare
–– Prawn again.
Pandemic Could Scar a Generation of Working Mothers
–– Only care if it's their lungs.
Leaked documents reveal China withheld crucial information about the coronavirus at the start of the outbreak
–– In misfortune cookie.
Fauci Says Meetings With Trump On Coronavirus Have 'Dramatically Decreased'
–– In latest slang for 'completely disappeared.'
Brazil is easing restrictions even though coronavirus deaths are at their highest, with President Bolsonaro saying death is 'everyone's destiny'
–– May he fulfill destiny today.
Explainer: Are asymptomatic COVID-19 patients safe or silent carriers?
–– Explainer or Questioner?
A German shepherd is first dog in the U.S. to test positive for the coronavirus
–– Bitten nurse with swab tests positive for rabies.
US astronauts disembark SpaceX's Crew Dragon and board the International Space Station
–– And Spread COVID.
This Celebrity Plastic Surgeon Has Received a Record Number of Requests During Coronavirus — Here's Why
–– Celebs have too many mirrors in homes.
Strippers work to 'take back all of the power' while clubs are shuttered during the pandemic
–– Assume pole position.
What nudists do during a lockdown
–– Hang out.
Spike Lee and Charlize Theron will not film until there is a Coronavirus vaccine
–– Hate to root against vaccine, but…
Guide to Dealing with Overwhelming Anxiety Right Now
–– This instant, you useless slacker! C'mon, what's the matter with you, scaredy cat?
Mail Handlers Used to Poke Holes in Envelopes to Battle Germs and Viruses
–– Now they just place down nearest storm drain.
After Coronavirus, Office Workers Might Face Unexpected Health Threats
–– Plague of news stories designed to terrify them.
Sewage could hold the key to stopping new coronavirus outbreaks
–– If you believe this shit.
Trump is reportedly insisting the Republican National Convention be held without face masks or social distancing measures
–– Pretty please.
Florida's Seen a 'Statistically Significant' Uptick in Pneumonia Deaths. The CDC Says It's Likely COVID.
–– Bounced like beach ball during Spring Break.
Exclusive: Russia to roll out its first approved COVID-19 drug next week
–– Stolichroloquine.
Trump Announces U.S. 'Terminating' Relationship with World Health Organization
–– WHO boy!
Herbert Stempel, TV quiz show whistleblower, dies at 93
–– Stempel of doom.
Christo, who made monumental art around the world, has died at 84
–– Wrapped in orange shroud.