Blamestream Media

Week of 05/01/20
Actual headlines from the internets. You Google 'em.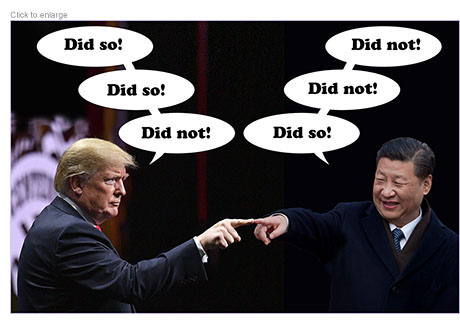 China vs U.S. fight turns into Thunderdome
–– With two Blasters.
Coronavirus: Has Sweden got its science right?
–– Swede deal?
Trump Says He's Seen Evidence that Coronavirus Originated in Wuhan Lab
–– Was it bugged?
US intensifies blame game; Trump officials said to be pressuring spy agencies to link coronavirus to Wuhan lab
–– Looking to bribe rat.

Testing Remains Scarce as Governors Weigh Reopening States
–– CDC suggests concerned leaders use smell test.
Fauci says US should double its testing over next several weeks
–– To levels that are solidly insufficient.
Capitol physician says Senate lacks capacity to test all senators
–– Can't scrape together 100 swabs?
Antibody tests were supposed to help guide US reopening plans. They've brought more confusion than clarity amid coronavirus.
–– It's antibodies guess.
White House blocks Fauci from testifying next week
–– On Fauci pretenses.
Unemployment claims from Asian Americans have spiked 6,900% in New York. Here's why
–– Virus orders take out.
Protesters, some armed, spill into Michigan Capitol building demanding end to stay-at-home order
–– Insist state provide long arms so they can safely threaten those not practicing social distancing.
Why Georgia Governor Brian Kemp Loves Playing Dumb
–– Typecasting.
Rick Scott hits back at Andrew Cuomo over bailouts: 'People keep leaving his state'
–– Prefer to die in Florida's warmth.
Coronavirus: Mike Pence flouts rule on masks at hospital
–– Always sports metaphorical blinders.
Masks and Emasculation: Why Some Men Refuse to Take Safety Precautions
–– Makes them feel like they have tiny Pence.
Wearing a mask is for smug liberals. Refusing to is for reckless Republicans.
–– Dying for everyone.
Trump Called Out To His Face After Blaming Obama For 'Broken' Coronavirus Tests
–– Which face?
Coronavirus eradication is 'technically impossible'
–– Typical experts getting all technical.
Trump Hails Kushner's PPE Airlift, But Details of Sales Are Secret
–– Peepee he.
New York's Cuomo calls politics 'hammer into the middle' of U.S. during pandemic
–– Wielded by Thrump, God of Blunder.
Tribes Were Supposed To Get $8 Billion In COVID-19 Aid. They've Gotten $0.
–– And wampum marker signed by Trump.
Susan Rice Slams Jared Kushner's 'Ridiculous' Boast About U.S. Coronavirus Response
–– But it is 'a great success story' from microbe's perspective.
Mitch McConnell wants to prevent a 'blue state bailout' of stimulus money. But Kentucky takes more from the federal government than almost any other state.
–– But think of 2 minutes it contributes each year to our national life.
Trump announces trip to Arizona, ending White House confinement
–– Will wear ankle bracelet.
Ryanair Is Right About 'Crack Cocaine' Airline Bailouts
–– Crystal clear?
Man Who Died Drinking Fish Tank Cleaner Mistook It for Drug Pushed by President
–– Found floating upside down.
Maryland governor says hundreds of people have called asking about ingesting disinfectant
–– Operators respond: 'Not even if you have case of crabs.'
Fox Hydroxychloro-Queen Laura Ingraham Trashes Promising New Treatment
–– Hoaxydroxychloro-Queen?
Madonna tests positive for antibodies and says she wants to 'breathe in the COVID-19 air'
–– Hope hers filled with gnats.
Avril Lavigne releases coronavirus pandemic-inspired song
–– Tune not catchy.

Most States Are Exempting Houses Of Worship From Social Distancing Orders
–– Especially ones singing Nearer, My God, to Thee.
Spanish official apologizes after beach sprayed with bleach
–– White fish washed up.
Up to 60 bodies found in four trucks outside Brooklyn funeral home
–– Ticketed for parking in no-rotting zone.
Fed leaves rates at zero but will use its 'full range of tools' to help the economy
–– Which are less than zero.
2,500 Mourners Jam a Hasidic Funeral, Creating a Flash Point for de Blasio
–– What, only 2,500? Barely a minyan.
New York City community leaders call out mayor after he condemned a large gathering and singled out Jewish residents
–– Sends shiva through spines.
Rays, sharks, and dolphins enjoy new freedom as humans retreat from the oceans
–– Other sports teams less so.
Jack Osbourne jokes he won't let Ozzy be killed by a virus started by bats
–– Twitter threatens to bite head off.
Meat plant workers to Trump: Employees aren't going to show up
–– Pack it in?
Lakers return $4.6 million coronavirus relief loan
–– Coronavirus Lesson 41: Never thank thief who only returns money when caught.
Attorney General William Barr tells prosecutors to be on watch for 'overbearing' coronavirus measures
–– He needs stay-in-hell order.
Coroner: People without masks playing 'Russian roulette' with life
–– Doms suggest masochists remove hypoxia headgear.
Crowded Prisons Are Festering 'Petri Dishes' For Coronavirus, Observers Warn
–– For cellular research.
Amazon's CEO tells investors 'you may want to take a seat,' as he explains why the company will spend 'entirety' of $4 billion profit
–– 'We can deliver chair in a few weeks.'
The Most Poignant Shortage: Selling Out of Sympathy Cards
–– Bereaved families might prefer toilet paper.
People Are Discovering Affairs While Quarantined With Their Spouses
–– Though shalt not COVID thy neighbor's wife.
Oprah is all of us trying to get the duvet cover on
–– Maid crazy.
Tom Hanks jokes that his donated blood should go toward a coronavirus vaccine called the 'Hank-ccine'
–– Great to see he hasn't lost his sense of hum… whaaa?
Trump has taken up 60% of White House coronavirus briefings, dedicating much of his time to attacks and false information, analysis shows
–– Egomania a national pandemic, too.
World Health Organisation says Covid-19 survivors can expect some level of protection from the virus
–– As opposed from them.
Men in China's capital city have been banned from wearing the 'Beijing bikini' in a bid to improve public hygiene
–– How about on aesthetic grounds?
Chinese food street famous for its 'insect feast' REOPENS
–– WITHOUT sneeze guards.
Schumer Says Trump's Signature on Coronavirus Checks Amounts to 'Exploitation'
–– Make America Grift Again.
Coronavirus: Boris Johnson to advise wearing face coverings in public
–– Right back atcha'.
Pandemic forces the largest Jewish denomination to cancel summer camps. The last time was in 1947
–– No vaccine for bug juice.
Trump administration and Mitch McConnell hit with lawsuit over claims they denied stimulus checks to citizens married to 'unauthorized' immigrants
–– Must be 'authorized' like Trump and McConnell's wives.
Texas Man Uses Stimulus Check to Buy Hotdogs and Burgers for His Neighbors
–– Who are vegans.
Gov. Cuomo says novel coronavirus can live on bus and subway surfaces for 72 hours, posing an ongoing concern for transit employees and riders
–– Though often so disgusted they kill selves in day.
Infectious Disease Expert: FDA Has 'All But Given Up' Oversight On Antibody Testing
–– Isn't antibody listening?
Germany's coronavirus lead said the country's restrictions worked so well that people are now angry because they think the government overreacted
–– And beauty is, no one will ever know.
Senator Tom Cotton Suggests Denying Visas for Chinese Students to Study Science in U.S.
–– Cotton blather.
As Dr. Fauci, Brad Pitt diagnoses Trump on 'Saturday Night Live'
–– Did not suffer infectious laughter.
Angelina Jolie says it's 'impossible' to be a perfect parent during coronavirus lockdown
–– Though shouldn't be Pitts.
Kevin Costner Shares His Band's Hopeful Country Rock Tune to Uplift Fans Amid Coronavirus Crisis
–– Dances with woofs.
Why a flood of bad economic data isn't rattling stocks
–– Massive doses of tranquilizer.
Iran Says 3,600 Arrested For Spreading Coronavirus-Related Rumors
–– Government cites critical shortage of bullshit detectors.
New Zealand leader Jacinda Ardern marks Anzac Day -- from her driveway
–– Redubs Tarmac Day.
As States Clam Up To Endure Pandemic, Roma Are Left Out in the Cold
–– Gypsy rose leak.
Governor Ron DeSantis Calls Florida 'God's Waiting Room' For Retirees
–– Where will he end up waiting for Devil?
Florida governor: Reopening will be "slow and steady wins the race"
–– He's certainly slow enough.
Scaramucci: This seems to be Trump's pandemic strategy
–– Or plot from Gaslight.
Social distancing in 100 square feet: Hong Kong's cage homes are almost impossible to self-isolate in
–– Hell of a mesh.
Trump reportedly comes into work as late as noon after a morning of 'rage viewing' TV
–– Only for free buffet.
New York man and girlfriend quarantining in Mexico are shot and killed
–– Can't tell difference.
Scientists fear the hunt for a coronavirus vaccine will fail and we will all have to live with the 'constant threat' of COVID-19
–– In case you were feeling in least bit chipper.
The Beatles streamed 'Yellow Submarine' and hosted a sing-a-long watch party, and people loved it
–– The Half-Beatles, right?
Camilla, Duchess of Cornwall is ballet-dancing her way through lockdown
–– Bowles-legged.
A Labradoodle breeder, an internet thug and a college senior walk into the White House
–– And feel it's beneath them.
What happened on board the last cruise ship still at sea
–– Cabin fever.
'Hundreds' of lorikeets die after a coronavirus-like disease
–– Dead parrot joke?
---
Silver Linings Plaguebook
Mickey Rourke Fantasy Horror Movie 'Warhunt' Wraps After Shooting During Covid-19 Crisis
–– Does this warhunt mention?
California commission seeks removal of official who threw cat and drank during Zoom meeting
–– Pussy-whipped.
Russia is the world's biggest loser from oil's crash, and that's reason to worry
–– If you're Putin's masseuse.
---
White House press secretary: "I will never lie to you"
–– So first and last briefing?
Top HHS spokesman repeatedly directed sexually crude and sexist tweets at women
–– Isn't it Dept. of Health and Human Sexism?
News anchor allegedly caught cheating when half-naked woman walks into live shot
–– Reporting hot flash.
Tesla stock tanks after Musk tweets price is 'too high'
–– Meant for pot dealer, but still…
Donald Trump's not-so-secret plan for his life after leaving the White House
–– Moldering in casket –– only way he'll leave.
Newly released FBI papers hint at Israeli gov't link to 2016 Trump campaign
–– Bibi deviled.
Canada bans assault-style weapons after its worst ever mass murder
–– Sure, just like U.S. after 99th.
An Accidental Navy Chief Steers His Service Through a Storm
–– Trump's entire chain of command a boner.
Biden denies sexual assault allegation: 'This never happened'
–– Reade between the lines.
Biden Almost Tied With Trump As Lead Falls Within Margin of Error: Poll
–– Coronavirus obviously eating brain cells.
Sen. Graham Challenger Says 'We're Coming for Your Seat' Amid New Forecasts
–– He's come for lots of men's seats.
Tiff Macklem Is Named as New Bank of Canada Governor
–– Minor Tiff.
Trump calls newly released UFO footage 'a hell of a video'
–– Recognizes Lord Satan in cockpit?
McDonald's customers dumbfounded by employee's food prep video: 'Seeing this scars me'
–– Scares me.
Deaths of N.Y. Couple Believed to Have Been Murder-Suicide Was Accidental, Both Killed by 1 Bullet
–– Charges reduced to man's laughter.
Liam Gallagher mocks 'tofu boy' Noel over new Oasis release 'Don't Stop'
–– Sounds like soy loser.
Olivia Munn says Bryan Singer disappeared from 'X-Men: Apocalypse' set for 10 days
–– Might've been better if he'd left for 100.
Jameis Winston can read license plates and street signs after undergoing LASIK surgery
–– And remedial English.
Indiana Postal Worker Shot Dead After Refusing to Deliver Mail to Man With Aggressive Dog: Court Docs
–– Post hates.
Harrison Ford scolded for crossing runway after being told to wait
–– What he gets flying Solo.
Katie Couric Says Denzel Washington Left Her 'Shaken' After 'Uncomfortable' Interview
–– Denzel in distress.
Netflix's new series 'Hollywood' is another critical dud for Ryan Murphy, who could reportedly make up to $300 million from his overall deal
–– Murphy's flaw.
The Gas Station Pimp in 'Hollywood' Is Inspired By the Real 'Gentleman Hustler' Scotty Bowers
–– Lube jobs semi-fictional.
Hollywood: Were Hattie McDaniel and Tallulah Bankhead Really an Item?
–– Did Tallulah bang head?
SpaceX, Blue Origin and Dynetics will build human lunar landers for NASA's next trip back to the Moon
–– With cash bars.
New Vaccine Offers Hope in Chincoteague Ponies' Battle Against Swamp Cancer
–– Leaves them little horse.
Our Sun is Strangely Quiet Compared With its Sibling Stars
–– Less gassy.
3,600-year-old teenage mummy discovered in Egypt
–– His mummy's mummy 5,600 years old.
Groundbreaking Fossil Suggests Spinosaurus Is First Known Swimming Dinosaur
–– Spino tap.
The Sahara Desert was once flooded with history's most vicious dinosaurs
–– Dune bloody.
Alligator seen crawling towards drivers on busy Florida intersection
–– Without face mask!
Alligator Found With Two Arrows Stuck in Its Side and Rope Around Snout
–– In suspected suicide attempt.
Hurricanes Make Lizards Evolve Bigger Toe Pads
–– Once they get wind of it.
Will the Lesser Antillean iguana be saved from extinction?
–– And live down name?
Someone Abandoned 29 Snakes Around Valentine's Day & Authorities Still Don't Have Suspects
–– Scale back investigation.
Anxiety research: Even crayfish get stressed, scientists show
–– Go a little cray cray.
California's critical kelp forests are disappearing in a warming world. Can they be saved?
–– Kelp wanted.
Iran Is Hauling Gold Bars Out of Venezuela's Almost-Empty Vaults
–– Like safe Caracas.
Britney Spears says she accidentally burned down her home gym -- oops
–– Was smoking dumbbell.
Gwyneth Paltrow, 47, accepted herself after she had gray hair
–– Can we continue to reject her?
'Jeopardy' contestant confused Chaka Khan for Shaka Zulu, but still made history
–– Shocker con.
'Jeopardy!' contestant mistakes Janet Jackson for Ariana Grande
–– Can't tell has-been from hasn't-been?
New Marvel cookbook features trippy Venom-themed 'tongue' dish
–– Finger-lickin' bad.
Justin Amash announces presidential exploratory committee
–– Chaired by proctologist.
Tom Hagen, one of Norway's richest men, arrested on suspicion of murdering his wife
–– Hagen-Deathsz.
The largest-ever Arctic ozone hole developed this spring. Now, scientists say it's closed.
–– Like polar sphincter.
AMC Theatres Refuses to Play Universal Films in Wake of 'Trolls: World Tour'
–– Which sorta did kill Cinema.
'Hercules' Live-Action Remake in the Works From Disney, 'Shang-Chi' Writer
–– Typical Hollywood: wouldn't hire ancient Roman scribe.
'Turn Up Charlie,' Starring Idris Elba, Canceled at Netflix
–– Turn off Charlie.
Isiah Thomas Responds to Michael Jordan's 'Assh--e' Comment on 'The Last Dance'
–– Air grievances.
Melissa McCarthy's dream about Mark Wahlberg may just come true
–– He'll disappear from public consciousness forever?
'Duck Dynasty' star drive-by shooting results in man's arrest
–– Justice is blind?
Supreme Court sidesteps major ruling on 2nd Amendment after New York changes gun law
–– Draw blank.
Most single Democrats would not consider being in a committed relationship with a Trump voter, online dating survey finds
–– They'd have to be committed.
There's a thriving population of radioactive animals that have taken over the abandoned Chernobyl exclusion zone, even though the area is toxic for humans
–– Lotsa glow worms.
Chris Matthews Says Allegation Leading To His MSNBC Exit Was 'Highly Justified'
–– Chris prat.
North Korean state media reports Kim Jong Un made first public appearance in weeks
–– Or did Great Pumpkin come early?
Kim Jong Un Thanks North Korean Propaganda Units for 'Powerful Work'
–– Praising the dead?
Kim Jong Un's health issues reportedly caused by stress, alcohol
–– Worried sick he can't get enough.
North Korean media publishes letter from Kim Jong Un to South Africa's President dated April 27
–– Whiskey glass stain used to confirm legitimacy.
US senator Lindsey Graham believes Kim Jong Un 'dead or incapacitated'
–– Or 'more Trump-like.'
Amid mounting speculation, South Korea says Kim Jong Un is 'alive and well'
–– Speculation head's been stuffed, mounted on wall.
Trump says he knows how North Korea's Kim is doing, 'relatively speaking'
–– ''Cause the little guy's like a brother to me.'
'Beauty is freedom': The North Korean millennials wearing makeup to rebel against the state
–– And look more like Kim Jong-Il.
'Hambergers' and 'Noble prizes': Trump attacks press in furious Twitter rant riddled with spelling errors
–– Spell chuck.
You can totally sprain your teeth (and you've probably done it before)
–– Particularly on hambergers.
It's wrong to use two spaces between sentences, Microsoft Word says
–– Don't have to be Clippy about it.
The Nude Selfie Is Now High Art
–– Le Dick Pic exhibition coming to Louvre.
Tampa mayor tries to make amends with Tom Brady in welcome letter
–– Passing Buc.
Peter Hunt, Who Directed the Broadway Hit '1776,' Dies at 81
–– Hunt down.
Irrfan Khan, 'Life of Pi' and 'Slumdog Millionaire' Star, Dies at 53
–– Khan cedes.