State of Plague

Week of 05/22/20
Actual headlines from the internets. You Google 'em.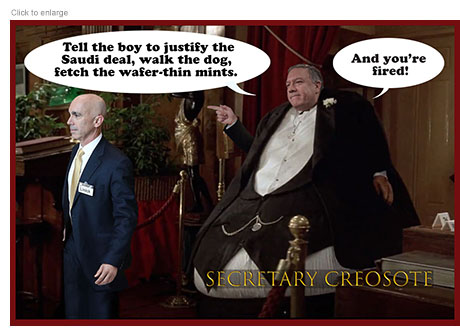 Pompeo Confirms He Was Questioned By IG's Office Before Firing, Denies Retaliation
–– Considers it 'constructive criticism.'
COVID-19 Has Stolen My 20s
–– Not sense of entitlement.
Trump Orders Immediate Reopening of Places of Worship
–– To expedite last rites.
No spike in coronavirus in places reopening, U.S. health secretary says
–– In first 24 minutes.
Coronavirus Infections Jump by More Than a Million Globally in Under Two Weeks
–– Top countries led by (gasp!) Trump, Bolsonaro, Putin.
Trump: 'We're not closing our country' if hit by second coronavirus wave
–– 'We'll float patients in hospital boats in international waters to keep numbers down.'
Trump, after coronavirus test, says 'I tested positively toward negative'
–– He's always been positive for negative.
Almost none of the $500 billion in a coronavirus relief fund for businesses has been spent
–– Treasury still analyzing where moneys can do most good…for reelection.
CDC estimates that 35% of coronavirus patients don't have symptoms
–– And 25% will be pleased with color in cheeks.
Dr. Fauci Says He Is 'Totally in Favor' of U.S. Reopening 'the Proper Way'
–– In latest slang for 'God no, not like this!'
Julia Roberts Scores Coveted Interview with "Personal Hero" Dr. Fauci
–– Dr. Fauci scores.
'Hang Fauci' Sign Brandished Amid Lockdown Protesters Trump Hailed As 'Great People'
–– Idiots sound grauci.
Eric Trump says lockdowns about hurting his dad, coronavirus fears will disappear after election
–– Whew, that's a relief!
Moderna unveiled encouraging coronavirus vaccine results. Then top execs dumped nearly $30 million of stock
–– Just caught lucky bug.
Drug touted by Trump as Covid-19 treatment linked to a greater risk of death, study finds
–– As he keeps on brand.
With just one ICU bed available, Montgomery, Alabama, is sending sick patients to Birmingham
–– Where they haven't yet run out of corn likker anesthesia.
Michigan attorney general: Trump has "legal" and "moral" responsibility to wear a mask at Ford plant
–– Always his paramount concerns.
Michigan AG: Trump was 'incredibly disrespectful' to our state
–– As opposed to profound dignity with which he treats other 49.
If Trump doesn't wear mask at Michigan auto plant, he'll be asked not to return, state official says
–– Unless it's Halloween.
Treasury secretary tells Senate no one should die to boost economy
–– 'Maybe suffer pneumonia, intubation …'
The editor of the prestigious Lancet medical journal said a study Trump cited to justify pulling out of the WHO doesn't exist
–– Lancet boil.
Trump Says Funding Cuts Will Be Permanent If WHO Doesn't Commit To 'Major' Changes
–– WHO is he kidding.
Trump rejected an invitation to address WHO while China's Xi accepted, in another example of the US retreating from global leadership
–– Was already a rout.
Restaurant owner advising Trump told laid-off workers there is 'less than 1 in a million chance' that the coronavirus put them at risk, while keeping his Brooklyn restaurants closed for safety
–– In latest slang for 'one in 167.'
An Israeli company created a remotely controlled face mask that can be worn while eating — here's what it's like
–– Messy.
Gov. Cuomo takes Covid-19 test during live briefing
–– A bit on the nose.
Andrew Cuomo is no hero. He's to blame for New York's coronavirus catastrophe
–– Mussolini didn't look so bad when compared to other guy.
New York might have avoided becoming the US epicenter of the coronavirus outbreak if Gov. Cuomo hadn't reportedly dismissed shelter-at-home advice
–– And then Trump made him into Dr. Albert Schweitzer.
"Just A Rude Person, You Are": Donald Trump Lashes Out At CBS News' Paula Reid After She Asks Him, "Where Is The Plan?"
–– Trying out Yoda impersonation.
New York transit agency launches UV light pilot program in effort to kill Covid-19
–– New Yorkers break out day-glo togs.
Prince Charles wants furloughed workers to pick fruit and vegetables
–– For him.
'They don't give him enough credit': the voters who back Trump, even through the pandemic
–– His mortality numbers are pretty gaudy.
Donald Trump Goes After Norah O'Donnell Over '60 Minutes' Whistleblower Segment
–– What does she have in common with other targets?
Despite FDA Caution, Trump Says He Is Taking Hydroxychloroquine As A Preventive
–– With Chlorox chaser.
Trump to Fox Host: Don't Tell Me Taking Untested COVID Drug Will Kill Me
–– We've already established there is no God.
Kansas Rep. Roger Marshall, 'relieved' Trump is taking risky COVID-19 drug, does same
–– Kansas shitty royal.
If Trump jumped off a cliff, would Kansas Rep. Roger 'Doc' Marshall copy that, too?
–– No, he'd be at bottom waiting to catch.
Nancy Pelosi Says 'Morbidly Obese' Trump Shouldn't Take Hydroxychloroquine for Coronavirus
–– Giving him fat lip.
Experts says Trump is not 'morbidly obese' — but that obesity overall should not be ignored
–– Morbidly obtuse, yes.
Republican Group Recruiting Pro-Trump Doctors to Call for Reopening Economy
–– Must also swear Trump's 'just husky.'
James Carville repeatedly mocks Trump's weight with crude insults
–– Fox misses kinder, gentler days of fat shaming.
Trump rejected an invitation to address WHO while China's Xi accepted, in another example of the US retreating from global leadership
–– Blames staff who kept answering 'WHO' when he repeatedly asked 'Who?'
Dr. Deborah Birx criticized WHO's China relations during Trump meeting
–– Just to get him to look in her general direction.
Trump Blasts L.A.'s Extended Stay-at-Home Orders: 'A Death Wish'
–– 'Is what I have for libtard Hollywood.'
Loss of taste or smell added to official list of coronavirus symptoms in UK
–– Don't have to get all sniffy about it.
53-Year-Old Tortoise Left Homeless By COVID-19 Has Hundreds Wanting To Adopt Her
–– Said to be shell of former self.
Pole dancing and hand sanitizer: Wyoming strip club reopens with 'masks on, clothes off' party
–– Beats paper bag over head.
The Arctic explorers locked down in a tiny hut in Norway's Svalbard archipelago
–– Two smokin' hot Scandinavian babes!
Snoop Dogg uses 'Frozen' to encourage people to 'let it go' -- and Idina Menzel responds
–– He meant rage at dealer who shorted you.
Rory McIlroy Wouldn't Golf with Donald Trump Again; Slams Handling of COVID-19
–– Cites lie angle.
'I am truly sorry': Read the full email Uber's CEO sent employees after laying off 25% of the company's staff in 2 weeks
–– Must be riding high after that.
Trisha Yearwood Says Garth Brooks Always Wakes Up Before Her to Make Quarantine Easier
–– At least spared seeing him lying next to her each morning.
New York tourist is arrested in Hawaii after posting beach pictures on Instagram
–– Authorities slap lei on him.
Johnson says he understands White House reason for firing IG but Pelosi says Congress hasn't received any more justification
–– He'd seen Game of Thrones, agreed with 'letting go' Ned Stark.
Pompeo backs away from theory he and Trump were pushing that coronavirus originated in Wuhan lab
–– The Wuhan that got away.
Coronavirus has devastated Moscow. Now it's spreading across Russia's 11 time zones to ill-funded regions
–– Sick people paying for care sounds like bad idea.
White House trade adviser argues that CDC 'let the country down' on testing
–– Vaccine poetic.
Restaurant and bar owners say social distancing could wipe out their industry
–– Without reservation.
Pier 1 wants to close all its stores for good
–– Long walk off short Pier.
---
Silver Linings Plaguebook
Uber Eats Overrun With McDonald's Orders and Unable to Cope
–– With greasy stink in cars.
Ford Reopens With 'Rechoreographed' Factories
–– Original Agnes de Mille work scrapped.
---
Senate Intelligence panel approves Ratcliffe as spy chief
–– Spy organizations already off rat cliffe.
Intelligence Officials Reportedly Struggle To Brief Trump Because He's Like A Giant Toddler
–– Who they forgot to diaper.
The FBI is mad because it keeps getting into locked iPhones without Apple's help
–– Madder if they didn't?
Pastor Calls Trump 'Most Pro-Black President in My Lifetime'
–– Including years up own ass?
Cancel Rent Protesters Laid Down 'Body Bags' in Front of a Luxury Kushner Property
–– More comfortable than beds inside.
A radio station denied a caller a prize because he'd 'mispronounced' a pop star's name. Then the star waded in
–– Up to his waste.
NPC: China moves to impose controversial Hong Kong security law
–– Thar Xi blows.
Barley Blow to Australian Farmers After China Slap
–– Barley noticed.
This man reuniting with his donkey will melt your heart
–– Burned his ass.
Zack Snyder Will Release the 'Snyder Cut' of 'Justice League' on HBO Max
–– Will deserve snider cut.
'Friends' Not HBO Max's Main Draw Ahead of Launch, Poll Finds
–– Not jacked to spend $15 a month for 25-year-old endlessly-repeated sitcom?
Amanda Stanton of 'Bachelor' defends driving from California to Arizona to get her hair done
–– All the way to Tucson for stupid pills.
Why 'Batwoman' Star Ruby Rose Left the CW Series
–– Bat career advice.
Lori Loughlin and Mossimo Giannulli agree to plead guilty in college admissions scam
–– Big development in Whogivesafuckgate.
Ken Jeong Shares Uplifting Message for 2020 Graduates: "Don't Deny Your Potential"
–– 'Let everyone else.'
Colin Kaepernick's girlfriend Nessa Diab blasts NFL for listing quarterback as 'retired'
–– How about just 'tired'?
Insanely Easy Ways to Use Rice, From Paella to Risotto
–– Smear over naked body while ritually murdering cat.
Tiffany Trump graduates from law school
–– Will spend rest of born days defending family.
NASA's head of human spaceflight abruptly resigns, citing 'mistake'
–– Space jam.
Astronauts Could Use Their Own Pee to Build a Moon Base
–– Using piss-pour design.
This may be Donald Trump's most damaging legacy
–– Denigrating mentally ill, Cilizza? You're crazy.
Fragments of the Dead Sea Scrolls long thought to be blank contain text that's invisible to the naked eye
–– Written by –– wooo-hooo –– ghosts!
Howard Stern mocks the 'wisdom' of Donald Trump Jr.: 'You can't argue with a genius like that'
–– Junior qualm.
Trump suggests Virginians need 2nd amendment rights to 'guard your potatoes'
–– Or some other crop you aren't top ten in.
Cat gives birth to kitten with two faces
–– Imagine being born with puss like that.
Mississippi Governor Pranked Into Reading NSFW Name During Ceremony For Grads
–– Harry Azcrac? Shirley Hugh-Geste.
Alison Roman's New York Times Column on Hold Following Chrissy Teigen Controversy
–– Because hurting celebrity feelings worse than plagiarism.
Neve Campbell Thinks Party of Five Reboot Is 'Really Good': 'It's a Compliment to the First'
–– But in no way a complement.
Ted Cruz Introduces Bill To Restrict U.S. Government Help For Studios If They Alter Movies To Gain Entry Into Chinese Market
–– Chop? Suey.
Ben Stiller Remembers Calling His Dad While He Was on an Acid Trip
–– Serenity? No.
Husband and wife sentenced to DEATH in Iran for ripping off motorists
–– Got drive shaft.
'I Am the First Person on Earth to See All 80 Genera Primates in the Wild'
–– Went completely ape.
A Woman Was "Knocked to the Ground" in a Bison Attack at Yellowstone National Park
–– Butt, of course.
How a male fly knows when to make a move on a mate
–– Checks Flitter.
Genius Bees Force Plants to Bloom by Biting Them
–– When reasoned argument fails.
Millions of cicadas expected to emerge after 17 years underground
–– Plotting overthrow of crickets.
Here's Exactly How to Tell Deer Ticks and Wood Ticks Apart, According to a Pro
–– Wood ticks have tiny axes.
'Smuggler had 180 species of insect in hotel room'
–– Knew it was bugged.
Pollution: Birds 'ingesting hundreds of bits of plastic a day'
–– Dropping 'decorative beads' on people below.
These endangered whales are disturbingly thin—why that matters
–– It's beach season, tiny swimsuits are in.
Antarctic penguins release an extreme amount of laughing gas in their feces, it turns out
–– Which is why their 'tuxedos' seem funny at all.
4,000-year-old Skeleton in Crouching Position Leaves Archaeologists Puzzled
–– Prehistoric bed pan not clue?
Ancient Leather 'Mouse' Highlights the Romans' Sense of Humor
–– Or chariot roadkill.
Two Massachusetts men arrested in plot to smuggle former Nissan chief Ghosn from Japan
–– Not in car trunk?
Trump is hemorrhaging older voters, polls show
–– Especially ones hemorrhaging.
The Air Force Will No Longer Reject Pilot Applicants for Being Too Short
–– They can buy way in on credit.
Trump admin slaps solar, wind operators with retroactive rent bills
–– Charge by the ray or the gust.
Ronan Farrow Responds to Searing NY Times Piece: 'I Stand by My Reporting'
–– 'But not too close –– it smells funny.'
Matt Lauer responds to rape allegation from Ronan Farrow's 'Catch & Kill'
–– Lauer's expectations.
Trump Campaign's New 'Investigative' Website Promotes 'Truth Over Facts'
–– 'Bullshit Over Both.'
Why 'She-Ra and the Princesses of Power' is the best show on television
–– She-rah-rah.
Lilly Wachowski Tells Elon Musk and Ivanka Trump 'F— Both of You' After They Quote 'The Matrix'
–– And she might be able to.
Nicole Kidman broke her ankle 'running around the neighborhood,' according to Keith Urban
–– Chased by coronarazzi?
Fast & Furious Is the Greatest American Blockbuster Franchise. This Is How it Happened.
–– You see, there were several million idiot male movie goers…
Noah Cyrus broke down in tears while talking about growing up as Miley's little sister: 'I was that person that no one gave a s--- about'
–– We still don't.
David Arquette Will Return as Sheriff Dewey Riley in 'Scream' Reboot
–– Making space on work calendar took 1.3 seconds.
April Love Geary jokes she set a 'thirst trap' posing in a thong
–– Dry humor?
Martha Stewart Accidentally Posted An Extremely Sexual Instagram Caption About Chicken And I Guess She's Really Horny, Y'all
–– Another 'choking the chicken' post?
A man who wore a watermelon on his head while stealing from a convenience store has been arrested
–– Pitty.
JCPenney will close nearly 30% of its stores as part of its bankruptcy plan
–– Penney-anti operation.
Pompeo says he asked for inspector general to be fired because he was 'undermining' the State Department
–– Corruption its foundation.
Pompeo says he should have had inspector general fired 'some time ago' but refuses to explain why
–– 'Like if I knew the exact instant when he would walk into my office to investigate me on ethics violations. Just before that.'
Pompeo ordered officials to find a way to justify Saudi arms sale being probed by fired watchdog
–– Wanted to reward Khashoggi 'win.'
Senior officials advised against Trump emergency arms sales to Saudis
–– Pompeo replied: 'Kickback and relax.'
The US cleared the way for a new arms sale to the UAE, despite evidence it violated the last one
–– Not in least Abu Dubious.
70% of Dubai companies expect to go out of business within six months due to coronavirus pandemic, survey says
–– Sounds like army will need armored vehicle drivers.
Democrats cry foul as Transportation Department inspector general joins ranks of watchdogs sidelined by Trump
–– Can form own kennel club.
Dozens of Turkish soldiers invade and occupy small patch of Greek land
–– Take bath, pull taffy, leave.
Barr doesn't expect review of Russia probe will 'lead to a criminal investigation' of Obama and Biden
–– Reelection events rarely do.
A complicated life and conflicting accounts muddle efforts to understand Tara Reade's allegation against Joe Biden
–– Or is account just muddled?
Under oath, Biden accuser cited Biden's work; attorneys now question other testimony
–– Taradiddle.
Obama White House portrait unveiling not expected as Trump accuses him of crime
–– Unless Trump can draw mustache on it.
Tropical Storm Arthur will bring high surf, strong winds and heavy rains to the North Carolina coast
–– Arthur sea clock.
Supercomputer Simulates Neanderthal Extinction, Finds Humans Were to Blame
–– Programmed by Cro-magnons.
Florida Woman Finds Megalodon Tooth While Out Walking Her Dog
–– Mutt thinks it's chew toy.
In 'Operation Hidden Mitten,' U.S. cracks down on smuggling of hairy-clawed crab
–– Fish and Wildlife Service agents 'all thumbs.'
South Korean football club apologizes for filling stands with 'sex dolls'
–– Cheerleaders with Autoblow AIs.
Hope Solo says she is 'crushed' after her dog died of gunshot wounds
–– Doberman fell on her?
Bids for Kurt Cobain's guitar start at $1 million
–– Nirvana for nerds.
Trump Says Chinese Spokesperson 'Speaks Stupidly'
–– Has to when trying to communicate with him.
Biggest takeaways from Overeem-Harris and the surprises of UFC Fight Night
–– People still pay to watch this?
'Last Dance' Director Says Jordan Spit On Flu Game Pizza; Pizza Hut Manager Calls Food Poisoning Story 'Crap'
–– So was clam pizza?
I ate like Robert Pattinson for a day, and his cornflake-crust microwave pasta was so sugary, I'm amazed I still have teeth
–– But clearly no life.
Redskins receiver Cody Latimer arrested for assault, illegal discharge of a firearm
–– On post bail route.
Rwandan genocide suspect captured in Paris suburb after decades on the run
–– Won't Rwanda off.
The body of former WWE star Shad Gaspard found on a California beach
–– Sadly, Shad couldn't swim like fish.
Ken Osmond, 'Leave It to Beaver' Star Who Played Eddie Haskell, Dies at 76
–– Leave it to bereaver.
Lynn Shelton, Director of Intimate Comic Dramas, Dies at 54
–– Shelton in place.
Fred Willard, 'Best in Show' and 'A Mighty Wind' Actor, Dead at 86
–– Willard shot.
Martin Mull on Fred Willard: 'He Was Absolutely, Unconditionally Original'
–– Mull: it's over.