Hypo Suction

Week of 04/24/20
Actual headlines from the internets. You Google 'em.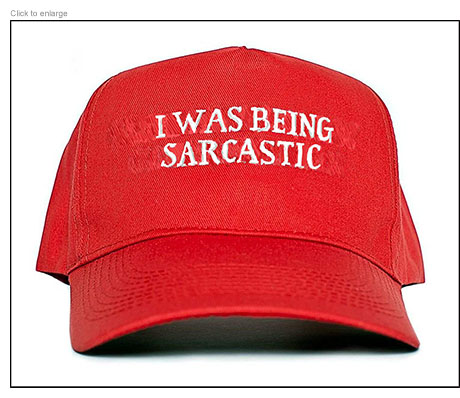 Trump says he was being sarcastic with comments about injecting disinfectants
–– Adds last three years 'all a dream.'
Inside America's unending testing snafu
–– Grade effed.
Trump asked if disinfectants could be injected to kill coronavirus inside the body. Doctors answered: 'People will die.'
–– Trump: "But how about virus?'
Cristina Cuomo says she treated her coronavirus with Clorox baths, vitamin drips: Experts react
–– Why didn't she just inject bath water?
McConnell thinks bankruptcy, not more federal money, might be best for state and local governments
–– 'It's sorta like shootin' up economic disinfectant into yer brain.'

What Is Phase One of Trump's U.S. Coronavirus Reopening Plan?
–– Still working on Zero.
Coronavirus Could Be Here 'Permanently,' Says Top U.K. Adviser
–– Seen house hunting in London.
Humans Are Too Optimistic to Comprehend the Coronavirus
–– And politicians too incompetent.
Trump's Hoax: Obama Didn't Predict This Coronavirus And Design A Test For It
–– Was thinking of Nostraobamus.

Mike Pence Says 'We're Past the Peak' of Coronavirus
–– Tells all Americans to close eyes, wish hard, repeat ten times.
Not a Joke: The Trump Admin Hired a Dog Breeder to Run Its Coronavirus Task Force
–– Recommends flea collars for vulnerable elderly.
Why The Warning That Coronavirus Was On The Move In U.S. Cities Came So Late
–– CDC ran tracking program.
Coronavirus dies in SUNLIGHT in just minutes, reveals 'striking' study
–– And other bright ideas.
Trump downplays risk of coronavirus rebound
–– As he dribbles at line.
Trump Didn't See It Coming: Coronavirus Deaths Increased Tenfold This Month
–– Trump: 'Who could? The bugs are so small.'
Nearly Half of Floridians Don't Trust Trump's Coronavirus Information: Poll
–– Other half gullible twits.
Maryland Gov. Hogan says he tries not to 'poke the bear' in dealing with Trump
–– In latest slang for 'unsettle the shithead.'
Hospitals Play 'Songs of Hope' as Virus Patients Go Home
–– Don't Stop Believin' sends some to psych ward.
Anti-Trump Protesters Dump 'Body Bags' Outside President's D.C. Hotel
–– Eric hangs in room closets, advertises as amenity.
Heartbroken widow of man who labeled coronavirus a 'political ploy' speaks out
–– Coronavirus labeled him 'perfect host.'
A scuba diving group is making face masks out of recycled ocean plastic
–– Something fishy about this.
My Restaurant Was My Life for 20 Years. Does the World Need It Anymore
–– Coronavirus Lesson #29: Nobody needs any restaurant.
De Blasio's social distancing tip line flooded with penis photos, Hitler memes
–– And penis-with-toothbrush-mustache pics.
Elizabeth Warren Demands Investigations Into Trump's Shambolic Coronavirus Response
–– Beginning with definition of shambolic.
Jimmy Kimmel Interviews Trump Pandemic Response Appointee, Dr. Zaius from 'Planet of the Apes'
–– Warns of Chiquitavirus threat.
Monkey appears to fly kite during coronavirus lockdown in India
–– With key attached as Simian Franklin experiments with electricity.

Tom Hanks Sent His Beloved Typewriter to a Kid Getting Bullied for His Name
–– Took a lot of ribbon.
Eminem donated 'Mom's Spaghetti' to hospital workers fighting coronavirus in Detroit
–– Mmm 'n' Mmm good.
Tom Holland Tried to 'Stop Drinking for a Week' — But Then Ryan Reynolds Sent a Case of Gin
–– And he realized it didn't make Spidey-sense.
New HHS spokesman made racist comments about Chinese people in now-deleted tweets
–– How do you think he got job?
Boris Johnson 'skipped' five emergency meetings on the coronavirus as it spread rapidly across the world and ignored warnings from scientists, according to a report
–– Coronavirus didn't skip him.
Coronavirus: Boris Johnson 'could be back at work at No 10 on Monday'
–– More bad news.
A 100-year-old WWII veteran died of Covid-19. His twin brother died 100 years earlier in the flu pandemic
–– Fluky.
New York crematories overwhelmed by the number of dead get help from volunteers
–– With really big Weber grills.
Adding A Nylon Stocking Layer Could Boost Protection From Cloth Masks, Study Finds
–– So could a layer of cement.
Federal Doctor Says He Was Removed For Resisting Unproven Coronavirus Treatments
–– Wouldn't quack like schmuck.
Abigail Disney on Disney furloughs: 'What the actual f---'?
–– 'Fantasia?'
Artist Relief Emergency Fund Receives Over 55,000 Applicants in Barely 2 Weeks
–– Many rather sketchy.
CDC chief says there could be second, possibly worse coronavirus outbreak this winter
–– 'And we feel confident that we can make it more difficult yet!'
Georgia reopens hair salons, gyms and bowling alleys despite rise in coronavirus deaths statewide
–– Georgia: out of my mind.
As states grapple with reopening their economies, Trump says part of Georgia's plan is 'just too soon'
–– In latest slang for 'when I said.'
Owner reopening salon: Stylists, clients can't be 6 feet apart
–– Considers hiring orangutans.
Las Vegas Mayor Proposes Casinos Reopen, Let the Free Market Decide Who Gets to Live
–– Scares the craps out of it.
Trump (the Company) Asks Trump (the Administration) for Hotel Relief
–– Expects results from Trump (the Crook.)
Trump Says He Will 'Temporarily' Ban All Immigration, Cites Both Coronavirus and 'Jobs'
–– As 'other excuses' after xenophobia.
ER doctor sleeping in treehouse to protect family
–– Having affair with orang from next door.
DeVos urges wealthy colleges to give up their coronavirus aid
–– To her.
Mexico can't stop drug cartels from handing out virus aid
–– And showing them up.
Sweden left schools, bars, restaurants, and gyms open during the coronavirus pandemic. Experts say the strategy might be working.
–– Hit Swede spot?
'America is being tested': Pence delivers commencement address to Air Force Academy class of 2020 and its first cadets to join Trump's Space Force
–– Our freakin' patience for sure.
Romney and Sinema say feds 'behind the curve' on tracking coronavirus
–– Cite Mittigating circumstances.
Josh Brolin apologizes for visiting dad and Barbra Streisand
–– We should feel sorry for him.
All evidence suggests coronavirus originated inside bats and not in lab, WHO says
–– But they're just winging it.
An infamous WHO tweet saying there was 'no clear evidence' COVID-19 could spread between humans was posted for 'balance' to reflect findings from China
–– Totally bats.
Trump Boasts He Likely Saved 'Billions' Of Lives In A Nation With 330 Million People
–– Meant virus lives.
China continues to block US scientists from examining coronavirus: Pompeo
–– Won't even let bring flowers during visiting hours.
The US shipped millions of masks to China earlier this year, despite warnings from experts that a pandemic was about to hit
–– WH obviously kept ear plugs.
Millions of masks and coronavirus test kits are sitting in warehouses and can't reach the US because of new Chinese policies
–– Chineses chuckers.
Trump says governors are "responsible" for testing
–– He "irresponsble" for everything else.
Mnuchin says putting Trump's name on coronavirus stimulus checks was his idea
-– Also takes rap for delayed closings, inadequate testing and Cats.
Pastor defends asking congregants to donate stimulus checks
–– To vigorously rub against crotch.
Landlords are soliciting sex in exchange for rent, advocates say
–– Ask to make 'security deposits.'
Is the Virus on My Clothes? My Shoes? My Hair? My Newspaper?
–– Certainly in your head.
Hundreds Defy Common Sense, Safety At Infowars Rally To Reopen Businesses
–– Which are always item 1, 2 on agenda.
Iran reopens parks, further easing virus-linked curbs
–– To park socially-distanced vehicles.
Shake Shack, Ruth's Chris and other chain restaurants got big PPP loans when small businesses couldn't
–– Shake shat.
Shake Shack returns $10 million emergency loan to the US government
–– Fair Shake.
Wilhelmina International gets nearly $2M in coronavirus small-business loans
–– What's the skinny?
Denmark & Poland refuse to bail out companies registered in tax havens
–– Offshore drilling.
With salons closed, here's how to refresh your hair color at home
–– Draw shades, keep lights really low.
New Jersey governor: If you think coronavirus is "just the flu," you're "wrong"
–– Challenges fluency.
The Mafia is poised to exploit coronavirus, and not just in Italy
–– Knocking over PPE manufacturers, holding cotton swabs for ransom.
Reporter's notebook: Rome celebrates a lonely birthday in the age of coronavirus
–– Dresses up Oceanus in Trevi fountain with party hat, fishes for small coin 'gifts.'
Michael Avenatti released from jail due to coronavirus fears
–– And concerns egomania might infect other inmates.
Fauci: There will be enough tests to begin reopening US
–– In 2022.
Tiger King + coronavirus = Huge win for Netflix's stock
–– Sad that it took something so truly awful… and coronavirus.
Elon Musk says he sent ventilators to California hospitals, they say they got something else instead
–– Let's just say female nurses 'unwinding'on longer breaks.
U.S. Hospitals Hit By Financial 'Triple Whammy' During Coronavirus Pandemic
–– Consult Dr. Mammy Yokum.
US and Russia blocking UN plans for a global ceasefire amid crisis
–– Afraid virus deaths 'a little slow.'
Dr. Phil begrudgingly apologizes for comparing coronavirus to swimming pool deaths
–– In over head.
WFH burnout is real. How to avoid it.
–– Computers don't have off switches?
---
Silver Linings Plaguebook
Air pollution falls by unprecedented levels in major global cities during coronavirus lockdowns
–– Clears more lungs than it infects.
Air pollution in northern India has hit a 20-year low, NASA report says
–– Can now see all beggars.
Taylor Swift has officially canceled her Lover tour
–– Gotta love 'er for that.
A Connecticut man broke into a restaurant that was closed due to COVID-19 and spent four days eating, and drinking 70 bottles of liquor, police say
–– In latest experimental treatment.
Dwayne 'The Rock' Johnson says the quarantine has had 'a very positive effect' on his marriage
–– No longer Rocky?
'Cartels are scrambling': Virus snarls global drug trade
–– Users suffer cocaínavirus.
---
Trump owes tens of millions to the Bank of China — and the loan is due soon
–– Reason enough to go to war.
Donald Trump Will 'Somehow' Try To Delay Election, Joe Biden Warns
–– Have Putin shut down voting machines?
Joe Biden accused of trying to 'out-Trump' Trump in new coronavirus campaign ad
–– How stupid is it?
Giant asteroid flying by Earth next week looks like it's wearing a face mask
–– Looks more like boob who'd make observation.
The World is Losing 9 Percent of Its Insects Every Decade, Study Finds
–– Due to swat teams.
Levels of Ocean Biodiversity Have Barely Changed for Millions of Years
–– #oceanssoblue.
California crab fishery to close in May to protect whales
–– Fishermen 'shell-shocked.'
Lobsters Crush Ocean Plastic Into Even Smaller Pieces—and That's Bad
–– Someone get them fidget spinners.
Making Sushi at Home Isn't Easy or Cheap. But It's a Hell of a Lot of Fun.
–– Whassabi?
Scientists Found a Fossilized South American Frog in Antarctica
–– Or was that Antarctican Frog who emigrated?
Toxic Newts Use Bacteria to Become Deadly Prey
–– Especially Gingrich.
Birds on Rhinos' Backs Help Them Avoid Poachers
–– But constant sqawking makes them want to impale selves on own horns.
Rob Gronkowski agrees to come out of retirement to play in Tampa Bay with Tom Brady
–– World of Warcraft.
Alex Rodriguez, Jennifer Lopez Retain JPMorgan to Raise Money for Mets Bid
–– Offer J-Lo's backstop as collateral.
Mike Bloomberg spent over $1 billion running for president — that's $23 million for each delegate he won
–– For $11,500 each he could've bought the 1991 he needed.
College Students Charged With Feeding Foot Skin to Their Unsuspecting Roommate
–– The heels!
Indian police arrest 110 people suspected of beating three men to death at a funeral
–– Sounded like fair fight.
Phoebe Waller-Bridge Reveals She Kept the Penis Wall From 'Fleabag'
–– Just dicking around.
Alicia Silverstone reveals she had an awful time filming 'Batman & Robin'
–– We had worse watching it.
Richard Gere and his wife welcome baby boy
–– First word expected to be 'Grampa.'
Critic's Notebook: 'RuPaul's Drag Race' Demands the Impossible — and Therein Lies Its Greatness
–– Yeah, to take this shit seriously.
Woman gives birth during car crash then can't find the baby
–– Was recovered between seat cushions with lost comb, 47 cents in change.
Kim Yo-jong: the sister of Kim Jong-un, fast 'becoming his alter ego'
–– Needs to put on 90 lbs.
Trump says report about gravely ill Kim Jong Un is 'incorrect
–– And 'hurtful.'
Meghan and Harry tell four British tabloids they can expect 'zero engagement'
–– What Meghan called it when Harry first asked for her hand.
Prince William's reason for not watching 'Tiger King' will make you laugh
–– He expects to be 'Pussy King.'
Netflix To Sell $1 Billion In Bonds After Adding 16 Million New Subscribers
–– Green is the New Black.
Val Kilmer claims 'dark angel' resembling Darth Vader extracted his heart and replaced it with bigger one
–– And 'cute' Yoda swapped out his appendix.
Richard Marx Makes No Apologies for His Politics: 'I'd Rather Have Jeffrey Dahmer Than Donald Trump'
–– Chew on that.
Charles Barkley: I made a conscious effort to change my lifestyle
–– Unlike his ususal unconscious decisions.
A Birthday Message from the Hubble Telescope
–– Gee, thanks for remembering before you read this headline!
Massive, ancient galaxies have been swallowing their neighbors for billions of years
–– And should be held a cannibal for actions.
Nova Scotia shooting: shock at killings by 'quiet, gentle' denturist
–– Implanted false truth.
Drone Footage Captures Dolphins Purposely Stranding Themselves In "Risky" Feeding Behavior
–– Also shows them participating in Tide pod challenge.

Iran Commander Claims Forces Were Ready to Hit 400 U.S. Targets in January
–– Brags about Xerxes' planned sneak attack against Greeks in 492 BC.
Iran's Revolutionary Guards say have increased Gulf patrols
–– And at other gas stations.
Gen. Jack Keane blasts Iran as 'all talk' after harassment of US ships in Persian Gulf
–– With blunder bust.
CIA Agents Reveal How Bill Clinton Stopped Them From Killing bin Laden and Preventing 9/11
–– And how Hillary let Hitler live.
Why Syria Is Seeing So Many Strange Handguns In Its Civil War
–– Knock-off knock offs.
Magnus Carlsen gets revenge on 16-year-old Iranian sensation in world's richest online chess tournament
–– Rooks him.
Land O' Lakes replaces Native American woman logo, touts farmer-owned credentials instead
–– Drowns squaw.
Undefeated boxer Devin Haney denies being racist after saying he would 'never lose to a white boy'
–– Racist even if he never does?
Baseball Hall of Famer Roy Halladay was doing airplane stunts and had drugs in his system on day he crashed, NTSB report says
–– Screwball in dirt.
Shirley Knight, Adventurous Actress and Two-Time Oscar Nominee, Dies at 83
–– Knight fall.
Sirio Maccioni, Whose Le Cirque Drew Manhattan's Elite, Dies at 88
–– Sirio killer.
Peter Beard, Wildlife Photographer on the Wild Side, Dies at 82
–– Beard trimmed.
Gene Deitch Dies: Oscar-Winning Illustrator, Film Director, Producer Was 95
–– Deitched.