Nor Easter

Week of 04/10/20
Actual headlines from the internets. You Google 'em.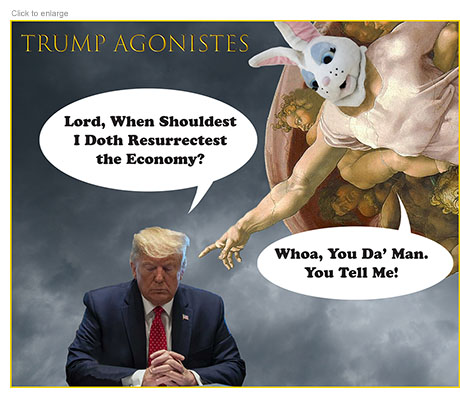 Trump spends Easter weekend pondering the 'biggest decision' of his presidency
–– Like Filet-o-Fish vs. Quarter Pounder squared.
Biden: I will wear a mask in public
–– Of Obama.
Cardiologist Explains Why Donald Trump And Mike Pence Shouldn't Be Together Right Now
–– We say they should share same bed.
U.S. Coronavirus Death Toll Climbs to World's Second Highest
–– Trump promises #1.
Dennis Quaid Says Trump Is 'Doing A Good Job' Against The Coronavirus
–– Pulling a Randy.
Mariah Carey Posts Live-at-Home Version of 'Hero' for Front-Line Workers
–– To punish slackers?
Church Is Closed, but You Still Can Confess at the Shed
–– To lawn equipment.
Burning Cell Towers, Out of Baseless Fear They Spread the Virus
–– Without towers they won't get conspiracy theories.
In Iran, 600 have died from drinking pure alcohol to 'cure' the coronavirus
–– After experiencing first brief buzz.
Iranian security forces 'killed dozens of prisoners' protesting lack of coronavirus protections
–– And couldn't find pure alcohol.
Coronavirus is the 'soldier of Allah', claims ISIS terrorist group
–– Tiny, vicious, brainless. Sounds right.
Ammon Bundy vows to defy stay-at-home orders for gathering
–– Spread Bundy.
How to clean your cash to protect yourself against coronavirus
–– Give to money launderers.
What W.H. Auden taught me about Easter, God and surviving a season of Covid-19
–– For those who read past W.H. Auden.
Kansas Gov. Laura Kelly sues GOP lawmakers for revoking her order limiting church gatherings
–– Who would Jesus sue?
Heated disagreement breaks out in Situation Room over hydroxychloroquine
–– President Trump: 'Gentlemen. You can't have a situation here. This is the Situation Room!'
Trump is touting experimental drugs for COVID-19, saying it's 'not going to hurt' people. But the drug has severe side effects and its misuse has led to poisoning and even death
–– 'Painless death, right?'
Feds Warn Alex Jones to Stop Hawking Coronavirus Scams
–– And leave to President.
Sens. Graham, Coons call on China to 'immediately' shut down wet markets
–– While expanding wet bars.
Florida Gov. Ron DeSantis Mystified By Gloves And How To Wear Them At Coronavirus Briefing
–– "I mean I only got one wee-wee."
Bill O'Reilly: Those Dying From Coronavirus 'Were on Their Last Legs Anyway'
–– Would someone please break his?
Bill Gates says U.S. government can't 'wave a wand' and 'all of a sudden the economy is anything like it was before' the coronavirus pandemic
–– Spells it out.
A super-spreader believed to be at the center of Chicago's coronavirus outbreak shows the importance of social distancing
–– Promises he'll keep knees together on 'L'.
Obama suggests a 'robust system of testing and monitoring' is needed before US can ease current coronavirus measures
–– So how many years after Trump leaves?
Fed's Bullard says there is 'good news' for those worried about the economy's future: that universal COVID-19 testing will help restore economic health
–– Would be 'great news' if we had even minimal testing.
Congress Needs a Plan to Confront the Coronavirus. I Have One.
–– By Elizabeth Warren. Surprise, surprise!
NASA astronaut, Russian cosmonauts will launch to the space station during a pandemic
–– Seems like perfect time.
Late Night Hosts Can't Believe Handshaking May Be Over for Good
–– Greet is good.
Meat plants are shutting down as workers get sick
–– Like beef bush, pork peonies.
Ellen DeGeneres sparks backlash after joking that self-quarantine is like 'being in jail'
–– Degenereses into farce.
It's not just Ellen. Coronavirus isolation has made me question how funny any of our beloved comedians actually are
–– Answers for us how unfunny you are.
Pope says coronavirus pandemic could be nature's response to climate crisis
–– Or God's cruel joke.
Demi Moore, Bruce Willis and their kids post matching pajama pic from isolation
–– In most compelling case for isolation yet.
What Abraham Lincoln can teach us about resilience in the face of crisis
–– Wear stovepipe hat over mouth, nose.
Sofia Shapatava says 'tennis may not survive' coronavirus pandemic
–– Why? Virus mutates back hands?
Bob Iger Floats Temperature Checks at Disney Parks, but Wall Street Sees Two Years Before Normalcy Returns
–– Goofy first to bend over.
Donald Trump Berates CNN's Jim Acosta Over "Happy Talk" Question: "These Are The Saddest News Conferences That I've Ever Had"
–– Yeah, utterly depressing.
Fact check: Trump falsely claims he 'inherited' the faulty coronavirus test. It was developed this year
–– Makes CDC swear it willed it to him.
A mayor ordered police to crack down on social gatherings. They found his wife at a bar
–– Muttering about 'my old man, the killjoy.'
NY mayor says rumors of temporary burials in public parks are 'totally false'
–– 'Temporary? We ain't digging them up again.'
Nollywood actress who fronted 'Stay Home' campaign arrested after hosting a party
–– Sometimes you have to travel to Nigeria for celebrity non-story.
How a discovery that brought us Viagra could help those battling the coronavirus
–– And lack of muscle stiffness.
Fauci warned that coronavirus could likely become seasonal
–– Like Festivus.
Peter Navarro on his qualifications to disagree with Dr. Anthony Fauci on coronavirus treatments: 'I'm a social scientist'
–– 'And board-certified mixicologist.'
Trade Adviser Warned White House in January of Risks of a Pandemic
–– Even 'social scientist' knew.
Navarro left a trail of political wreckage in California
–– Why Trump selected him.
Trump adviser warned of millions of virus deaths in January. Trump says he saw the memo only this week.
–– Just found reading glasses.
Joe Exotic's husband Dillon Passage supports him during lockdown
–– And really really supports lockdown.
A tiger at the Bronx Zoo tested positive for COVID-19 after coming into contact with an asymptomatic caretaker
–– Did horny Joe Exotic escape?
Kasich: The coronavirus made me doubt my faith, until I realized it was there all along
–– As I was fishing around my anus.
Germany to buy 'unbelievable amount' of facemasks: TV
–– At like 'ludicrous speed.'
Jared Kushner's COVID-19 Brainstorms Stole Time From Scientists Racing The Clock: Report
–– Brainstorms side effects of COVID-19.
Trump praises Washington state for returning 400 ventilators to U.S. stockpile
–– Jared, 'About time. They're ours!'
Seth Meyers Keeps Torching Jared Kushner: "Trump's Own Personal Tom Wambsgans"
–– In suck session.
Prince Charles and Camilla Spend 15th Anniversary Reunited After Self-Isolation at Scottish Home
–– Mind their manors.
Elizabeth II's Rare Address to the British Public Is Making People Emotional
–– Crack about Charles finally getting corona makes them laugh.
'We are so lucky to have you!' Queen Elizabeth cheered for her call to remain 'united' amid coronavirus pandemic
–– 'And the last 68 years have gone by in a flash!'
NYC Mayor Out to Prove That GOP Have Not Cornered the Market on COVID-19 Ignorance
–– De Blasio can outstupid anyone.
Nightclubs in Mexico allegedly offering 'home delivery' sex services during coronavirus pandemic
–– Charge includes drilling glory hole in front door.
We Asked the Church of Scientology How They're Combatting Coronavirus. This Is Their Wild Response.
–– Top Gun air raids.
Televangelist Kenneth Copeland 'blows wind of God' at coronavirus and claims pandemic is 'destroyed' in sermon
–– Bending over, dropping trou.
Coronavirus: Trump says teenage son Barron 'isn't as happy as he could be' as quarantine frustrations hit White House
–– Stuck inside with those two? Secret Service ordered to holster sidearms 'securely.'
Why these 8 Republican governors are holding out on statewide stay-at-home orders
–– Hint in 'Republican.'
Countless Americans cannot complete unemployment applications
–– Forgot how to hold pen.
Czech nudists told to wear face masks by police
–– And breathable merkins.
---
Silver Linings Plaguebook
Kathie Lee Gifford Says Her Kids 'Insisted' She Self-Isolate in Florida 'Because I'm Old'
–– And total pain in ass.
Pollution made COVID-19 worse. Now, lockdowns are clearing the air.
–– Coronavirus: 'Ah, I can finally breath!'
People in India can see the Himalayas for the first time in 'decades,' as the lockdown eases air pollution
–– Can imagine economy falling from atop Everest.
'Wheel of Fortune,' 'Dr. Oz' Score Big Ratings Gains During Quarantines
–– Because key demo is sick bastards.
Closed and Without March Madness Bets, Sports Betting Faces New Pressures
–– Business dribbles away.
Orange juice sales are soaring during the pandemic
–– Orange you thrilled?
---
Bernie Sanders drops out of the 2020 race, clearing Joe Biden's path to the Democratic nomination
–– Along bike lane in Rascal Scooter.

Democrats salivate over Obama coming off sidelines
–– Or Biden just drooling?
Joe Biden says he informed Bernie Sanders he will begin the VP vetting process
–– After he vets self.
Bernie Sanders Was Right
–– When?
Here's why kids these days love socialism
–– Think it's belief in social media.
Instagram hid a photo Donald Trump Jr. posted because it contained 'partly false information'
–– Was identified as human.
Barr defends Trump's firing of intel community watchdog as the 'right thing' to do
–– Far far right.
Quibi Is a Streaming Service Like We've Never Seen Before. Here's What You Need to Know.
–– And will never see ever.
Top Trump official prepared White House staff with a book about how people with mental illness can be effective leaders
–– American Psycho.
Trump administration is rushing to gut environmental protections
–– To match own gutlessness.
Trump Signs Executive Order to Mine the Moon for Minerals
–– And cheese.
In Effort to Oust Maduro, U.S. Gives 'Maximum Pressure' a New Meaning
–– 'Same old pressure.'
Gavin Newsom Declares California a 'Nation-State'
–– And self Beloved and Respected Leader.
Navy Secretary Modly's aircraft carrier speech misfires badly
–– Modly crew.
Former acting Navy secretary's trip to Guam, which led to his resignation, cost almost a quarter of a million dollars
–– Then worth it.
Marco Rubio finds his next act
–– Sticking entire foot in mouth while humming Mammy.
Additional Sex Assault Charge Filed Against Harvey Weinstein in Los Angeles
–– Piling on like it's orgy.
Dow Jones Chief, William Lewis, to Step Down
–– Stock reponse.
'Raccoon Dog' Wandered Onto Army Base In Syria And Helped Center Soldier
–– Had been leaning left.
Syria Used Chemical Weapons 3 Times in One Week, Watchdog Says
–– 1 in 3 psychotic despots recommend 2.
'After war we now have this': Syrians grapple with poverty and coronavirus
–– Does this mean we can't moan about toilet paper shortage?
How do rogue states get off the 'terror list'? With cold, hard cash – just like the US and UK
–– Just like they get on World's Sexiest Country list.
Trump: GOP should fight mail-in voting because it 'doesn't work out well for Republicans'
–– Considers dispatching army to disperse mail carriers.
John Roberts' unwavering, limited view of voting access seen in Supreme Court's Wisconsin ruling
–– One corpse, one vote.
The One Bottle for Your Home Bar That Makes All the Difference
–– Cyanide.
Rosie O'Donnell Says She Visited Michael Cohen in Prison
–– Brought him file stuffed in derma.
Rebecca Black of 'Friday' fame says she is queer
-– Or: Who what why?
East Enders ate goat, beef, lamb and dairy products 5,600 years ago
–– When Britcom first aired.
Scientists find massive 'silly string' creature in deep sea
–– In ancient sunken Party City.
New fossil named after 'Lord of the Rings' character is related to mysterious reptiles
–– Elessaurus gondwanoccidens, so you tell us, Tolkein freak who speaks Elvish.
Astronomers explain why Uranus is so weird
–– They've watched what you've been doing to it through telescope.
Single Cherry Tree Can Offset 20 Pounds of Carbon Emissions Each Year
–– Married one 40.
Whale sharks may live up to a century, Cold War bomb dating reveals
–– Used to see ICBM in 50s.
Norwegians are building boutique hotels for threatened Arctic gulls
–– Adding new wings.
'Night of the Hunter' Remake in the Works at Universal
–– Looking for classics to ruin.
Kiefer Sutherland remembers his mom Shirley Douglas
–– One would hope.
Grisham out as West Wing press secretary without having held a briefing
–– Did iron Trump's pants dozens of times.
Trump's new press secretary, Kayleigh McEnany, criticized for long list of anti-LGBTQ, racist remarks
–– Pronounced 'mock inanely'.
Trump feels no need for crisis counsel from predecessors
–– Thought it meant another special counsel.
The Wall Street Journal Board Has Had Enough Of Donald Trump's Coronavirus Briefings
–– Have been picked up by Syfy.
The Hollywood Reporter Sets Interim Leadership Following Editor Matt Belloni's Exit 
–– Sounds like bunch of Belloni.
Cardinal George Pell freed from prison after High Court overturns sex abuse conviction
–– Pell male.
Todd Helton Sentenced to 2 Days in Jail After Pleading Guilty to 2019 DUI
–– Took Rockies road.
British Museum looks to crack mystery over decorated ostrich eggs
–– Message scrambled.
A fire at a Florida airport destroyed more than 3,500 rental cars
–– On line waiting to top off gas.
Timothée Chalamet, Armie Hammer Will Return for 'Call Me by Your Name' Sequel, Says Director
–– Subtitled: End Games.
The body's 4 most underrated erogenous zones deserve to be touched 'for the very first time'
–– Taint necessary.
The Oldest String Ever Found May Have Been Made By Neanderthals
–– Found around fossilized finger.
Larry David Says He Couldn't Get Past the First Episode of 'Tiger King'
–– Joke exotic.
Larry David Calls Woody Allen's Memoir a "Great Book"
–– Apropos of nothing.
Atkinson: Trump fired me because I handled whistleblower complaint properly
–– From your lips…
Joe Rogan on why he's set to vote for Donald Trump: Democrats have 'made us all morons' by running Joe Biden
–– He obviously needed no help.
Chaos and scrambling in the US oil patch as prices plummet
–– Gas bagged.
Stop Using Toilet Paper
–– You've got this newspaper.
Dramatic and Unique Boneyard Match Enhances The Undertaker's WrestleMania Legend
–– Amongst boneheads.
After 50 Years, the Army and Marine Corps Are Closing In on Dumping Brass-Cased Ammo
–– Got down to brass attacks.
Katy Perry announced the gender of her baby in a tasty reveal with Orlando Bloom
–– Child will apparently have pink muffin.
Mort Drucker, Iconic 'Mad' Magazine Caricaturist, Dies at 91
–– Mad dashed.
John Prine, Legendary Folk Singer, Dies at 73
–– Prine cut.
Hal Willner, Music Producer and 'SNL' Veteran, Dies of Coronavirus at 64
–– Lost in the Stars.
Allen Garfield, 'Nashville' and 'The Conversation' Star Dies of Coronavirus at 80
–– Cry Uncle!
Linda Tripp, Key Figure in Clinton Impeachment, Dies
–– Tripp's up.
Honor Blackman death: William Shatner and Piers Morgan lead tributes to Goldfinger star
–– Mushy galore.