Bat Shits Crazy

Week of 05/15/20
Actual headlines from the internets. You Google 'em.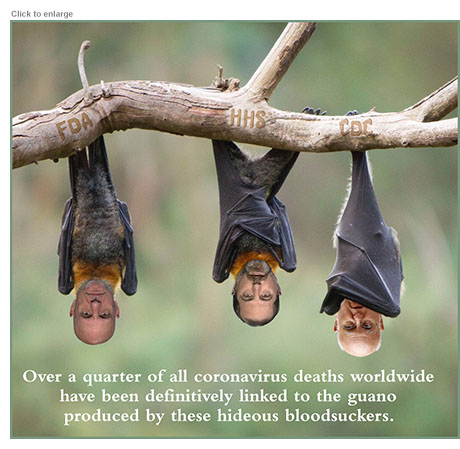 'Lives Were Lost' as Warnings Went Unheeded, Whistle-Blower Tells House
–– Lies were loosed.
We Need Tuition-Free College. For Adults.
–– White House staff adults.
Ousted whistleblower warns US is heading toward "darkest winter in modern history"
–– WH White Walker just smiles.
Trump attacks coronavirus whistleblower before congressional testimony
–– Not on Bright side.
'Yes, it is the president's fault': New York Times reporter rips into the Trump administration's response to the pandemic and says he thinks CDC head should resign
–– Blame where blame is doo-doo.
White House Is Making Contingency Plans for Potential 2nd Wave of COVID-19
–– Cutting, pasting Trump's top 10 excuses.
US medical mask maker blasts government for failing to prepare for pandemic: 'I've been ignored for so long'
–– Crying in handkerchief tied around head.
38% rise in bleach poisoning predates Trump's suggestion, data shows
–– Base way ahead on stupid.
How the Right-Wing Disinformation Loop Helped Kill Virus Research Funding
–– White Notionalists.
Donald Trump Refuses To Wear Mask At Mask Supplier, Suggests Testing Is 'Overrated'
–– Geez, coronavirus, he's over 6 ft., 250-plus lbs., bright orange…how can you miss him?
Mitt Romney Says U.S. Coronavirus Testing Record Is 'Nothing To Celebrate'
–– On July 4 sparkler will be lit for each of 100k+ dead.
Tucker Carlson Calls Anti-coronavirus Measures 'fascism'
–– Sick heil!
If you clean teeth, cut hair, serve food or work with kids, your job is considered high risk for COVID-19 contact, study suggests
–– If you work teeth, serve hair, clean food or cut kids even higher.
Company Creates Cardboard Hospital Bed That Also Serves as a Coffin
–– Dubbed Cot Nap.
Word 'Cannabis' Appears More Than 'Job' in the Democrats' New Stimulus Bill
–– Had to be smoking something to draft that.
Mnuchin denounces Dem coronavirus stimulus plan: 'Not in the spirit of anything that has been bipartisan'
–– Talking out of both sides of mouth.
Door knobs, trash cans, gas pumps: Citizen scientists search for coronavirus on everyday surfaces
–– Baubles, bangles and beads.
Travel giant Tui to slash up to 8,000 jobs amid coronavirus
–– P-Tui!
Two-thirds of US believers see Covid-19 as message from God, poll finds
–– That you voted for wrong candidate in 2016.
Donald Trump's megalomania and Boris Johnson's incompetence have increased the coronavirus death toll
–– D'oh, d'uh.
Boris Johnson 'changes mind' and backs interventionist anti-obesity strategy after getting coronavirus
–– Choose fat.
Tube union threatens to refuse return to work due to Covid-19 fears
–– Mind the crap.
Mother, 26, warns against Britons buying hot tubs in lockdown
–– Afraid they'll get soaked.
States are letting stay-at-home orders expire, regardless of virus metrics
–– Americans always hated metrics system.
Trump campaign laying groundwork for a return to in-person rallies
–– More they can infect the better.
Richard Burr Steps Back From Senate Panel as Phone Is Seized in Stock Sales Inquiry
–– Burr, has chilling effect.
Could COVID Insider Trading Scandals Cost Republicans the Senate?
–– Same answer as: Can voters in North Carolina, Georgia read?
Will the Pandemic Make the West More Vulnerable to Wildfires?
–– And other fun doomsday scenarios.
What Happens If a 'Big One' Strikes During the Pandemic?
–– Yeah, and what if, like, giant asteroid strikes Earth?
U.S. companies discover the dark side of a COVID-19 business boom
–– Not tens of thousands of deaths?
Trump's Mar-a-Lago resort to partially reopen Saturday
–– Mal-a-Lago.
McDonald's is going to look drastically different when it opens
–– Sadly, taste same.
Ray Winstone says he's been stranded in Italy amid coronavirus for weeks, calls language barrier 'difficult'
–– Especially while stuffing face with pasta.
Cuba Gooding Jr. serenades OC nurses working amid COVID-19 virus
–– Even though he's on video stream, they say 'please step back.'
Bill Murray Chastises Youth for Not Wearing Masks from His Bathtub
–– Swimming goggles, at least.
Bill Murray and Guy Fieri and are gonna have a nacho battle for charity
–– Chips are down.
White House names heads of 'warp speed' coronavirus vaccine effort
–– Got 'warped' down pat.
Coronavirus Confusion: LA Mayor Tries To Douse "Panic" Over Likely Stay-At-Home Order Extension Remarks By County Health Official
–– Newsom thing was wrong.
Video shows food executives being told to remove their masks before discussing coronavirus outbreaks at meat plants with Mike Pence
–– Concern any contact with Pence might cause vomiting.
Rand Paul: Pandemic Response Marred by 'Wrong Prediction after Wrong Prediction'
––'Not even counting all of mine.'
A Pennsylvania mask factory scrapped a visit from Trump because it worried the event could spread the coronavirus
–– And toxic levels of stupidity.
'There's risk in anything:' Kushner says Trump weighing Fauci concerns in reopening in pandemic
–– 'Take nepotism…'
FEMA cancels $55.5 million contract for masks with company that has no history of selling masks
–– And $60 mil contract with Navy to produce swabs.
Fox News is telling its employees to work from home for at least another month while its TV hosts push for businesses to reopen
–– Put Ingraham in ER without PPE.
Germany's daily coronavirus case count has nearly tripled as regions consider an 'emergency brake' to reinstate harsher lockdowns
–– Expect drei run.
"Obamagate": Trump's latest conspiracy theory, explained
–– Y'know the excuses when you've accused three-year-old of wetting bed?
Fact check: McConnell claims Obama didn't leave Trump a pandemic 'game plan.' Obama left a 69-page playbook
–– Yeah, but with really big words, no cartoon pictures!
Mitch McConnell says he was 'wrong' to say Obama left behind no pandemic plan
–– In latest slang for 'lied.'
Pence 'maintaining distance' from Trump 'for the immediate future'
–– Hopefully, from Indiana beginning next January.
A senior Trump adviser said White House employees are going to work in a 'relatively cramped' West Wing out of love for their country: 'We've all been exposing ourselves to risks'
–– 'I flashed an infected intern last week.'
The White House Advisor Whose Model Predicted Zero Deaths by Mid-May Now Says It's "Scary" to Go to Work
–– Model he hasn't told wife about.
Dr. Anthony Fauci Quarantines Himself After Coronavirus Exposure
–– And Trump's Munchausen Syndrome.
Birx said 'there is nothing from the CDC that I can trust' in a White House coronavirus task force meeting
–– Birx her bubble.
Singer Bryan Adams Unleashes Coronavirus Rant, Blames Canceled Gigs on 'Bat Eating' Wet Markets
–– Cuts like a naif.
Pence will not self-quarantine and plans to be at the White House Monday
–– Spread the news… and virus.
Denmark is creating a new agency to handle future outbreaks
–– U.S. announces task force to prepare for greyscale.
Predicted Covid-19 US death toll keeps rising with states reopening and more people moving around
–– Right behind predicted Covid-19 US death toll denial.
Coronavirus cases are rising in Germany again just days after it relaxed its national lockdown
–– Ja think?
Ice cream shop closes one day after reopening because customers didn't follow social distancing rules
–– Double scoop.
5 people were injured during Texas shooting at a park with 600 people
––Wait week they would've been hospitalized with Covid-19.
China admits to destroying coronavirus samples, insists it was for safety
–– Government's.
Popeyes to open first China store as coronavirus hammers food industry
–– Number one with a pullet.
Chunks of China's Powerful Rocket Fall Back to Earth, Narrowly Missing NYC
–– City avoids Chinese takeout.
South Dakota Sioux tribe refuses to take down checkpoints that governor says are illegal
–– Chief: 'So Sioux me.'
Elon Musk threatens to move Tesla headquarters out of California following extended shelter-in-place rules
–– More upset with shithead-in-place order.
Musk, Texas governor talk about potential Tesla move to Lone Star state
–– Will need to rename Texla.
Cuomo faces pushback on response to nursing homes battling coronavirus: 'Totally irresponsible, negligent and stupid'
–– Quoting unbiased official source: nurse who's mother died of coronavirus in nursing home.
Obama says White House response to coronavirus has been 'absolute chaotic disaster'
–– Going easy on it.
A Simpsons episode may have predicted murder hornets and coronavirus
–– And asinine news stories about what show might've foreseen.
People Who Texted Their Ex in Isolation Rate Their Regret Levels
–– Those who sexted all at 10, Totally Rue.
---
Silver Linings Plaguebook
Shanghai Disneyland Reopens With Strict Safety Procedures
–– Mickey Maoist wears little red face mask.
PepsiCo moves to capture soaring demand for online groceries with new snack sites
–– Lay's online.
Coronavirus Didn't Kill Quibi—But Here Are 8 Things That Might
–– 3. Quibi.
New York City's Virus Lockdown Means New Challenges for Rats and Local Wildlife
–– Have to call ahead for pizza pickup.
Coronavirus Came From Bats, Can Infect Cats, Ferrets, WHO Says
–– Please tell us it's fatal.
---
Mike Pence: 'I'd be happy' to see Michael Flynn back in the Trump administration
–– With all the unindicted co-conspirators.
Federal judge halts the Justice Department's effort to drop its case against Michael Flynn
–– Isn't sure 'aiding and abetting' is good look.
These Detailed Photos Show Exactly What Head Lice Bites Can Look Like
–– In case you've been scratching your head.
Will a Content Piracy Scandal Stop Saudi 'Sportswashing'?
–– Or will players come clean?
The Best Way to Treat a Painful Jellyfish Sting, According to Doctors
–– Not smear with peanut butter?
New implants give glimmer of hope for the blind
–– Who appreciate big rack.
Paleontologists have identified the earliest evidence of Homo sapiens in Europe
–– Cave graffiti: 'Nenderthals suck.'
Call to cage cats in France who stray too far from home
–– Chat rooms.
Thai vets pull discarded plastic bag from a green turtle's backside
–– Twist Thai.
Twitter cofounder Biz Stone backed Oxwash after seeing this pitch deck
–– And his ox was pretty dirty.
A Dog's Nose Can Do More Than Sniff
–– What else is it doing in our crotch?
Australia Man Escorted Off Train After Boarding With Snake on His Head
–– And complaining of migraine.
Termite season has arrived in Houston. Here's what you need to know
–– Neither here gnaw there.
'I Was A Marine In Iraq, Now I Teach Ballet To War Veterans'
–– 'And choreographed The Sleeping Booby Trap.'
Hackers Say They Have Trump's 'Dirty Laundry' and Want $42 Million to Keep It Secret
–– That wouldn't buy enough stain remover.
Former White House physician Ronny Jackson dives headfirst into 'Obamagate' and angers former colleagues
–– Skins stupid face.
Nearly 200 killed and injured in Afghanistan's deadliest day of 2020
–– Wins Kabul ace award.
USDA knocked for 'unfathomable' $39M contract awarded to San Antonio event planner
–– Deeply, deeply dumb.
E.P.A. Opts Against Limits on Water Contaminant Tied to Fetal Damage
–– Administrator Wheeler should toast with perchlortattini.
Trevor Noah Horrified by Reckless Wisconsin Residents Packing Bars
–– Cheesehead crackers.
You can now view every exquisite detail of this Rembrandt masterpiece virtually
–– Experience a series of strokes.
Mother claims she can cook meals entirely from plants found near house
–– Kids: 'Bullshit!'
Pizza shop owner, 51, won't be jailed for fatally punching man
–– Had everything on it.
Huge Saber-Toothed Anchovies Emerged After Dinosaurs Went Extinct
–– Making for really painful pizzas.
William Shatner Rejoices Over Canadian Police Watchdog Review of Viral Stormtrooper Takedown
–– Appreciates their Enterprise.
Adam Sandler Called Jim Carrey from the Theater During Sonic to 'Tell Him How Funny He Was'
–– And risked losing intricate plot strands?
Pregnant Katy Perry says she's experiencing 'waves of depression' amid coronavirus crisis
–– Friends said not to listen to her old albums.
Mexico Seizes 15,000 Turtles, Some of Them Endangered, Bound for China
–– Shellters them.
Meet the güiña—a six-pound 'mystery cat' vulnerable to extinction
–– But not accents.
Moths Work the Pollination Night Shift, Visiting Some Flowers Bees Skip
–– In Nature's glorious celebration of sloppy seconds.
Giant Sloths Died Wallowing in Their Own Feces, Paleontologists Suggest
–– Were apparently in pandemic lockdown.
Ichthyosaur's pebble-like teeth used to 'crush the shells of their prey'
–– But made it difficult to pronounce own name.
Twitter Permanently Suspends Pro-Trump YouTuber Joey Salads, Who Once Urinated Into His Own Mouth
–– Talk about dressing down.
McEnany is off to a shameless start at Trump's White House, but she's better than nothing
–– Nothing described as 'hurt' by headline.
Sources Say Jay Cutler Was "Rude," "Distant," and "a Jerk" During Marriage to Kristin Cavallari
–– Because he was self during period.
Dennis Rodman Dishes On Bonkers Night Out With Kim Jong Un
–– In pitch for TBS sitcom.
Sanders adviser warns of 'alarming trends' that could lead to Biden's defeat
–– Bros are cons.
Joe Biden's running mate list is shorter than you might think -- for now, at least
–– Length of list keeps us up nights.
Latinx activists want Joe Biden to pick a Latina as his VP
–– We assumed a Scandinavian.
Biden tells MSNBC he would not pardon Trump, when asked about hypothetical prosecution
–– Or excessive eructation.
Biden: 'I reject the premise that' remote campaigning is hurting my White House bid
–– Reads note buried in laundry basket.
Trump's lawyer says he is 'himself a branch of government' and 'not to be treated as an ordinary citizen' in blockbuster Supreme Court case over Trump's financial records
–– Withered, dead branch hanging by thread, but still…
28-Year-Old Who Admits To Drinking Up To Two Liters Of Vodka A Day Receives The Results Of A Drug Test
–– Too smashed to read it.
Tom Hardy and Charlize Theron Opened Up About Clashing While Filming 'Mad Max: Fury Road'
–– He furious, she Furiosa.
Forget murder hornets. Giant gypsy moths could bring 'serious, widespread damage' to the US.
–– With their tiny scams.
Researchers Discover Gene Responsible for Honey Bee Virgin Births
–– Nicknamed Jesus and Mary Chain.
These Exotic 4-Foot-Long Lizards "Eat Anything They Want," and They've Invaded Georgia
–– You tell them they can't have it.
Sea turtles create 'decoy' nests to trick predators and protect eggs
–– Is what they tell suspicious wives.
The Final Home of Charles Darwin's HMS Beagle Gets Protected Status
–– Legal Beagle.
Acropolis view to be restored after hotel ordered to demolish top floors
–– Tourists to demolish Acropolis.

Alison Roman pens apology to Chrissy Teigen and Marie Kondo
–– Roman in the glummin'.
Democrats blast 'blatant misuse' of Russia deterrence funding on border wall
–– Will definitely keep stray Trotskyites out.
Russia slams U.S. assertion at U.N. that it remains party to Iran nuclear deal
–– Does still send cards on annniversary of pact.
Libyan officials: Shelling at Tripoli's only working airport
–– Which actually improves condition of runways.
Egypt Defies Archaeologists' Protests by Relocating Four Ancient Sphinxes
–– Tense Sphinxters.
Neolithic Chinese Had a Special relationship with Hares
–– Hop, sing.
A mama bear was caught on camera rescuing her cubs in South Lake Tahoe
–– Overbearing.
South Carolina Woman Killed in Alligator Attack Tried to 'Pet' Reptile
–– Gator tried to 'kiss' her.
Barn Owl Babies Can Be Helpful Hatchmates
–– Really turn heads.
26-year-old surfer killed in California shark attack
–– Board to death.
Amash's candidacy injects uncertainty for Trump in key swing state of Michigan
–– Laugh or cry?
A hiker trapped in a whirlpool was rescued by an off-duty officer using a cord from his backpack
–– Gave it a swirl.
Diplo confirms he has a son with model Jevon King, in emotional Mother's Day message
–– How Diplomatic.
How the Epic Failure of 'Fantastic Four' Inspired Josh Trank to Make 'Capone'
–– More modest fail.
Damon Lindelof Explains How He Defied the 'Write What You Know' Myth on 'Watchmen'
–– By not knowing squat.
UFC fighter says his teeth were falling out during brutal bout
–– Opponent sends dental bill.
Britney Spears Surprises Fans With Radically Different New Cover for 2016's 'Glory'
–– Same shitty songs.
'Double Rainbow Guy' Paul Vasquez has died
–– With arc angels.
Roy Horn, legendary magician of duo Siegfried & Roy, dies from COVID-19 complications
–– Tiger pause.
Jerry Stiller, comedian and 'Seinfeld' actor, dies at 92
–– Lies Stiller.
Bob Dylan Remembers Little Richard: 'My Shining Star and Guiding Light'
–– Good Golly, miss folly.
Pat Boone Remembers Little Richard: 'He Knew He Had to Be Different'
–– Denial Boone.
Little Richard, a flamboyant architect of rock 'n' roll, is dead at 87
–– The I.M. gay.