Trigger Fingered

Week of 08/09/19
Actual headlines from the internets. You Google 'em.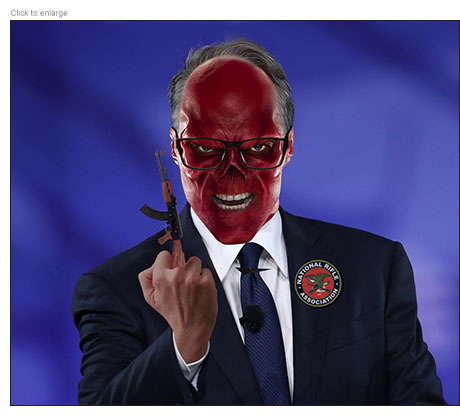 Trump said 'perhaps' more needs to be done on gun control following two mass shootings
–– 'Maybe' baby.
Protesters chant as Trump visits Dayton, El Paso
–– 'Send him back!'?
Gun control really works. Science has shown time and again that it can prevent mass shootings and save lives.
–– NRA: 'But will it make my wee wee seem bigger?'
Only 3 countries in the world protect the right to bear arms in their constitutions: the US, Mexico, and Guatemala
–– And in 2 you can wear short sleeves year round.
Trump tweet: Nobody blamed Obama for Sandy Hook
–– Adam Lanza wasn't his base.
N.Y. Times's Trump headline about Trump slammed by critics, readers canceling subscriptions
–– Insist paper always print poop emoji after 'Trump.'
Backfiring motorcycles trigger chaos in Times Square as false alarms grip US in wake of mass shootings
–– Loud eruptions at port-o-potties causes panic at chili festival.
Trump Slammed For Tone-Deaf 'Photo-Op' With El Paso Orphan
–– 'I figured he couldn't discern the tenor of my ignorant comments.'
Straight Pride parade 'dog whistling to white supremacy' says gay son of organiser
–– Plenty of mutts prick up ears.
Woman charged with shooting at plane that was spraying for mosquitoes in Louisiana
–– Claims she was aiming at insects.
O.J. Simpson Compares Recent Mass Shootings to Nazi Germany: 'Sounds Familiar'
–– Yeah, like blitzkrieg on Bundy Drive.
EPA dropped salmon protection after Trump met with Alaska governor
–– Environmentalists swimming upstream.
Paleontologists have found the fossil of a 3-foot-tall carnivorous parrot. They nicknamed it 'Squawkzilla.'
–– Who's a pretty big birdie?
Mattel shares plunge after disclosing anonymous whistleblower letter
–– Rumored to be from Skipper, Barbie's kid sister.
Kashmir crisis: Will nuclear-armed Pakistan go to war with India again?
–– Real Kashmir sweater.
The phone and internet blackout in Kashmir is so total that locals reportedly don't know India rewrote their constitution
–– Illiterate third remain blissfully ignorant.
Chernobyl's 'sarcophagus,' which helped contain the spread of radiation, is being dismantled because it's teetering on collapse
–– Tomb it may concern.
Former Boy Scout leader had 10,000 photos and 600 videos of child porn
–– Earned rank of Evil Scout.
New Mexico faces extreme water scarcity on par with the United Arab Emirates. Experts warn more 'day zeros' are looming.
–– Just need to strike oil so they can afford to ship H2O in.
Gazans too poor to afford sheep for Eid sacrifice under blockade, Israel cash row
–– But still pay to sleep with them.
Serbia grants citizenship to Thailand's fugitive ex-PM
–– For bribe involving surprisingly few underage hookers.
Steve Bullock: I'm tired of lowering the flags
–– On my political career.
Cats understand their names and are probably just choosing to ignore you, a study suggests
–– Disgusted by your neediness.
Kraft Heinz's nightmare is far from over
–– Blood red ketchup everywhere!
New Jersey mayor calls LGBTQ rights movement 'an affront to almighty God'
–– Barnegat the dinosaur.
Kimberly Breier resigns as assistant secretary of state for Western Hemisphere
–– Due to Breier commitment.
Owner of SoulCycle and the Miami Dolphins faces outrage and calls for boycott over Trump fundraiser
–– Financing sole psycho.
New Yorkers are trying to cancel their Equinox memberships over Trump. A city councilman wants to make that easier.
–– And not have to wait until sun crosses celestial equator.
L Brands CEO accuses Jeffrey Epstein of misappropriating money
–– What will the neighbors say?
Tennessee inmate escapes from prison where a top official was found dead
–– The derndest coincidence.
Colin Kaepernick said he's been working out at 5 a.m., 5 days a week for 3 years. He's ready to play football.
–– We know he can take knee.
Crashed spacecraft may have left tiny but tough creatures on the moon
–– Dune buggies?
White House Circulates Executive Order to Combat Big Tech's Alleged Anti-Conservative Bias
–– Google gag gag.
13-year-old suffers skull fracture when man attacks him for wearing hat during national anthem, police say
–– Saw broad stripes and bright stars through the perilous fight.
Man in anthem attack convinced Trump ordered it, lawyer says
–– Insists grating voice in head that kept referring to self was President's.
U.S. immigration agents arrest 680 workers at Mississippi plants
–– Based on Miss. apprehension.
Marianne Williamson Convinces Trevor Noah She's 'Pro-Vaccine'
–– Vaxx or fiction?
Trump says he's considering commuting Blagojevich sentence
–– Would've already if he could spell name on pardon.
Offset Says Alleged Assault Victim Begged To Be Beaten Up, Demands Case Against Cardsi B Be Thrown Out
–– Offset: 'Print that.'
Senator Won't Back Banning Assault Weapons Because They're 'Extremely Popular'
–– Legalizes heroin because fans so loyal.
China suspends mainland movies, stars from Taiwan's Golden Horse Awards
–– Wins Golden Ass Award.
A Brazilian drug dealer who attempted a prison escape by dressing as his daughter is found dead in his cell
–– Dressed as mother in casket.
New 'Garfield' Series Set at Nickelodeon
–– Sounds Odie-ous.
Domino's is stockpiling pizza ingredients to protect against a disorderly Brexit
–– Will barricade doors with pepperonis.
Putin to Trump: We'll develop new nuclear missiles if you do
–– 'Together, holding hands.'
US Ambassador to Russia Jon Huntsman resigns
–– Last Putin massage with happy ending scheduled for October 2.
EasyJet was criticized for making passengers fly in backless seats -- except it didn't
–– Did insist on assless chaps.
Video shows boy fall into manhole in China
–– Ignoring 'you must be this tall to ride' sign.
A millionaire charged in his wife's murder has been caught after more than four years on the run
–– Paused when asked if it was worth it.
Tori Spelling wants to join 'The Real Housewives of Beverly Hills'
–– Spelling d-e-s-p-e-r-a-t-e.
Man who was circumcised in hospital mix-up awarded $24,000 compensation
–– Which buys lot of smegma.
Paul Schrader Defends Pal Peggy Siegal: "I Have Great Affection for Her"
–– 'Defense' continues "and have always found her to be thoroughly unprincipled.'
James Wan's new horror film will be 'hard-R' with 'old school, practical effects'
–– Sadly for violence, not sex.
A New Teaser for the Downton Abbey Movie Shows Mary and Edith at Odds Once Again
–– Tiffs may be 'hard-R'.
Canadian woman thanks Metallica for saving her life after she used 'Don't Tread on Me' song to scare off cougar
–– In meaningless incident impossible to verify we just wasted 60 seconds contemplating.
Rookie bundlers power Buttigieg fundraising surge
–– Rookie bunglers power Bill de Blasio's.
Jho Jenner: Lip kit billionaire Kylie renting out 1MDB superyacht funded by the Malaysian taxpayer for 22nd birthday
–– Awaiting translation.
Longer lives and 'lumpy' expenses force Americans to rethink their retirement-savings math
–– Liposuction's expensive.
Pizza Hut will close hundreds of locations to focus on carry out and delivery
–– Of nauseous customers to gastroenterologists.
Aaron Carter Speaks Out After Being Accused of Flipping Rescue Dog for Profit: 'Don't Try to Slander My Name'
–– 'My name's already a punchline and the dog landed on his feet.'
Mike Gravel to Formally Endorse Bernie Sanders' Campaign
–– Wants to rock his vote.
Andy Cohen Says He's Blacklisted Several 'Annoying' Celebrities from Watch What Happens Live
–– But not self.
A United Airlines flight from Scotland to New York was canceled after 2 pilots were arrested on suspicion of drinking before they were meant to fly
–– If drunk pilots in Scotland were meant to fly, wouldn't God have given them wings?
Puerto Rico crisis deepens amid clash over sworn-in governor
–– Sad Juan.
Murdoch-Owned New York Post To Trump: Ban Assault Weapons Now
–– Post mortem.
Kacey Musgraves Has Searing Question For Trump: 'Don't You Hear Our Pain'
–– Trump: 'Yes, but I want you to scream louder.'
Angelina Jolie Is 'Very Proud' Son Maddox Will Attend South Korean University for Biochemistry
–– We're 'very who-gives-a-shit.'
Would Biden Derail Trump's Election Strategy?
–– If he's riding Amtrak.
Joe Biden To Millennials: 'Don't Tell Me How Bad It Is. Change It.'
–– Um, Joe, if they vote you lose.
A man was sentenced to 60 weekend days in jail for poisoning his wife's coffee
–– Asks to work Sunday brunch in mess.
Aide: Sen Mitch McConnell trips, breaks shoulder in Kentucky
–– To quote President on Rep. Cummings' break-in: 'Too bad,'
McConnell fires back at 'Moscow Mitch' attacks by Democrats
–– Was trippin' before he broke shoulder.
Phillies sue to block Phanatic from becoming 'free agent'
–– Trump wanted for National Security Advisor.
Will Hurd says he's leaving Congress to help GOP become more diverse
–– Hurd instinct.
This Is Us star Milo Ventimiglia says he was told he's "too old" to play Batman
–– Nicer than saying "too wimpy".
Asked About Warsaw Uprising Anniversary, Trump Responds That Polish People 'Like Me'
–– Thought Uprising referred to gagging at his name.
Jay Inslee Actually Knows Why He's Running For President
–– Have you met his family?
Fox News Host Neil Cavuto Tells Viewers Trump Is Wrong: 'China Isn't Paying These Tariffs. You Are.'
–– Paramedics rush to retirement home due to multiple reports of heads exploding.
McDonald's employee fired after allegedly turning away paramedics: 'We don't serve badges here'
–– 'They can't do their job in the can.'
A$AP Rocky Attends Kanye West's Sunday Service with Kendall Jenner After Release From Jail
–– Worse than prison?
Man writes anti-gay message on restaurant bill, forces it down female manager's shirt
–– Just so you know he ain't one of 'them.'
Largest housing-fraud case in O.C. history allegedly carried out by mother-daughter duo
–– Couldn't they save story for Mother's Day.
D.A. Pennebaker, Master of Cinema Verite, Dies at 94
–– Won't look back.
Julianne Hough to husband: You know I'm not straight, right?
–– Hubby: 'You know I fantasize you're your brother during sex?'
Woman loses hair after using new conditioner
–– Did create new condition.
Lebanese band Mashrou' Leila's show canceled to 'prevent bloodshed'
–– Leila, I'm bagging, darling please.
French 'Flying Man' Crosses English Channel on His Flying Machine
–– Would be more impressed without machine.
Republican Politicians on Fox News Blame Video Games for Latest Mass Shootings
–– Asininity's Creed.
8chan Is a Megaphone for Gunmen. 'Shut the Site Down,' Says Its Creator.
–– Hatechan.
Beto O'Rourke: Trump's an 'Avowed Racist' Who's 'Giving People Permission to Do' Mass Shootings
–– Like M issuing 007s to White Nationalists.
O'Rourke on Trump: You know the sh** he's been saying
–– He doesn't know the sh** he's been saying.
Pete Buttigieg: 'America Is Under Attack by White Nationalist Terrorism' and Trump Is 'Not Helping'
–– Trump: 'Give me a gun and I'll target immigrants.'
Trump offered prayers for "those who perished in Toledo"
–– 'Those who might've passed away the same day as the mass shooting victims in Dayton 150 miles away.'
John Oliver Rolls Footage Of Trump Laughing At A Call To Shoot Immigrants
–– That joke always kills.
2020 Democratic Candidates Call for End to 'Gun Violence Epidemic' After El Paso Shooting
–– Brave position.
El Paso shooting suspect may face hate crime charge
–– That'll teach him.
Ohio GOP lawmaker blames mass shootings on Obama, 'fatherlessness' and 'drag queen advocates'
–– Is that what Republicans mean when they blame 'TV'?
Sen. Ted Cruz: El Paso Shooting Was 'Act Of Terrorism And White Supremacy'
–– Will not credit Cruz, will not credit Cruz…
Suspected El Paso Shooter's Dad Once Sought to Help Gun Violence Victim
–– More helpful irony from media.
There's No Second Amendment Right to Large-Capacity Magazines
–– But lack of ad sales should keep page count low.
Treasure Trove Discovered at Egypt's Atlantis, Where Cleopatra Was Crowned
–– With starfish.
Meghan Markle Plans a Children's Book Based on Her Dogs
–– Standing around at state functions, they're barking.
New Ivanka Trump Podcast Calls Her a 'Young, Never Having a Bad Hair Day Hillary' Clinton
–– And 'never having a good idea day Hillary.'