Tlaib in the Lurch

Week of 08/16/19
Actual headlines from the internets. You Google 'em.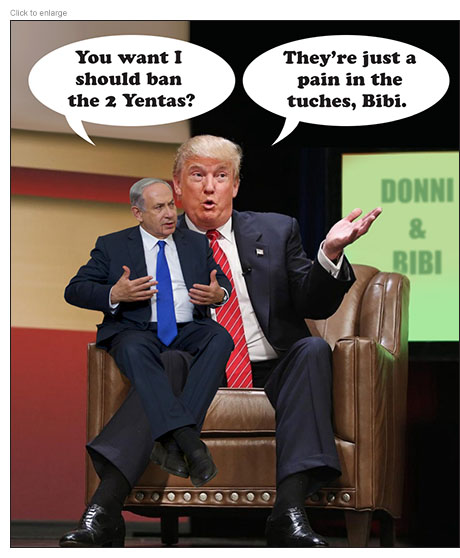 Israel denies Reps. Omar and Tlaib entry amid Trump pressure
–– All about the Benjamin.
'Netanyahu is essentially an Israeli Republican'
–– Who doesn't hate all Jews.
Bernie Sanders To Israel: Ban Our Lawmakers? Then Don't Take Our Money
–– Heckle and shekel.
Rashida Tlaib Says She Won't Visit West Bank Under Israel's Conditions
–– Family 'kind of relieved.'
Rashida Tlaib: 'I'm not going nowhere, not until I impeach this President'
–– So you are going somewhere when Hell freezes over?
Woodstock 2019: Generations soak in spirit at Bethel Woods together
–– Like 1969 mudbath.
Trump Fat-Shamed His Own Supporter at Unhinged Rally in New Hampshire
–– Weigh off base.
Donald Trump Hopes Hong Kong Crisis Can Be Solved 'Humanely'
–– Hopes no animals are harmed in crackdown.
New plastic pollution formed by fire looks like rocks
–– So let's melt Great Pacific garbage patch into island resort.
Trump Adviser Calls Reduced China Tariffs 'Christmas Present to the Nation'
–– Because America really needs more plastic crap.
'Not good!' Donald Trump blames Russia for mysterious 'Skyfall' explosion, radiation spike
–– And hard-to-follow plot of James Bond film.
Al-Qaeda releases blooper reel of an ISIS militant flubbing his lines
–– On funnyanddie.com.
CBS News' Norah O'Donnell caught on hot mic talking about sex harassment
–– Mic was smokin'!
Marlon Wayans Plays 6 Characters in Netflix's Sextuplets: 'It Took Everything That I've Learned'
–– Which got him through 1st.
AOC says 'racists' are a 'core part' of Trump's supporter base 
–– The pits.
Some women Trump voters may be having second thoughts
–– Which would qualify as first.
#ImAFarmerLikeNunes Trends After Report Nunes' 'Farm' is About '100 Sq Ft'
–– Enough space to plant evidence.
After El Paso Shooting, Will Voters Revisit Beto O'Rourke?
–– Depends on appetite for tragedy.
Beto O'Rourke Says Running for Senate Would 'Not Be Good Enough for This Country'
–– Pointing to map of Russia.
Beto O'Rourke: Trump believes immigrants "have no place in this country"
–– Fake News! Blond ones can do whatever they want.
Andrew Yang: What Can Trump 'Beat Me at, Being a Slob?'
–– Groomer has it.
Elizabeth Warren Offers a Policy Agenda for Native Americans
–– So-called Pocahontas Papers.
Elizabeth Warren's Gun Violence Prevention Plan Will Close The Boyfriend Loophole
–– With girlfriend bullet hole?
The 'dark side' of Finland's famous free health care
–– Proctology.
Elon Musk doubled down on his theory on why nuking Mars would be a good idea
–– After tripling down on massive doobie.
'I am fed up with it': Philadelphia U.S. attorney torches local D.A. after police standoff
–– A lot at stake.
Fracking boom tied to methane spike in Earth's atmosphere
–– Something about it smelled funny.
Humans, not glaciers, likely doomed Ice Age cave bears
–– Old white guys get blamed for everything.
Scientists Reverse Aging in Rat Stem Cells
–– Oh great, immortal rodents!
Newly discovered organ may be lurking under your skin
–– Not necessarily yours.
Virgin Galactic closer to sending tourists to space
–– Still working on rocket-pack flotation device.
NASA wants your help developing autonomous robots to explore other worlds
–– On orders of robots with guns to their heads.
Jupiter collided with a planet 4.5 billion years ago and ABSORBED it
–– Feeling hungry again.
Wisconsin police say they found a fugitive hiding in a solar-powered bunker in the woods
–– Caught green-handed.
David Schwimmer lookalike sentenced to jail time for theft
–– ID'd by Friends.
Elvis Presley's pal Wink Martindale reveals why he 'broke down' after seeing The King for the last time
–– Wink and a nod.
Art Spiegelman's Marvel essay 'refused publication for Orange Skull Trump dig'
–– Game of cat and Maus.
How Jennifer Lopez bared body and soul to find heart in Hustlers
–– No cardiovascular surgery?
Coppola defends killing water buffalo in 'Apocalypse Now': 'That was the way they do it'
–– Demanded final cut?
The 1975 singer Matt Healy kisses fan in Dubai, defying anti-LGBT laws
–– Sheikh: 'Gays! Emirate?'
Andy Dick attacked in New Orleans and police arrest suspect
–– Not harshest review of career.
Tennessee executes a double murderer by electric chair
–– Got AC and DC.
Ex-Treasury chief: Boris Johnson is wrecking Brexit deal
–– Spoiling punchline?
Brexit: Ministers to spend £300m to bring in emergency food and medicine supplies after no deal
–– And how much would new referendum cost?
Brexit: Tory MP Guto Bebb backs Corbyn as caretaker PM to avoid no-deal
–– Corbyn: 'It ain't me, Bebb.'
Bolton: US would 'enthusiastically' support no-deal Brexit for UK
–– Has boner boner.
El Paso mayor: Trump called me 'RINO' during visit
–– Guilty as charged.
Greenland Tells Trump: 'We're Open for Business, Not for Sale'
–– Special this week on mountain ash, downy birch.
Trump rips emolument lawsuits: Being president 'costing me a fortune'
–– Just costing us sanity, self-respect.
4 Takeaways From a Close Look at Elliott Broidy
–– 2) Uggh, too close!
Colin Kaepernick recognizes protest anniversary
–– Of course, same day his career ended.
A surfer in Hawaii survives after a shark bites a chunk out of his surfboard
–– Will sue in small clams court.
Obituaries paint flattering portraits of the Dayton shooter and the sister he killed
–– Those crazy kids!
Steve King questions if there would be any population left if not for rape and incest
–– Not in his home district.
'Cowardly': Some Hollywood insiders say Universal's decision to scrap the release of 'The Hunt' after Trump's comments sets a bad precedent
–– Hunt and pecker.
Eric Trump claims media biased against dad's corn kernel polling in Iowa
–– We're all ears.
Trump Immigration Chief: 'Give Me Your Tired And Your Poor Who Can Stand On Their Own 2 Feet'
–– 'Under ours.'
Chrissy Teigen Jokes About Her Butt Being 'Inverted' — 'You Can Eat Soup Out of My Buttcheeks'
–– Um, thank you for the kind offer.
Stephen King Haunts Trump With A Biting Question About New Border Wall Claims
–– Chewing the fat.
Miley Cyrus Was Apparently Fed Up With Liam Hemsworth's Partying Habits
–– And insistence she wear clothes in public.
Roy Moore Still Watches 'M*A*S*H,' And It Makes Him Mad About LGBTQ Rights
–– Klinger to religion.
Marianne Williamson Accuses Seth Meyers of Twisting Her Anti-Vaxx Words
–– Or 'attempting to untwist.'
#MyBernieStory Trends As People Explain Why They're Voting Sanders in 2020
–– Bern-brained.
Cardi B and Bernie Sanders talk jobs, wages and the economy
–– To be a fly on the wall …praying to be swatted.
Cardi B Said She Got Breast Implants to Help Her Float Because She Can't Swim
–– How about lighter-than-air device in head?
Halle Berry joins the 'No Bra Club' on her 53rd birthday with a sexy picture
–– Gets our full support.
Whitney Cummings Responds to Extortion Threat by Posting a Photo of Her Breast
–– Nip in the bud.
Mike Tyson says he burns through $40,000 of weed at his ranch every month
–– Just so he doesn't bite ears off help.
Volkswagen and Philadelphia cream cheese ads banned over gender stereotypes
–– Not cheesecake?
Todd and Julie Chrisley are in custody after indictment on tax evasion and fraud, official says
–– Chisely Chrisley.
Harry Styles Passes on Prince Eric Role in Live-Action 'Little Mermaid'
–– Rejected hair he styles.
A$AP Rocky Found Guilty of Assault in Sweden, Given Suspended Sentence
–– Trump defense proof of guilt.
'Avengers: Endgame' screenwriters really wanted to deliver a satisfying conclusion
–– And we really wanted 6 Infinty Stones for birthday.
Bebe Rexha claps back at 'male music executive' who said she's 'too old to be sexy'
–– How about 'too untalented to listen to'?
A man's false teeth got stuck in his throat during a surgery. It was eight days before anyone noticed.
–– Could denture confidence.
Jeffrey Epstein has died by suicide, sources say
–– Choked the chicken.
Prince Andrew groped young woman's breast at Epstein house, court files allege
–– Left prints?
In Short-Staffed Jail, Epstein Was Left Alone for Hours; Guard Was Substitute
–– Epstein bar symptoms.
FBI agents are livid that Trump is amplifying 'bulls--- theories' about Jeffrey Epstein's death 'that have no basis in reality'
–– Dishonesty goes up to eleven.
Bill Clinton painting in Jeffrey Epstein's home a 'surprise' to woman who painted president wearing blue dress
–– Hope she didn't squirt paint on it.
Quentin Tarantino Defends 'Arrogant' Portrayal of Bruce Lee in 'Once Upon a Time in Hollywood'
–– Just for kicks.
Kareem Abdul-Jabbar: Bruce Lee Was My Friend, and Tarantino's Movie Disrespects Him
–– Not chopped liver.
'Brian Banks' Stars, Director on Releasing a Film About a Man Falsely Accused of Rape in the #MeToo Era
–– Will it break Banks?
An armed man who caused panic at a Walmart in Missouri said it was a 'social experiment,' police say
–– Triggered response.
Sarah Silverman says she was fired from a movie for an old blackface sketch
–– Blacked out.
Drive-in sex booths proposed for Berlin's historic Tempelhof airport
–– So passengers get off on time.
Walmart and Nordstrom are building stores that don't sell anything
–– Sears has been doing that for years.
Robin Williams: On anniversary of death, his advice still matters
–– Not on longevity.
Chinese model dumps Versace in T-shirt controversy, as Donatella apologizes
–– Doggy style.
Are We Living in a Computer Simulation? Let's Not Find Out
–– You bet your reboots.
Donald Trump Watches Bill Maher "By Accident", Tweets On "Sooo Many False Statements" By "Wacko" HBO Host
–– Maher-a-Lago.
Quentin Tarantino wants his final film to be horror
–– Most have been horrors.
Kamala Harris: Trump Was 'Tweeting Out The Ammunition' For El Paso Shooter
–– You wish he used bullshit, not bullets.
Acting DHS Chief Concedes 'Timing Was Unfortunate' For Mississippi ICE Raids
–– 'I was in office.'
Alabama Restaurant Owner Closes To Protest Event By Fox News 'Asshat' Brian Kilmeade
–– More 'shitcap'.
Bear falls on California patrol car, causing crash and fire
–– Bear's brunt.
Hugh Grant Says Paddington 2 Is the 'Best Film I've Ever Been In'
–– Bears watching.
Geena Davis Recalls Uncomfortable Audition: 'I Didn't Know You Could Say No'
–– Should've to half of her films.
J.D. Salinger, E-Book Holdout, Joins the Digital Revolution
–– Orders Kindle from beyond.
Woman bitten by octopus while posing for picture
–– Ate legs.
Piero Tosi, 'The Leopard,' 'Death in Venice' Costume Designer, Dies at 92
–– Changes spots.
Singer Mike Posner is airlifted to the hospital after being bitten by a rattlesnake
–– Rattlesnake 'doing OK.'
The NRA spent $70,000 on a consultant to help Wayne LaPierre choose which mansion to purchase
–– Wanted something in range.
Trump says Kim wants to meet again and gave 'small apology' for missile tests
-– Flipped him pinkie instead of middle finger.
Sherm Poppen, a Dad Who Fathered the Snowboard, Dies at 89
–– Fucked surfboard on family ski holiday.
Kevin Feige Says We Could Soon See Marvel Studios Footage That They've Previously Been "Too Humiliated to Show"
–– Even in Captain Marvel?