The Wizard of Id

Week of 09/13/19
Actual headlines from the internets. You Google 'em.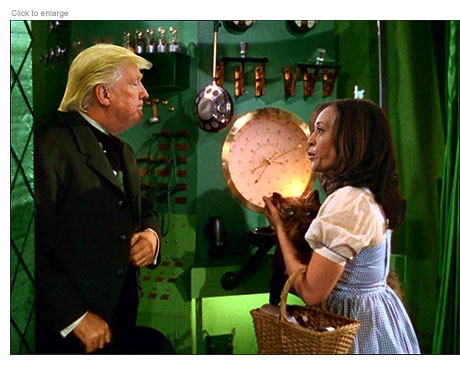 Kamala Harris on trade: Trump is 'really small dude' behind the curtain in 'Wizard of Oz'
–– Wizard slams heightism on Twitter.
John Bercow: 'This is not a normal prorogation'
–– 'My colon should be cleaner.'
Former Dem Gov Labels Warren 'Hypocrite' for Shunning Big Donors after Taking Their Money
–– Didn't take Hypocritic Oath?
'I love Bernie, but': Electability worries haunt Sanders
–– Erectability, too.
O'Rourke bets on new approach to revive flagging campaign
–– Lotto?
Democratic candidates warned not to swear during 3rd debate in Houston
–– Beto refers to self as f**ked-runner.
Presidential candidate Andrew Yang will give $1,000 a month to 10 more families
–– Will only take a few trillion more to buy enough votes to win.
'Are you forgetting what you said two minutes ago?': Castro calls out Biden
–– In memorable dis.
Joe Biden Asked About Responsibility for Slavery, Answers About Venezuela
–– Oh, so he was the guy!
Republican PAC runs debate ad comparing Alexandria Ocasio-Cortez to genocidal Khmer Rouge
–– Took Pol Pot shots.
Man Caught Impersonating 81-Year-Old to Board U.S.-Bound Flight
–– Wanted to run for president.
'I always look orange': Trump says energy-efficient light bulbs not a good look for president
–– Need colon between two unrelated statements?
Trump calls on FDA to ban all flavored vapes after mystery lung illness
–– Even 'Trump Orange?'
Researchers Find Unexpected White Blood Cells in Patients With Mysterious Vaping Illness
–– Goateed with tiny fedoras.
Eddie Money, 'Two Tickets to Paradise' Singer, Dies at 70
–– Paid cash for his.
Rudy Giuliani's Wife Bashes Husband Amid Divorce: 'Liar' Not 'Hero of 9/11'
–– 'Bashes' or 'accurately describes?'
Trump says he 'would consider' an interim trade deal with China
–– Between now and day Hell freezes over.
Prince Harry Was an Absolute Ham While Pretending to Work on a Trading Room Floor
–– Or just a pig?
Internet porn business submits $10M naming rights bid for Miami Heat home
–– Team already sounds like porn film.
Prorogation is "completely irresponsible," Labour MP tweets
–– Without proper equipment, safe word.
UK court: Boris Johnson's suspension of Parliament unlawful
–– Suspension of disbelief.
UK PM Johnson denies lying to Queen Elizabeth over the suspension of parliament
–– Because she's too deaf to hear his bullshit.
Coppola takes revenge for Boris Johnson's Godfather tribute
–– Sends him ass of horse.
Chaos in Parliament: Speaker 'held in chair' as opposition MPs protest prorogation of Parliament
–– Not surprised he had to be restrained –– it's not pleasant procedure.
'Prorogation is unlawful' rules Cotland's highest court
–– Trump worries he can't get Rogaine treatments at his Turnberry Resort.
Eno The Emu Dies During Capture After Eluding Authorities For Months
–– Annoying Liberty Mutual bird fingered him.
Insanely Easy Skillet Dinners That'll Make You Forget All About Takeout
–– Do involve human body parts, uncontrolled cackling.
Loud sex, mistaken for fight, ends with gunshots and 2nd-degree attempted murder charge
–– Was not muffled diving.
Wannabe Serial Killer Taunted Cops: 'Every Time I See Young Beautiful Females...I Want to Strangle Them'
–– Sounds like loser plagiarized Ted Bundy.
Man Trump Called 'My African American' Ditches GOP To Run For Congress
–– Trump let lease lapse.
Everyone Thinks Melania Trump's 9/11 Coat Showed Plane Flying Into Tower
–– If she was sitting on it.
Michelle Obama's Ex-Speechwriter Opens Up About Melania Trump's Plagiarism ('Oh God'), the 'When They Go Low' Line & More
–– Admits Michelle jealous of 'I Really Don't Care…' coat.
CBP official fact checks Biden claim that Obama administration didn't use 'cages' at border facilities
–– Or CBD official?
'Alert The House GOP.' After an Artist Printed 62,000 Pages of Hillary Clinton's Emails, She Showed Up at His Exhibition and Read Through Them
–– Laid wreath for trees that died for political stunt.
Trump Just Got Mike Pence's Name Wrong, And Twitter Users Were Quick To Pounce
–– Penny-wise Pounce foolish.
Mike ''The Situation'' Sorrentino Released From Prison After 8 Months
–– Downgraded to "The Case."
The Weeknd Looks Unrecognizable in First Red Carpet Appearance Since Bella Hadid Split
–– Onlookers thought it was Joe Friday.
Empire's Terrence Howard Says He's Done with Acting: 'I'm Done Pretending'
–– '…I can act.'
Liam Hemsworth Appears Happy & Ringless As Miley Cyrus Divorce Wraps Up
–– Will make it more difficult to estimate his age.
Jennifer Garner's daughter Has Declared She's a "Fun-Killing Mom"
–– After daughter said "but Dad's fun!"
Eva Mendes Calls Parenting Her Two Daughters 'Beautiful and Maddening'
–– They call performance 'derivative and unconvincing.'
Does Ansel Elgort Know How Hot He Is Right Now?
–– Why, is he lying in tanning bed?
Jamie Foxx Tried Talking Idris Elba Out of 'Django' Role, Calls Tarantino the 'Best Director Out There'
–– 'In left field.'
Caroline Calloway Points Out ''Really F--ked Up'' Part of Viral Article in First Major Interview
–– That absolutely anyone would write about her.
Fans Are Confused by Millie Bobby Brown's Florence by Mills Face Washing Routine Video
–– More than readers of headline?
Sharon Osbourne Opens Up About Her New Facelift and Explains Why It's Rare to Get a Successful One
–– And why hers is common.
Renée Zellweger Once Overheard Strangers Say She's 'Stupid' for Having 'Surgery on Her Face'
–– Would've laughed if she could've.
Justice Department rejects Andrew McCabe's appeal to avoid prosecution
–– And he laid charm on thick.
Diary of 'Polish Anne Frank' to be published after being rediscovered
–– Why not before?
Human Corpses Keep Moving for Over a Year After Death, Scientist Says
–– Big clients of Coldwell Banker.
Plane carrying 326 passengers diverted after pilot spills coffee
–– 325 no big deal, but 326!
Red Sox fans give Ortiz standing ovation at Fenway
–– A real shot in the arm, not back.
Newly uncovered audio of one of the Beatles' final meetings proves they didn't want 'Abbey Road' to be their final album
–– Rock historians can't let it be.
Mass Graves in Russia Tell the Grim Story of Mongol Invasion
–– Mass graves tend to be depressing narrators, especially Russian ones.
Prehistoric Farmers' Teeth Show Humans Were Drinking Animal Milk 6,000 Years Ago
–– Organic traces suggest ancient version of Ovaltine.
Outrage at plans to build 'vulgar' cable cars in Jerusalem
–– 'Fuck trolleys' may be renamed.
NOAA Warned Staffers Not To Contradict Trump On Dorian: Report
–– Weather or not.
'I could give a crap' about #SharpieGate: Sen Lindsey Graham blasts recent Trump news and calls CIA report 'complete BS'
–– 'A little tiny one on the carpet there, like you'd see from a poodle.'
Trump Fires John Bolton, Says He Is 'No Longer Needed' At White House
–– Already have enough cartoon villains.
'You don't have to work': Donald Trump says serving as national security adviser is 'easy'
–– Being broken prerequisite.
Mike Pompeo "Laughed" at Bolton's Firing. Now He Could Take His Job, Too.
–– Apparently could squeeze in on weekends.
Jennifer Lopez Is Getting Serious Oscar Buzz For Her Role in Hustlers
–– Says here in press release from her reps.
Jennifer Lopez's Husltler's G-String: An Origin Story
–– Taking first crack.
'Fake News' Fears: 95% of Americans 'Troubled' by Current State of Media, Poll Finds
–– Fox News reported it was 9.5%.
Shia LaBeouf Says His Parents Had a 'Tough' Time Watching Autobiographical Film Honey Boy
–– Are fans of good acting.
Polish ruling party chief to have two knee operations
–– Worn out from goosestepping.
California Pastor and Mental Health Advocate Jarrid Wilson Dies by Suicide
–– Could've used self.
Sheriff's deputies in North Carolina are unsure why a woman tied up her husband and castrated him
–– Wasn't even Game Night.
Trump warns of 'bad people' among Bahamas hurricane survivors
–– Were asking for it.
The Bahamas Says It's Open for Tourism After Hurricane Dorian. Here's What You Need to Know.
–– Open as in no doors, windows on hotels.
Survivor Producer Released from Prison 4 Years After Being Convicted of Killing His Wife in Cancun
–– Potential uxoricidists flocking there.
'Hypocrite' Jerry Falwell Jr. Slammed As New Miami Party Pics Surface
–– Like father, like scum.
This 9-year-old was denied lunch on his birthday at school. Now the district is making changes
–– Instead of cheesy breadsticks got piece of cheese and bread. Lunch lady called 'deconstructed' recipe.
America remembers 9/11
–– Dimly.
Robert Axelrod, voice actor for over 150 characters dies
–– Lord Zedd will not speak at funeral.
New iPhone's 'trypophobic' design disturbs people with a fear of holes
–– How about fear of assholes?
Crabs and shrimp are flocking to the Deepwater Horizon spill site to mate, and it's making them sick
–– But getting all slicked up also making them horny.
Marvel's 'Hawkeye' Series Targets Hailee Steinfeld
–– N'arrowcasting.
Sarah Palin's husband files for divorce after 31 years of marriage
–– Amnesia finally lifted.
India is trying to reconnect with lost lunar lander on the surface of the moon
–– Sent private message on Facebook.
Manager: Trump family building 'dynasty' for decades to come
–– Minge Dynasty.
Star Trek: Discovery writer reveals he quit series after being "chastised" for using the N-word
–– Complaints Moseley ridiculous.
After calling it a 'rat and rodent infested mess,' Trump will visit Baltimore Thursday
–– Is his demo.
Slow Growth Hasn't Hurt Trump in Key Midwest Counties
–– But campaign hoping brain tumors pick up pace.
A Muslim man told a Starbucks barista his name was 'Aziz.' The employee wrote 'ISIS' on his cup
–– Az if.
The next target in the climate-change debate: your gas stove
–– Environmentalists de-ranged.
Jim Mattis Says He Regrets Strong Criticism Of Joe In New Book
–– Grampas should stick together.
An astronaut is urging NASA to form a new spacesuit program now if it hopes to get back to the moon in 2024
–– Otherwise bouncer might not allow in.
Chrissy Teigen calls Trump a 'p---- a-- b----' for insulting her in a tweet without tagging her
–– Pasty all blanc? Putin aid buddy? Pervy act beast? Piggy and brute?
Russia seems to be locking down its spy whales 4 months after one may have defected to Norway with a GoPro harness
–– Revoke license to krill.
Box Office: Placido Domingo Pic Sings Off-Key With $80K Amid Sexual Misconduct Allegations
–– Tenor of the times.
Mountain lion known for crossing 405 killed on the same Los Angeles freeway
–– Forgot neon orange vest at den.
Pamela Anderson and Meghan McCain actually got into an argument about war crimes on live TV
–– Like Lincoln-Douglas debate –– Elmo vs. Cameron.
Air Force acknowledges crew stayed at Trump resort during refueling but says it was 'not unusual'
–– When Commander-in-Chief is grifter.
Trump Says He Did Not Know About Service Members Staying at His Resort in Scotland
–– Spy cams turned off?
McCarthy defends military stopovers at Trump's Scottish resort: 'It's just like any other hotel'
–– 'Y'know …Bates, Overlook, Hostel.'
Trump's Air Force Nominee Says No Need To Ban Stays At Trump Hotels
–– Earns her wings.
Appeals court revives foreign corruption suit against Trump
–– Had collapsed from sensory overload.
Republicans move to nix primaries in show of support for Trump
–– Still investigating possibility of cancelling 2020 election entirely.
Millions were hidden in palace room. Only the president had the key, witness says
–– What are palaces for?
Former MIT media lab staffer says leadership made it clear Epstein's donations were to be kept secret
–– Didn't have courage of his convictions.
Kamala Harris Responds To Criticism After Laughing With Voter Who Called Trump's Actions 'Retarded'
–– Label her 'politically-correctly-challenged.'
Kamala Harris's 'Apology' to the Disabled Won't Cut It
–– Is best defense good offense?
Trump says he canceled secret Camp David meeting with Taliban leaders
–– Insists beer, pork rinds he bought special won't go to waste.
Trump declares Afghanistan peace talks 'dead, as far as I'm concerned', days after claiming to be on cusp of deal
–– Cusper's last stand.
Elizabeth Warren Wants Troops Home Before a Peace Deal Is Reached With Taliban
–– The art of the dull.
Participant Media Shortens Name in Rebrand
–– Flops.
Mattel reportedly releasing 'Día de los Muertos' Barbie doll for the Mexican holiday 'Day of the Dead'
–– And Zombie Ken.
Laura Ingraham Tries To Drink Light Bulb-Stuffed Steak To 'Trigger' Liberals
–– Or giggles?
Orthodox Jews sick of being 'photographed like animals' by tourists
–– And definitely no petting.
Princeton professor Steven Gubser dies in rock-climbing accident
–– 'Theory of everything' shy on gravity.
Hiker plunges 500 feet to her death at Yosemite National Park
–– And she was no Professor of Physics.
Man who hid spy camera in toilets at James Bond studios jailed for 16 months
–– The man with the golden cam.
'Trump is in severe mental decline': Concerns raised over president's health
–– Severe? He started at 20 degree angle to coma.
Joe Biden Mispronounces Donald Trump's Name In 'Freudian Slip'
–– Calls him Donald Thatfuckingstupidmoron.
Yes, Kirsten Dunst Knows Her Son's Name Is an Easy Target for a Joke
–– A Dunst should.