The Matrix Real Loaded

Week of 08/23/19
Actual headlines from the internets. You Google 'em.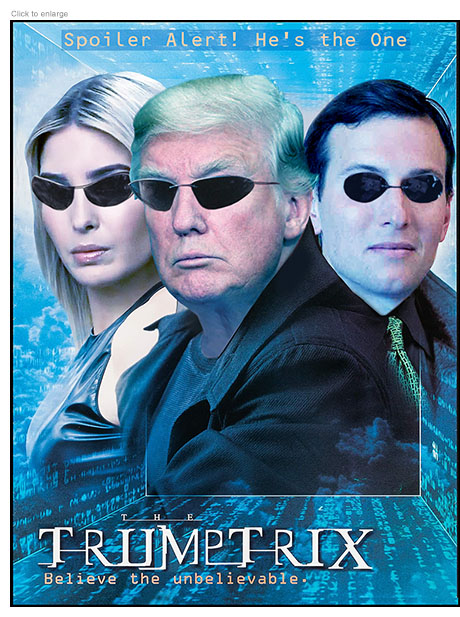 Yes, Donald Trump really believes he is 'the chosen one'
–– Neo conservative.
Jay Inslee Ends Campaign for President
–– Jay in sleep.
Trump quotes conspiracist likening him to 'second coming of God'
–– If God was impotent.
Lana Wachowski, Keanu Reeves set for 'Matrix 4' sequel. Can it tap into the magic of the original?
–– Or its utter absurdity?
Trump: Jewish people who vote Democratic show 'great disloyalty'
–– To Reich.
Trump's 'Disloyalty' Claim About Jewish Democrats Shows He Doesn't Get How They Vote
–– Or he really believes he's Messiah.
She thought there was water in her ear. Turns out it was a venomous spider
–– Drinking glass of water.
Trump allies say A$AP Rocky was supposed to thank him but his team stopped 'returning our text messages': report
–– Played him for a $ap.
The Surprising Surge of Andrew Yang
–– To 3%!!!!
Tulsi loves Assad: How Syria became a US presidential campaign issue
–– Tulsi Loves Assad hit sitcom in Damascus.
BIRTHDAY OF THE DAY: Former Rep. Trey Gowdy (R-S.C.), partner at Nelson Mullins
–– Send lovely Benghazi snow globe paperweight.
Ex GOP Congressman Says 'It's Worth Doing Anything' to Stop Trump
–– Weld tackled by Secret Service.
Quentin Tarantino And Wife Daniella Are Expecting A Baby
–– Who'll return years later for revenge.
Lara Spencer apologizes for criticizing Prince George's ballet lessons
–– Toes the line.
Andie MacDowell Is Surprised By How Much She Loves Being Alone: 'I'm Not Really Looking for Anyone'
–– Hollywood: 'Same here.'
What I've Learned From Teaching the 'Snowflake Generation' About Trauma
–– Side-eye qualifies.
More than 100 vapers have contracted a severe lung disease, per CDC
–– That's Vaper rub.
Russia starts sales of 'Putin limousine', eyes Chinese market
–– Comes with corpse in trunk standard.
Is this any way for NASA to build a lunar lander?
–– Is an awful lot of Legos.
What's Your Moonshot? Aaron Meisner and Backyard Worlds Want to Deiscover Our Solar Planet's Ninth Planet
–– Here's one bending over in pool at night when swimsuit fell off.
Stuck between EU leaders and Trump, Boris Johnson could have a very awkward G-7 summit
–– Especially when they serve dessert.
No-deal France's Macron says no-deal Brexit would be Britain's fault
–– Macroneconomic view.
No-deal Brexit could see rubbish from the south sent to the north, industry insiders admit
–– Nigel Farage might end up in Newcastle upon Tyne.
Germany 'warns food producers might not export to UK after No-Deal'
–– Wurst case scenario.
Days after surgery for life-threatening staph infection, Hugh Freeze released from hospital
–– Chills out.
Senior Democrat condemns Omar and Tlaib over 'anti-Semitic dialogue'
–– Tlaib: "If you don't support BDS, you're forgetting which country you represent."
Omar: "It's all about the Benjamins, baby!" (laugh track)
Iran has highly accurate missiles which it has not publicized: deputy defense minister
–– Didn't we see ad in Jihad Today?
One Minute It Was an Afghan Wedding. The Next, a Funeral for 65.
–– Worst comedy of year.
How David Geffen's Yacht Photos Became a "Status Thing" in Hollywood
–– All began with self-hating social outcasts who got lucky, achieved celebrity.
Rod Stewart poses with 4 mothers of his children: 'A mothers' reunion!'
–– He's the biggest.
Dwayne 'the Rock' Johnson Says He's 'Full of Gratitude' as Ballers Announces Series Will End
–– Amen!
This jumbo, 26-pound cat became a star after an animal shelter said he needed a home
–– And litter box size of Texas.
Hong Kong protesters form 28-mile human chain demanding democracy
–– Inspired by linkin'?
Overstock CEO: FBI asked me to pursue a romantic relationship with Maria Butina
–– We'll discount that rumor.
Seattle Has Figured Out How to End the War on Drugs
–– Walk down any street, ask addict accosting you.
Laverne Cox Explains Why She Wants to "Share" Her Historic Third Emmy Nomination
–– Who'll be lucky recipient of empty gesture?
Deauville American Film Festival to Screen Nate Parker's 'American Skin'
–– Will Skin crawl?
"Completely Tone Deaf": How Venice Became the F-You Film Festival
–– If 'You' are underaged or prone to suicide.
David Koch, billionaire businessman and influential GOP donor, dies
–– Die it Koch.
Mitch McConnell: The Filibuster Plays a Crucial Role in Our Constitutional Order
–– From our greatest defender of democratic norms!
Sarah Sanders becomes the latest ex-Trump official to join Fox News
–– Officially.
Sean Spicer Responds to 'Dancing With the Stars' Backlash: "I Hope It Will Be a Politics-Free Zone"
–– Will definitely be poise-free zone.
Selma Blair Jumps Naked into Pool as Payback to Her Son After He Previously Pushed Her In
–– Threatens lap dance if he sasses her.
'What changed?': Scaramucci hosted Trump Jr. for dinner days before break with president
–– He realized how despicable whole family is.
Defense secretary says ISIS not in a resurgent state in Syria despite Pentagon report saying ISIS is re-surging
–– Did they do their re-surge?
A Giant Volcano Could End Human Life on Earth as We Know It
–– Spouting off again.
Fans fear for Spider-Man's future after Sony and Marvel fail to reach rights agreement
–– Hanging by web.
Nikki Haley bats down idea of being Trump's 2020 VP pick: 'Vice President Pence has been a dear friend of mine for years'
–– Haley's comment.
Larry King files for divorce from 7th wife
–– Kicks her out of crypt.
How an E-Bike Changed My Life
–– Made even more people regard you with contempt?
Two former MLB players reportedly arrested in connection to major Dominican Republic drug ring
–– So-called 'Diamond Ring.'
Florida officials are investigating why panthers are seen stumbling and falling down
–– Too much partying after hockey practice.
A man who died after falling from a hotel was trying to flee security after flashing an employee, police say
–– After reportedly bouncing on 'pogo stick.'
CMA's replace host Brad Paisley with Dolly Parton and Reba McEntire
–– Paisley parked.
Only one person attended Rep. Steve King's Iowa forum
–– Empty chairs gave him sitting O.
An Indiana State Trooper vehicle was struck by a dirty diaper
–– Did it lead to indideements?
Dick's Sporting Goods is testing if it should stop selling guns
–– Dick's sporting wood.
Camera catches person destroying sand sculpture
–– Footage extremely grainy.
Grandson is taking grandma to all 61 national parks
–– Looking for one with highest peak so he can get damned inheritance.
I Send My Privileged Children to a Mostly Latino School to Stop the "Hoarding of Opportunity"
–– There isn't a gold star big enough for you.
Kevin Smith Announces Anime 'He-Man' Series for Netflix
–– Netflix only noun or adjective that doesn't inspire nausea.
Whether 'Crazy' or 'Angry,' Emmy nominee Rachel Bloom's future looks wide open
–– What every out-of-work actor wants to hear.
Larry Kudlow Says Trump Admin Still 'Looking At' Buying Greenland
–– And leasing King's Landing.
Meet the Man Who Lost More Than 300 Pounds on the 'Walmart Diet'
–– Which involved constant vomiting.
'Somebody knows something': Police search for leads after 23-year-old found gunned down in street
–– No shit, Sherlock.
Virgin plastic pellets are the biggest pollution disaster you've never heard of
–– But will want to fuck.
Ivanka Trump shares photos of her family's camping trip: 'Where the wild things are'
–– …'Puking at the sight of us.'
Heidi Klum Poses for Topless Photo as She Shows Off Her Wedding Band After Marrying Tom Kaulitz
–– Wedding band/nipple ring?
Pete Buttigieg says Trump voters are 'looking the other way on racism'
–– Too many brown people in sightline.
Sudan's Bashir got $90 mn from Saudi, investigator tells court
–– The Bashir nerve!
John Delaney draws 11 people to 2020 event – does he truly think he can win?
–– Correction: he draws 11 at event in sketchbook, none actually there.
Katharine McPhee Foster spills on 'easy' marriage to David Foster, her new name
–– How hubby spills on her.
He revealed a lawmaker's affair at his funeral. Now he's set up a hotline to out deadbeat politician dads
–– 1-800-LIP-SEAL.
Nearly 4 tons of weed was discovered inside a shipment of jalapeños
–– Scary prospect for case of munchies.
Bugatti is making only 10 of these $9 million supercars
–– Can't find dozen rich assholes?
A Welsh town will install anti-sex toilets that spray users with water
–– Will that turn off couples into water sports?
I'm a Black Feminist. I Think Call-Out Culture Is Toxic.
–– Because you're also over 65.
I'm 57. Am I Grown Up?
–– No, just old.
Slayer Removed as NASCAR Racecar Sponsor 'Due to Reactionary Concerns'
–– Looking for sponsorship from Santa Sleighs.
Dove Cameron Thanks 'Descendants' Fans for Support After Braless Controversy
–– No Dove bra?
'A good 100 kills would be nice.' Another Florida man arrested for mass shooting threats
–– Fifth one this hour.
Connecticut man arrested on gun charges may have had "interest in committing a mass shooting," police say
–– Will be sentenced to Florida.
Alligators caught climbing fences and swimming across roads in Florida
–– Keep them away from automatic weapons.
OMG, Cardi B Had to Teach Constance Wu How to Give a Lap Dance for Their Stripper Movie 'Hustlers'
–– Slut shimmying.
Sophie Turner's Leg Slit Stole the Show at Joe Jonas's Birthday Party
–– Was all that blood.
President Trump donates $100,000 of his salary to Surgeon General's office
–– Hopes they'll use it to 'spread death.'
Poland's Kaczynski condemns gay pride marches as election nears
–– Pole dunce.
Kiefer Sutherland 'seriously injured' after fall on tour bus
–– Booze or Riefer?
Dan Forest kicks off campaign to unseat Roy Cooper as governor of North Carolina
–– Branches out.
The 'Star Wars' Obi-Wan movie everyone wanted is happening, but it won't be a movie
–– Nobodi wan.
French waiter shot dead for being 'too slow with sandwich'
–– Failed to baguette in time.
Lou Dobbs: Guard Who Plowed Truck Into Anti-ICE Activists Was 'Within His Rights'
–– White supremacists skid when protesters hit ICE.
Client says Arizona massage therapist's 'cuddling' session turned sexual
–– Gag me with spoon.
Epstein's last days were spent emptying vending machines with his lawyers in a private meeting room, avoiding suicide watch, and paying other inmates' commissaries
–– And just hanging.
Epstein died by suicide using his jail bed sheet while his guards slept, according to report
–– Slept tight.
Boycott of Bill Maher's Show Suggested by Rep Rashida Tlaib After He Criticizes BDS
–– Build wall around HBO studio.
Bill Maher mocks Rashida Tlaib's 'boycott': 'Some people have one move only'
–– C'mon, she also makes empty impeachment threats!
"May God ruin Trump", Tlaib's grandmother says
–– Trump: "What, I'm gonna ruin myself?"
Calls to boycott Jimmy John's resurface over elephant photo with sandwich chain's founder
–– Tlaib, grandmother on board.
Plague-infected prairie dogs have shut down parts of a Denver suburb
–– Danger of a cute infection.
A baby dugong that became a Thai internet star died with plastic waste in its stomach
–– Dugong with the wind.
Peter Fonda dead: Jane Fonda says late brother 'went out laughing'
–– Toking till the last.