Emoluments Men

Week of 09/06/19
Actual headlines from the internets. You Google 'em.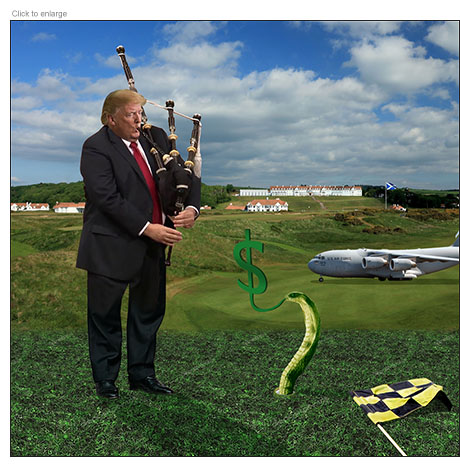 Air Force crew made an odd stop on a routine trip: Trump's Scottish resort
–– For refooling.
Donald Trump isn't up to the job
–– Found in 'Water is Wet' file.
Watch Pence defend controversial stay at Trump's resort
–– Mimes gun-to-head with finger.
Dems demand info on Trump allegedly steering government spending to his resorts
–– Least necessary 'allegedly' of year.
Trump tries to force Ukraine to meddle in the 2020 election
–– Pedal to the meddle.
Hurricane Dorian To Bring Life-Threatening Conditions To East Coast After Battering Bahamas
–– On whirlwind tour.
Trump shows apparently doctored map purporting to back his false claim Hurricane Dorian may hit Alabama
–– Looks like Dorian took Viagra.
Trump says 'I don't know' how map was altered to show Alabama in Hurricane Dorian's path
–– Hiding Sharpie under desk.
Trump reportedly told a Coast Guard admiral to give a statement defending his Hurricane Dorian confusion
–– Admiral: 'Oh yeah, he is utterly and completely confused. Totally lost. Cross my heart.'
NOAA disavows National Weather Service tweet that refuted Trump's claim Dorian was headed toward Alabama
–– NOAA's irk.
Trump doesn't think he's 'ever even heard of a Category 5' hurricane. Four such storms hit the US since he took office
–– News of them drowned out by sound of wind blowing through empty skull.
NRA hires former video game executive as lobbying arm's top lawyer
–– Duke Nukem, Esq.
A woman was pecked to death by a rooster, pathologists say
–– Cock-a-doodle-doom.
Bolton-Pompeo relationship hits new low as foreign policy tests mount
–– The Flunk Brothers.
Miners union president: 'Coal's not back. Nobody saved the coal industry.'
–– Miner detail.
Democrats widen impeachment probe as they confront roadblocks
–– All with name 'Mueller' on them.
Woman Saves Cat With Down's Syndrome From Being Put Down
–– Other cats still call names.
An Astronaut Reared the World's Highest-Flying Birds
–– The eagle hasn't landed.
NASA discovers mysterious green light that quickly disappeared
–– Realized telescope batteries were low.
Is the Loch Ness 'monster' a giant eel?
–– Is your imaginary friend Albert Einstein?
Iraq is pumping record oil, creating a 'fully-blown migraine' for OPEC's cutting plans
–– Migraine that failed to ache?
'It's Kind of Like an Addiction': On the Road With Trump's Rally Diehards
–– Dopioids.
'He's losing his s---': Trump's advisers are increasingly worried about his mental state following days of erratic behavior
–– Stephen Miller leaving WH?
Don Jr. Will Run For President in 2024, Likely Win GOP Nomination: Wilson
–– In case you were sleeping too soundly.
Sarah Huckabee Sanders Whines 'Women Attack Me Relentlessly' in Fox News Contributor Debut
–– Ladies, please wait your turn to strike.
ThinkProgress, a Top Progressive News Site, Has Shut Down
–– Their libs are sealed.
Amazon Accidentally Released Margaret Atwood's Top-Secret 'Handmaid's' Sequel
–– Biggest act of treason since Rosenbergs.
Greta Thunberg's Climate Panic Has Our Attention. Now What?
–– Those of us who need 16-year-olds to convince of global warming.
Robert Mugabe, Strongman Who Cried, 'Zimbabwe Is Mine,' Dies at 95
–– Hip Hip Harare!
Carol Lynley, Star of 'Blue Denim' and 'The Poseidon Adventure,' Dies at 77
–– There doesn't have to be a morning after.
Franco Columbu, Bodybuilder and Schwarzenegger Friend, Dies at 78
–– Pumping daisies.
Ram Dass is ready to die.
–– Who's stopping him?
Billy Bush: 'I Think Al Franken Was Sacrificed. I Feel Empathy For Him'
–– Was at Satanic altar when Kristen Gillibrand raised knife over heart.
Plagued by issues, Samsung's Galaxy Fold is finally going on sale
–– Don't unfold your wallet.
Sony CEO Says Spider-Man Left MCU Partly Due to Kevin Feige Being 'Stretched Thin' Post Fox Merger
–– 'Like Spidey's web attached to Chris Christie's ass.'
A$AP Rocky's Swedish lawyer was shot in the head and the shooting suspect is still at large
–– Very gangstå.
Nicki Minaj announces retirement to 'have my family'
–– Talk about miracle of birth!
'She Shed' commercial star talks life after playing 'Cheryl'
–– Shed no tears.
Bye-Bye Binge-Watching: Netflix Is Adopting a Week-by-Week Release Schedule
–– Welcome cringe-watching.
Quentin Tarantino Might Turn 'Once Upon a Time in Hollywood' Into a Netflix Miniseries
–– Will they bring back Sharon Tate?
Ivanka Trump Just Cut Off All of Her Hair
–– Why stop there?
Mickey Callaway: Robinson Canó has 'got to control his running effort'
–– Team provides golf cart to first.
A Mississippi Wedding Venue Refused to Serve Gay or Interracial Couples. Amid Backlash, the Owner Is Now Apologizing
–– But clearly hire mentally disabled.
Paris Hilton Rides Giant Electric Unicorn Like a Boss at Burning Man
–– The horn?
Terminator's Linda Hamilton Revealed She's Been Celibate for "at Least 15 Years"
–– Cyborg said 'I'll be back', never came.
NJ Woman Accused Of Stabbing Identical Twin Sister To Death During Drunken Street Fight Pleads Guilty
–– After insisting it was attempted suicide.
Parents File Complaint Over 'It Chapter Two' Posters Terrifying Their Young Children
–– Parents like that scare shit out of us.
Indian woman gives birth to twins at age of 73
–– Each aged 35 and 1/2.
Donald Trump Accuses NBC of "Double Standard" as He Escalates Debra Messing Feud
–– Messing the point.
'Seinfeld' Actor Says He's 'Embarrassed' for Anti-Trump Debra Messing, Eric McCormack
–– Will and disgrace.
Whoopi Goldberg slams Debra Messing over Trump donor list: 'We don't go after people because we don't like who they voted for'
–– Oh, we do, Whoopi, we do.
Administration switches off rule for thriftier light bulbs
–– Another bright idea!
Comedian Anthony Jeselnik: SNL's Lorne Michaels 'Helped Get Trump Elected'
–– SNHell.
Anthony Scaramucci Steps Up Attack on Trump: 'Diseased Dad' and 'Orange Maniac'
–– Mooching off media.
Hong Kong's Leader, Carrie Lam, to Withdraw Extradition Bill That Ignited Protests
–– Lam stoop.
Hong Kong's Carrie Lam says withdrawal of extradition bill own decision, not Beijing's
–– What Xi told her to say.
Hong Kong's Carrie Lam vows to use 'stern law enforcement' to stamp out protests
–– Cops won't smile.
Loud 'boom' reported across Central New York was probably a fireball entering Earth's atmosphere
–– After authorities called around to all meth labs.
Helicopter at Vuelta Cycling Race Helps Spanish Police Seize 40 Marijuana Plants
–– Dope peddlers?
A man in Florida spent $50,000 at Costco on 100 generators and supplies for the Bahamas
–– Before realizing he couldn't drive them there.

Tyrannosaurus rex had a built-in air conditioner, study says
–– And punched air holes in many victims.
It's no longer a crime in California not to help a police officer
–– Marshall Dillon: 'Where am I gettin' my posses from now?'
Meet Silvia Fendi, the woman who's stepped into Karl Lagerfeld's shoes
–– His strapless stilettos.
Lawmakers furious after learning how military will pay for Trump's wall
–– Stamp little army-booted feet.
Military Base Loses Funding for New School to Trump's Border Wall
–– Making it easier to mindlessly follow orders.
'Fox & Friends' Host Brian Kilmeade: Trump 'Never Should Have Said' Mexico Would Pay for Wall
–– With Friends like that who needs enemas?
Andrew Yang's Quest to 'Make America Think Harder'
–– Will his health plan cover sprained brains?
Can the F-Bomb Save Beto?
–– If it takes out every other Democrat candidate.
Kamala Harris wants to ban plastic straws but says paper straws too 'flimsy'
–– Sucky campaign slogan.
Stephen Colbert Presses Joe Biden on Gaffes: 'Devil Is in the Details'
–– Biden off more than he can skew.
Joe Biden: We can take millions of vehicles off the road
–– Letting people my age and older drive.
Joe Biden claims he once told Vladimir Putin 'I don't think you have a soul'
–– Brandishing stake, holding mirror to face.
Mattis Says Russia 'Mucked Around' in Elections, U.S. Needs to Face Putin
–– We are, but at crotch level.
De Blasio: I make October debate stage or I may drop out
–– Disappointing base: joke writers.
Crying baby irritates Bernie Sanders during event
–– Tells it to get off lawn.
Bernie Sanders Dines at Santa Monica's Famed Chez Jay Restaurant
–– Complains portions too big, not enough bread.
Meghan McCain Pushes Bernie Sanders to Name One Republican He Likes
–– Knew Lincoln, was 'nice enough guy.'
McConnell says he won't take up gun bill unless Trump says he will sign it
–– Will wear diaper until Trump says he can go potty.
Zoo was expecting 1 baby panda, and got 2
–– Put second in freezer 'for later.'
Ariana Grande sues Forever 21 over ads featuring 'look-alike model'
–– Ariana Venti.
The 'mother of parliaments' is falling apart on live TV
–– Parliament funk a relic.
Johnson: A no deal departure wouldn't be catastrophic
–– "I mean I was elected and the sun rose the next day."
Boris Johnson's Brother Quits Parliament And Everyone Cracks The Same Gag
–– Sibling revelry.
'Boris knows how to win': Trump backs Johnson amid Brexit turmoil
–– Blonde on blonde.
Labour MP applauded after tearing into Boris Johnson's 'racist and derogatory' letterbox comments
–– Signs, seals, delivers message.
Joe Manchin announces he'll stay in Senate and won't run for West Virginia governor
–– Because, like rest of us, doesn't know state capital.
An airline employee thought two men at Newark airport looked suspicious so she yelled for people to evacuate
–– Panicked crowd misheard 'ejaculate'.
Teenage boy goes blind after existing on Pringles, white bread and French fries
–– While masturbating compulsively.
What I Know About Famous Men's Penises
–– Dick?
Nashville School Bans 'Harry Potter' Series, Claiming Risk of "Conjuring Evil Spirits"
––Spells disaster.
NASA is sending a helicopter to Mars. It'll be the first aircraft to fly on another planet
–– If rotors don't hit asteroid, space debris on way.
Counterprotesters crash KKK cookout
–– Couldn't take ribbing.
'Straight Pride' parade in Boston draws counterprotesters
–– Anti-morons?
Indonesia plans to relocate 10 million people from the sinking city of Jakarta
–– Floating idea.
Couple return from holiday to find cowboy builders held alcohol-fuelled parties in their home and slept in their beds
–– And ate their porridge.
Prince Andrew's Friends' New Epstein Defense: His 'Chubby' Fingers Prove This Picture Is a Fake
–– Awaiting pix of fingered chubby.
Simone Biles' Boyfriend Says 'Strongest' Rise Up from 'Dark Places' After Her Brother's Arrest
–– Unless they've been shot.
Bebe Rexha Just Posted a Photo of Herself Doing the Splits While Naked to Celebrate Her 30th Birthday
— Grab leg, make wish, pull.
Idaho artifacts show humans came to North America via a water route, not land
–– Whitewater Rafting Adventure tickets found.
RBG was married for more than 50 years. J.Lo asked her for marriage advice
–– Replied: 'Drop the juiced-up lug.'
'I love Tiffany': Donald Trump defends daughter after Madeleine Westerhout ousted from White House
–– While expressing affection for lamp.
Marla Maples Says She's 'So Proud' of Tiffany Trump After Donald Had to Defend Their Relationship
–– Calls her 'Tiffany of children I had with Trump.'
'Huge drugs bust' seized at London's Gatwick Airport found to be vegan cake mix
–– Huge drag bust.