HORACIO CARDO
(1944 - 2018)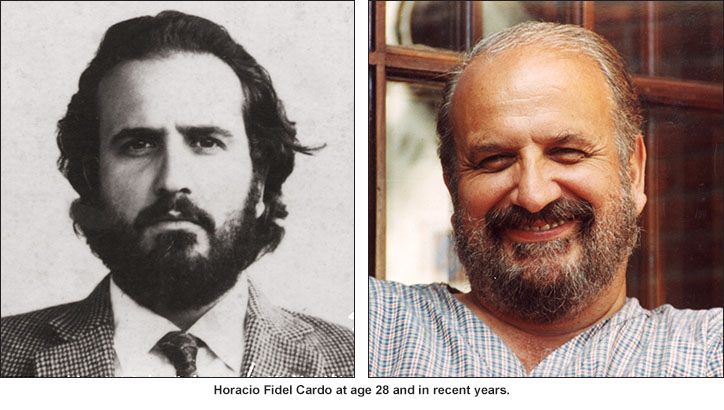 Whenever I mentioned the name Cardo to other editorial illustrators the reaction was always a variation on "Wow!" He was an artist's artist, in the sense that you really had to ply the trade to fully appreciate his unique mastery. I met him in the 80s when we were both doing work for the New York Times and he began contributing to the weekly editorial illustration service Inx. One of the pleasures of the group's weekly meetings was a brunch where we commiserated, complained, and cracked jokes over scrambled eggs. He would often recall those noisy affairs affectionately in later years.
I understand he was an estimable athlete in his younger days in Argentina, and I remember him as a great bear of a man. He had a courtly manner combined with considerable warmth and an eager laugh. Underlying the avuncular exterior was a coiled intensity, but even an angry rant against the government authorities in Buenos Aires or Sigmund Freud was leavened with a sense of the absurd.
As with any artist his influences are traceable, but he synthesized them into a style that was genuinely his own. His unmistakable brush and ink work (he scoffed at using a pen) always incorporated fine art elements to create complex textures, and his natural restlessness was a good fit for the Digital Age. In the 90s he was one of the first artists I knew who grappled with PhotoShop to create images that weren't slaves to the technology. He approached it as an exciting new tool box, enthused as new versions were released to provide him more layers to play with. The program didn't dictate what he produced –– he absorbed it and found ways to deepen his art.
What I've always admired about Cardo's work is how he combined so many elements into a unified whole. His images were always about ideas, but they were at the same time intensely expressionistic. Though fundementally serious, they were often bitterly funny and always beautifully crafted. For all the phantasmagoric, sometimes tortured, imagery and the mutitudinous layering, the integrity of the concept was never lost. At times he employed the standard symbols of political cartooning, but his versions always transcended cliché.
Here's a sampling of the work Cardo created for Inx when Peter Kuper and I were both art directing.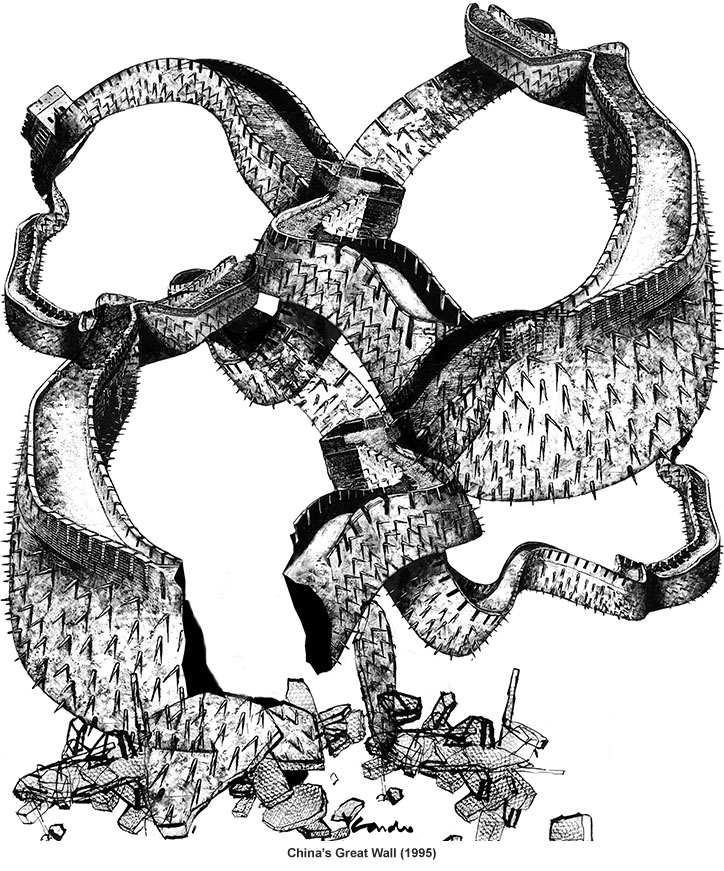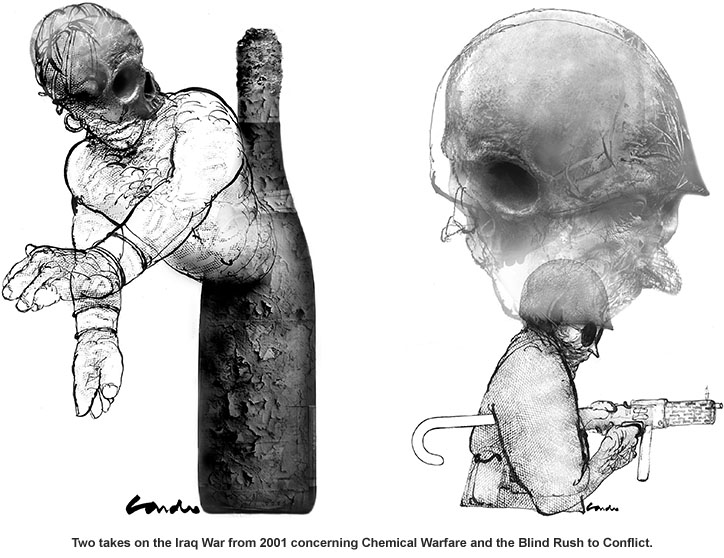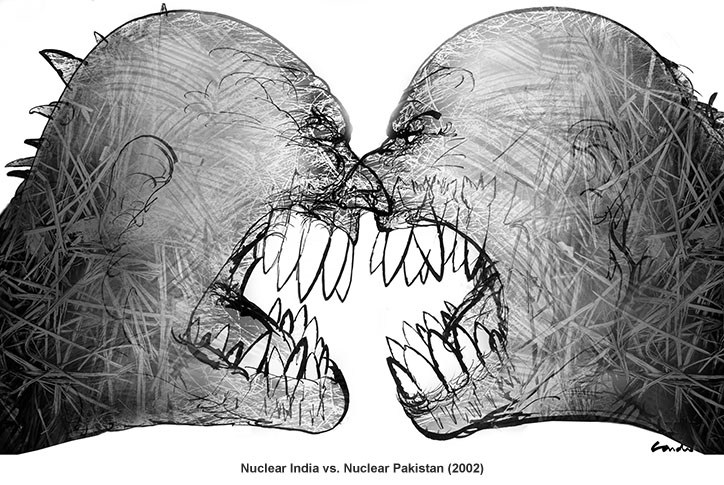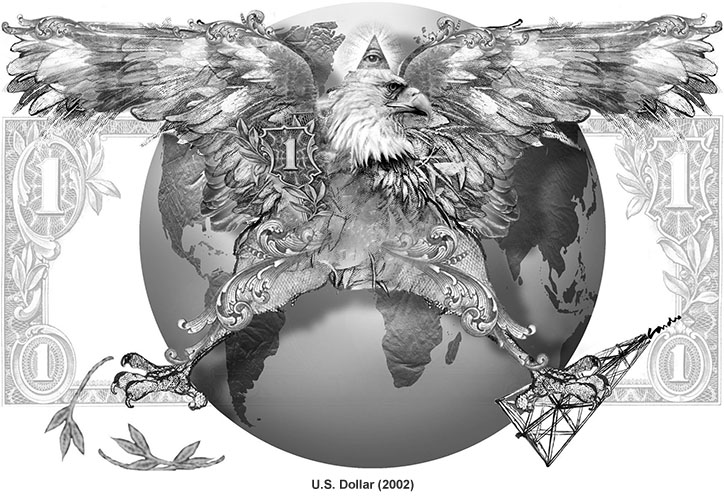 Cardo's signal achievement in the United Sates was his extraordinary run of illustrations for the New York Times Op-ed page in the 80s and 90s championed by art director Jerelle Kraus. As Brad Holland and David Suter had done earlier, Cardo's work came to define the page. Here are a couple of examples along with an image rejected by skittish editors, highlighted in Kraus' fascinating book about the page's contents and discontents, All the Art That's Fit to Print (And Some That Wasn't).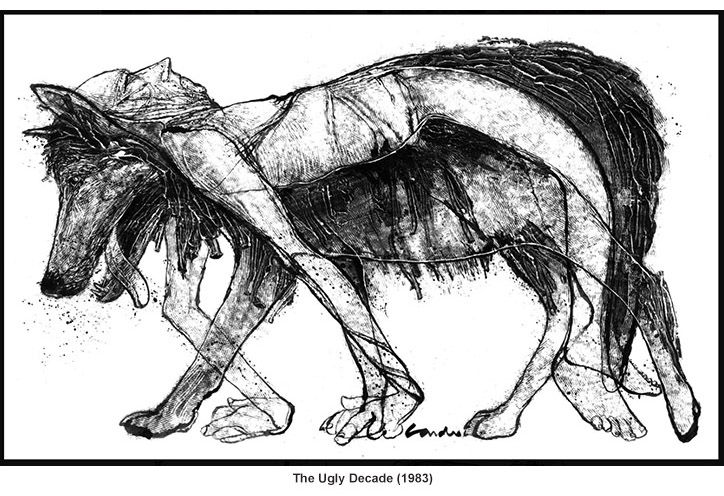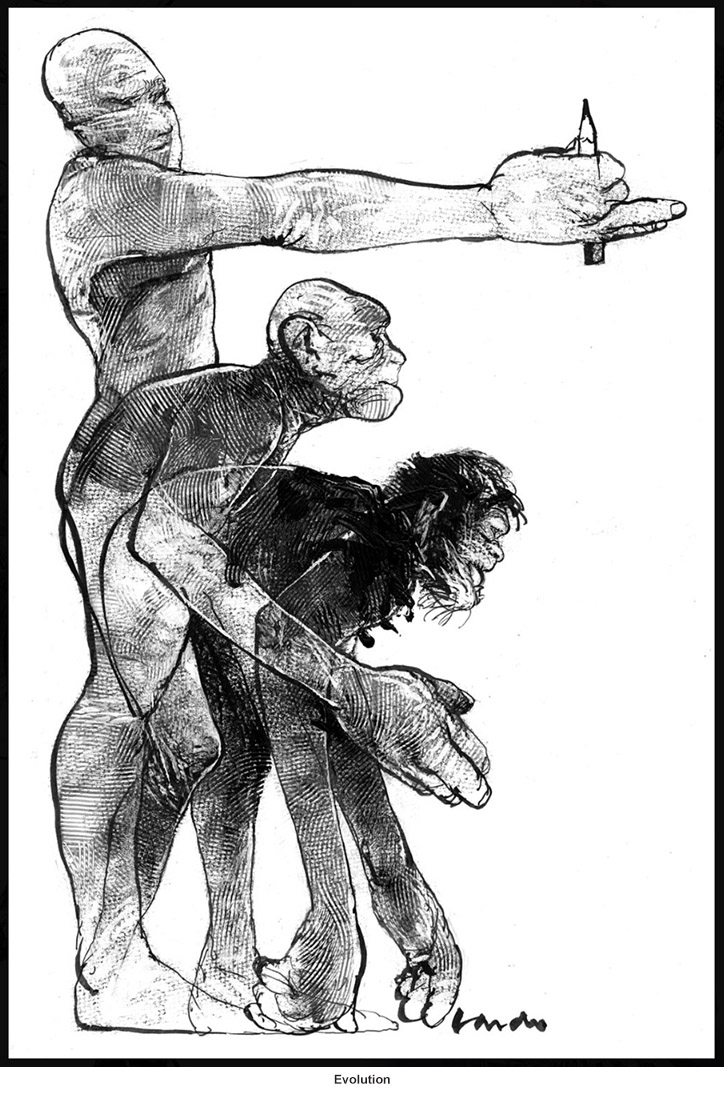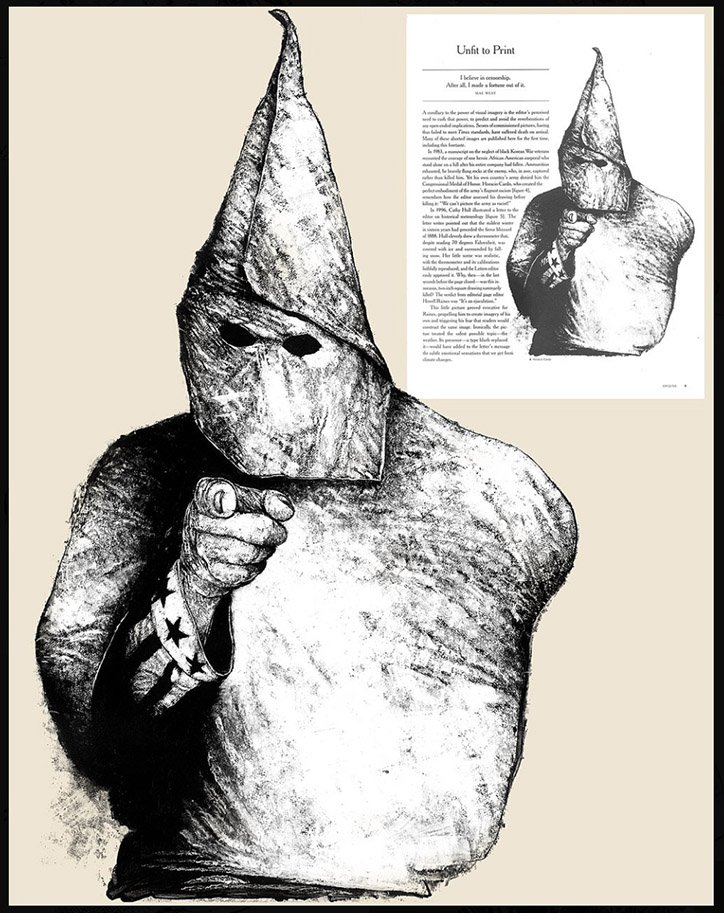 Many of us were jealous not only of Cardo's talent, but also of his dream deal with Argentia's biggest newspaper Clarín, a long-running contract that afforded him extraordinary freedom, both artistic and economic. No one deserved it more. Here's Clarín's tribute along with some of the work he did for that and other publications.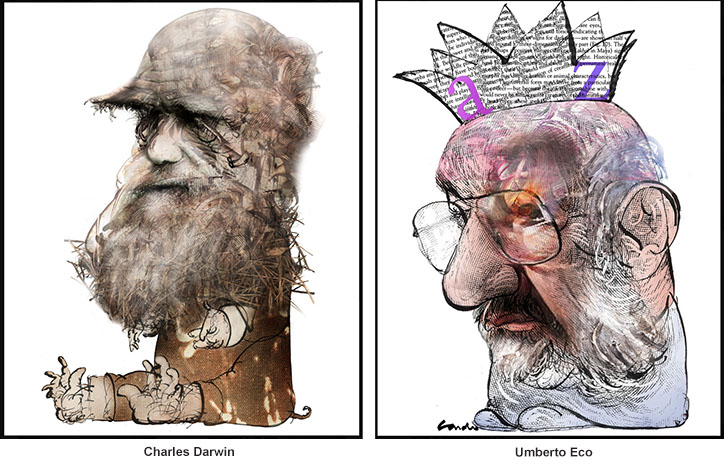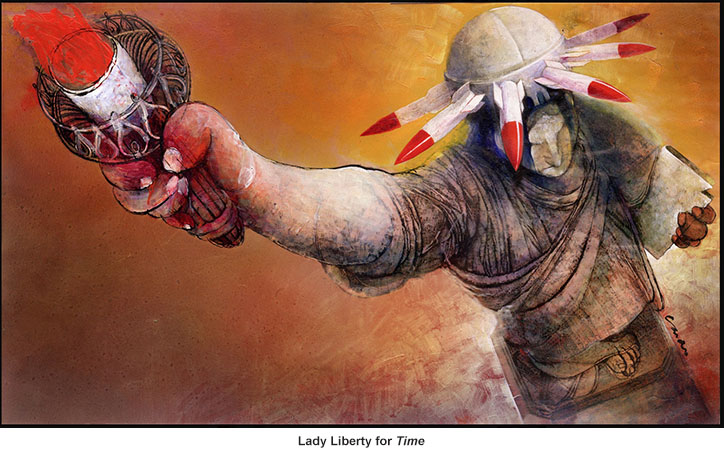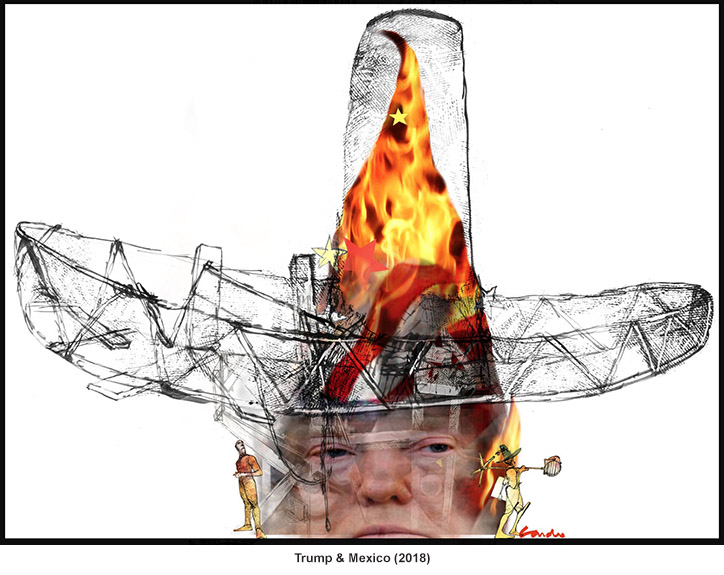 Cardo also published several books, including one for children on a subject he loved and another for adults on one he loathed.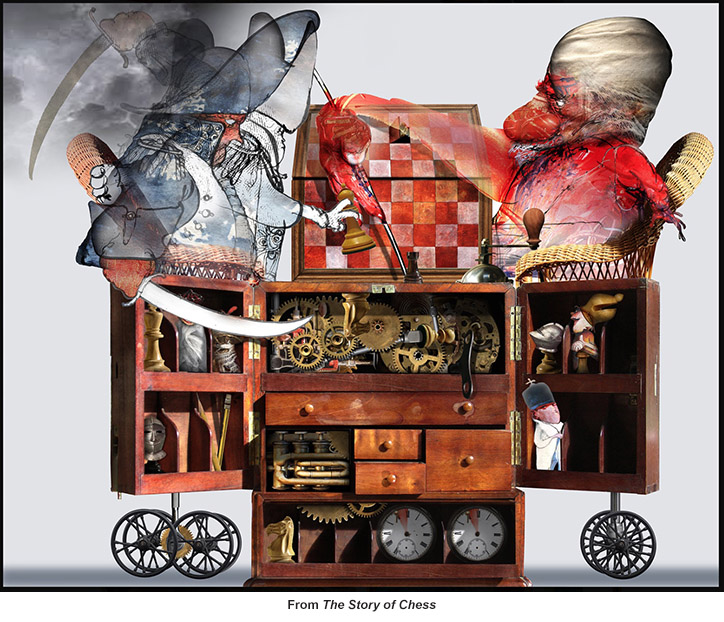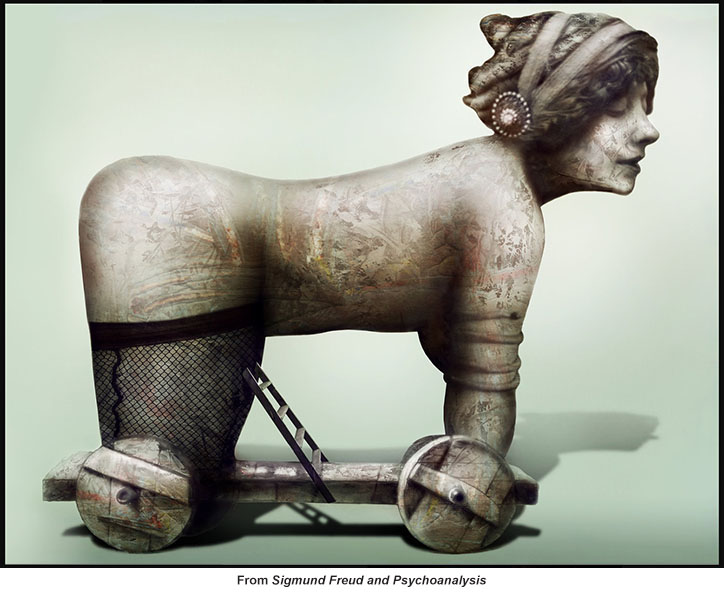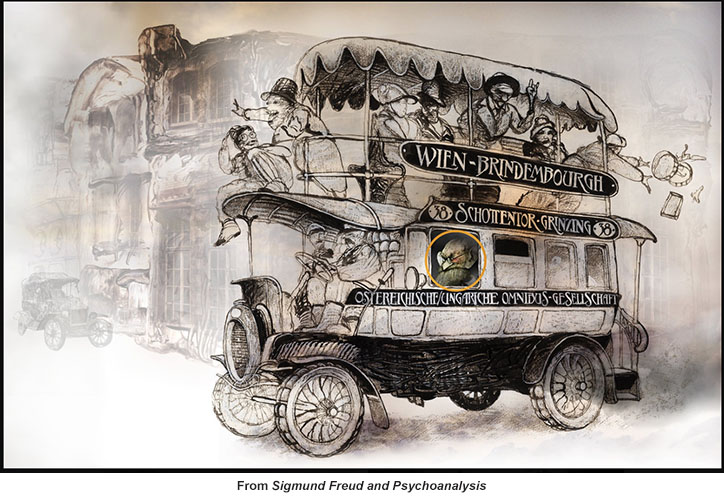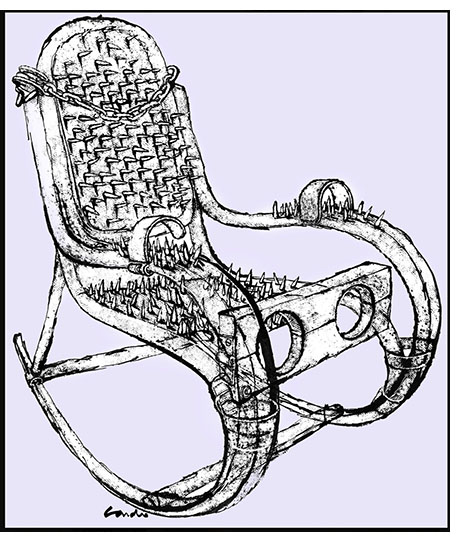 The Story of Chess is available from Amazon.com. The Freud book is currently unavailable in the U.S.
This drawing of a horrific rocking chair that Inx ran as a commentary on capital punishment and the elderly was entitled Retirement by Horacio himself. The last email I received from him was dated October 18, 2018 and was an invitation to visit his newly-redesigned website horaciocardo.com where I found the spiky seat. He died on October 22, 2018.
He was spared the indignities of retirement and decrepitude, while we were burdened with the loss of an irreplaceable artistic spirit.
On October 30, the New York Times published a respectful and appropriate obituary. Please read it for more details of his rich life and seek out as many examples of his work as you can find.
Martin Kozlowski
11/03/18
All the artwork included here is subject to copyright.
---
ROBERT GROSSMAN
(1940 - 2018)
The news of the prolific and brilliant caricaturist's death prompted this email exchange between Tom Hachtman and Martin Kozlowski:
MK: I was saddened to hear about Robert Grossman's death (March 15) when we spoke on the phone recently. I always thought he was one of the premiere caricaturists of the last 50+ years, in the same company as Levine, Hirschfeld, Drucker & Sorel (there's a powerhouse law firm). When did you first meet him?

TH: I cannot remember how I met Grossman or when I began visiting him on Crosby St. I do remember playing the piano, drinking fresh squeezed orange juice, watching topless women news anchors on TV, going out to a diner around the corner for lunch and smoking a lot of pot. The pot may explain my not remembering how it began. I do remember he was working on a gorgeous series of paintings of sexy chicks on bicycles.
MK: You mentioned taking an out-of-towner to visit him –– Grossman being one your two favorite caricaturists.
TH: My agent Betsy Nolan introduced me to the Australian cartoonist Bill Leak and asked me to show him around town, so we were doing a kind of Manhattan walkabout and I thought he might enjoy meeting the best caricaturists I knew in the city –– Bob Grossman and Randy Jones –– so we dropped in on Bob on Crosby Street and then walked up to Tompkins Square and dropped in on the Joneses.
Bill Leak died in March last year. I can't believe Bob and Bill are gone. Randy is still with us, if you can call Canada 'with us'.
MK: The New York Times gave Grossman a respectful obit, but I think we both thought a more knowledgeable Steven Heller was going to write it. They talked about his career as the editor of the Yale Record as a student and I always thought he was a funny writer of comic strips, one with a very relatable weakness for puns. Were you a fan of his strips?
TH: Yes, I did like his strips –– in New York mag. And O-Man more recently. Oh, some color strips in the NY Observer.  I'd look for them if there had not been the flood after Sandy. I think they must be gone.
An interesting thing about Grossman's style –– when Toy Story came out, the look of Pixar animation –– it looks like airbrush. Of course there is no air involved. I think Grossman changed his style –– continued to use his airbrush but his drawings now
had a nice brush line –– a paint brush –– and the airbrush. I believe he didn't want his work to look like a Pixar cartoon. I believe we talked about this –– but, as I mentioned, we were smoking pot so don't ask me to remember.
I thought Heller's comments in the NYT obit were good –– and true –– about the sculptural feel of his caricatures –– and of course Bob was a sculptor too.
Have you seen the Daumier sculptures at the Zimmer Gallery in New Brunswick –– they have a nice collection of them? When I saw them I thought, "My God, they look so much like Bill Plympton drawings."
I should sculpt a Trump for reference –– since I stopped watching TV.
MK: No, I need to see his sculptures in New Brunswick. I got a kick out of Zoonooz in New York and then Rolling Stone. Maybe it was from an earlier incarnation of the strip, but my brother and I always laughed over the remembered line 'Nixo likee Chinee food', concerning Nixon's craven pandering to Mao –– a line so un-PC autocorrect barely let me spell it out.
Those nice covers (despite the salmon stock) were for the pre-Jared Kushner New York Observer, of course. Did he influence your work with airbrush –– you did so much great stuff with it?
TH: Absolutely an influence. He was like a guide (teacher?) to where you could go with the tool as an illustrator. I don't know what DoubleTakes would have looked like if I didn't learn something from Grossman.
MK: I didn't know him all that well, just enough to call him Bob when we'd meet. I did hire him several times when I art directed the Op-ed page for the NYT. It made me cringe to have to ask him to 'tone down' a drawing of Netanyahu at the behest of the editors in 1999. He was a total pro, but it was the death knell for caricature on that page. His stuff was biting, but not nasty –– there was a lightness to it, don't you think?
TH: I thought about that Netanyahu you mentioned when I saw the Lampoon cover in the NYT obit, with the Jiminy Cricket Kissinger –– Kissinger's schnozzola is of hilarious enormity.
Gary Hallgren emailed –– he's bummed out about Bob. Gary was even a better student than I in the Grossman School.
Another airbrush wiz who, I believe, worked as an assistant for Bob –– is Overton Lloyd.
MK: You mentioned Superstorm Sandy and losing printed treasures –– he was kind enough to contribute some drawings to the book we did on the aftermath, entitled Downtown Drowned. His O-man riding the whirlwind is below. I always included his party-pooper Jimmy Carter and his Mickey Mouse Reagan when I'd lecture on caricature. Any final thoughts?

TH: He was among the most responsive recipients of Redhead du Jour (note: a more or less daily email Tom sent friends/fans w/a ginger image) usually just a few words, like, "oh la la" for a photo of Isabelle Huppert, or 'what a concept' for my Woody Alien drawing.
Sometimes he sent his own comic strips (O-Man,Twump and Pooty). Sometimes he would send song parody lyrics. I am sorry now that I discontinued that pointless RduJ exercise –– it kept us in touch.
And I liked the sound of his voice. I may not have realized how much before having it taken away. He had a comforting voice.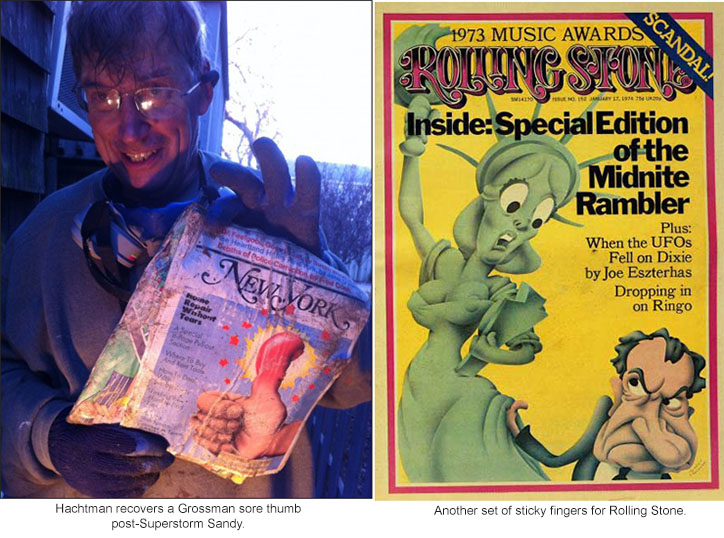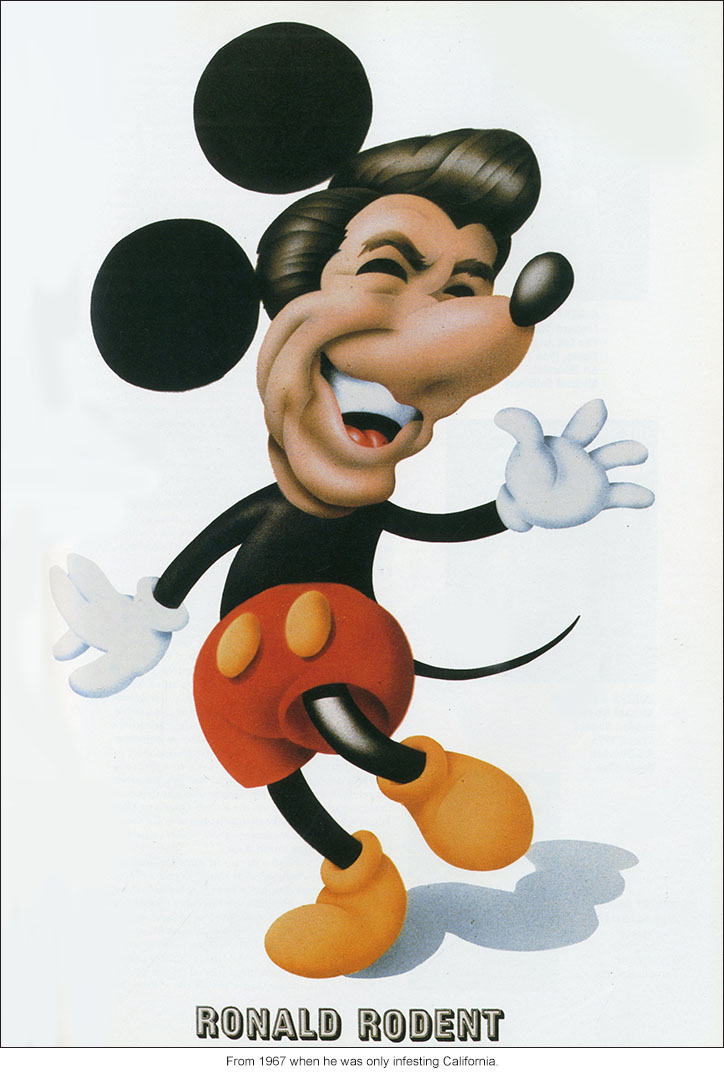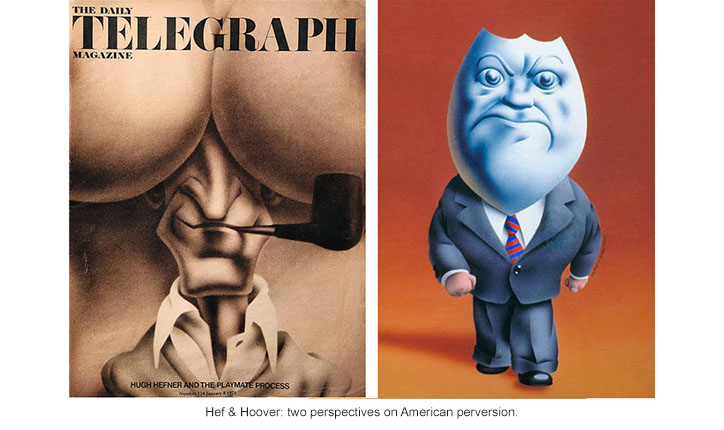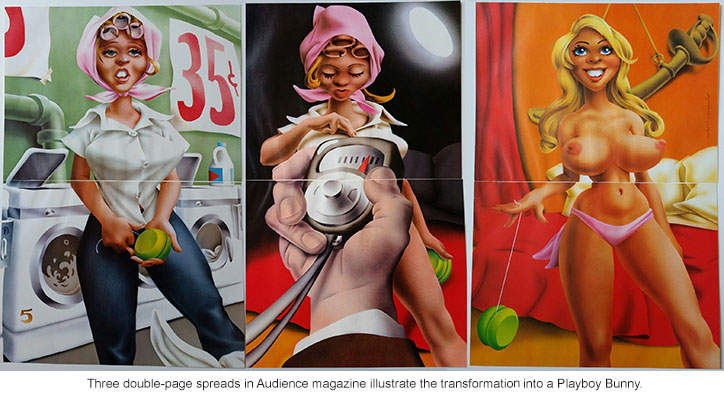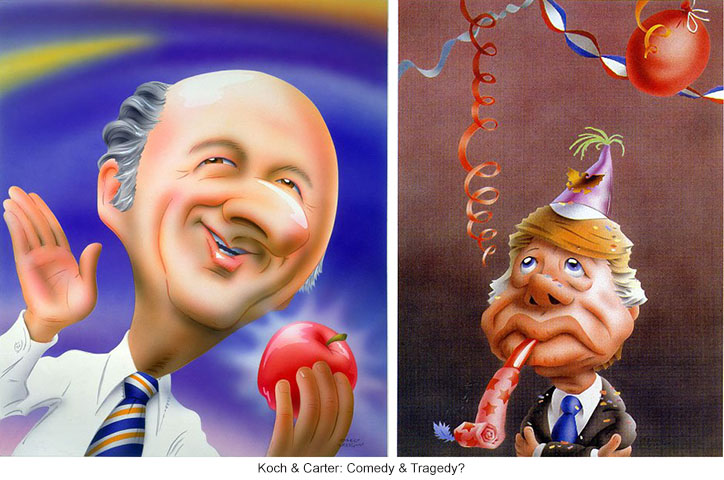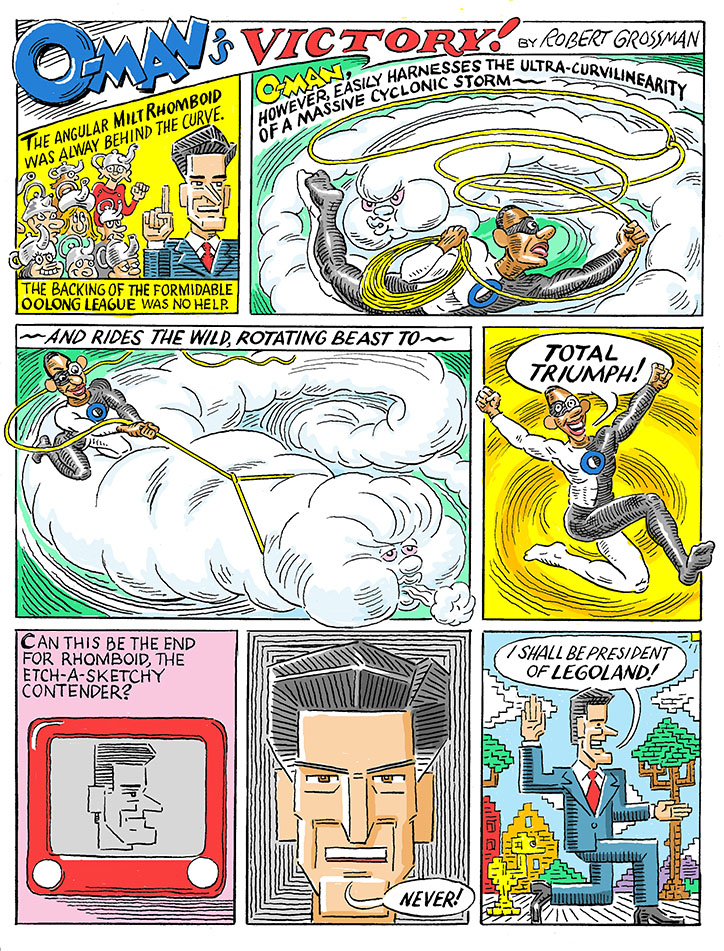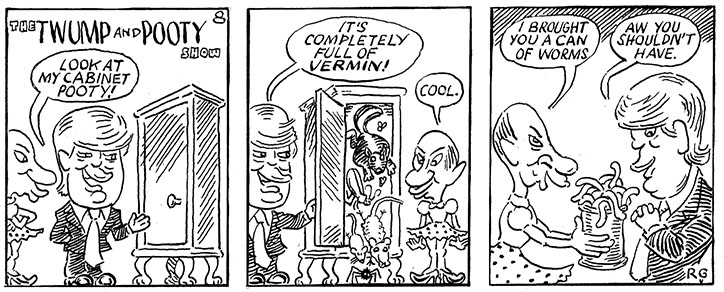 3/21/18
---
MONSTERS OF THE IVY LEAGUE
The great Randy Jones has illustrated a new book entitled Monsters of the Ivy League by the very funny Ellis Weiner and Steven Radlauer. The writers, who have independently worked for The National Lampoon, Spy, and The New Yorker and have authored several best-selling humor books between them, offer up a rogue's gallery of the very worst graduates of America's most elite schools.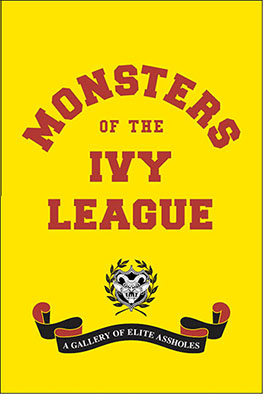 Here's their description:
Everybody knows that the schools of the Ivy League –– universally touted as the pinnacle of American higher education-have graduated countless political leaders, corporate titans, and global power brokers. But did you know these schools have also produced murderers, warmongers, traitors, plagiarists, slave traders, pederasts, and every other variety of moral reprobate?

Whether you're a high school student grinding away in the hope of gaining admission to one of these institutions, a parent propelling a child toward Ivy glory, a current Ivy League undergraduate wondering "What the hell is this place?" or even an Ivy League alum, professor, administrator, or dropout-this book was written specifically for you. As a warning. Because there are certain things-monstrous things-that go unmentioned in the catalog, campus tour, or employment package.

And if your Ivy League application was rejected, here's compelling and consoling evidence of how lucky you are.
We interviewed Randy Jones about his work on the book.
NW: How did you get involved with this project?
RJ: Steve Radlauer and Ellis Weiner met and remembered my art and asked me to illustrate their book. We collaborated on a couple of things in the mid 80s.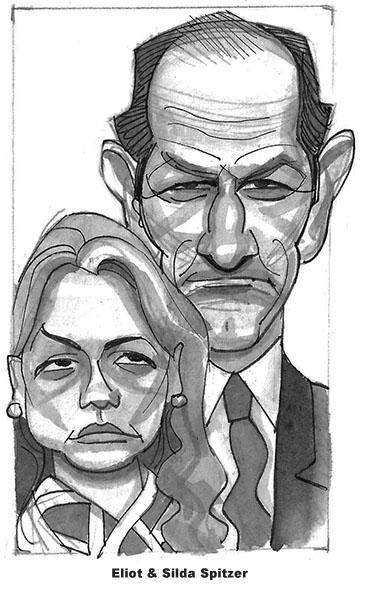 NW: Did you work with Ellis Weiner at the National Lampoon?
RJ: We never worked together at The Lampoon. We did work on two separate projects that were never published.
Steve and I worked on a book called How To Live In The Suburbs Without Being Like Your Parents. Ellis and I worked on a book called Fly On The Wall about the Bush Sr. White House.
NW: What kind of deadline did you have? What media did you work in?
RJ: I started the project in August 2016. Most of the drawings were drawn at The University Hospital waiting room in London, Ontario while my father was having dialysis treatment three times a week.

Drawing Monsters was very therapeutic for me at that difficult time. I really enjoyed working with Ellis and Steve.
I used Micron pens and Schmincke watercolors.
NW: Which of the caricatures are you most happy with?
RJ: Some of my favorite caricatures are John C. Calhoun, Jason Bohn the bloody-nosed murderer, Elliot Spitzer and his wife…and Donald J. Trump.
NW: How do you feel about the finished product?

RJ: I think it's a very cool book with some spicy words, and it's a good read for waiting rooms.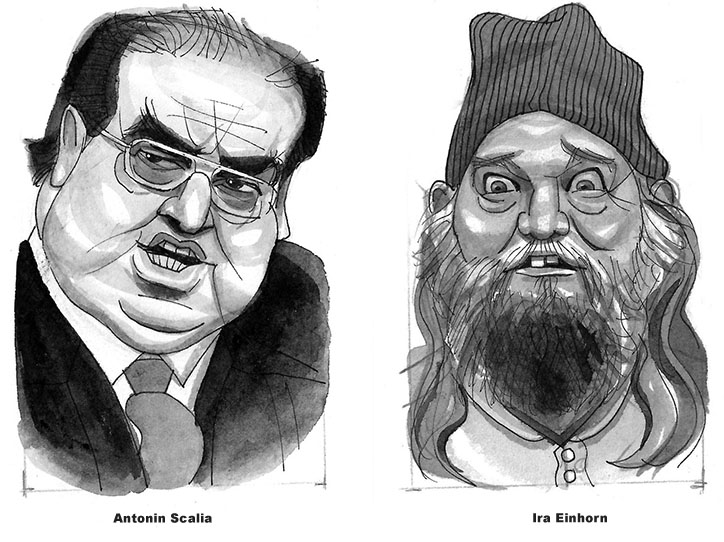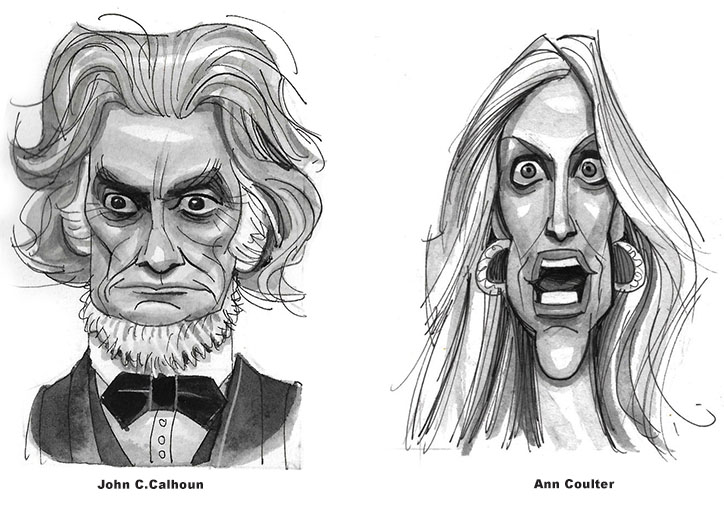 7/20/17
---
THE INNER CIRCLE
In an ancient time when ink-stained journalists stalked the corridors of power in New York City there sprang up an organization called the Inner Circle. Founded in 1927, the group, composed of City Hall reporters –– then all newspapermen –– began sponsoring fund-raising dinners which included a satirical show sending up the current political scene.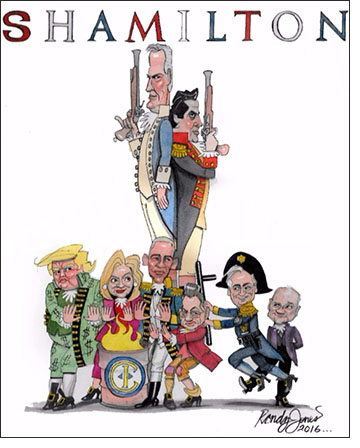 All these years later, their mainly electronic offspring contine the tradition, each April mounting a musical revue that lampoons municipal malfeasance and Hizzoner's miscues. The journos themselves portray the politicos with minimal makeup, medial musicianship and maximal malice. The sitting Mayor, straining to be a good sport, joins in onstage, and his typically ridiculous appearance often warrants some light-hearted press coverage the following day. Over time the show has expanded to include more digs at Washington and the national scene. For more on the event's history visit innercircleshow.org.
This year's 94th Annual Inner Circle Show is entitled SHAMILTON and will take place Saturday April 9 at the New York Hilton. The image to the left depicts blood enemies DeBlasio and Cuomo preparing to duel à la Hamilton and Burr as rapsodized by Lin-Manuel Miranda in his Broadway smash. Finding a seat will be tough if you're not a member of the New York press corps, but no tougher than getting in to the namesake show.
Our own Randy Jones has been illustrating the commemorative program since the mid-90s and has produced a flood of hilarious images reaching from the Dinkins through the DeBlasio administrations. Below is a sampler of some of Randy's finest covers preceded by two earlier efforts –– A John Vliet Lindsay from 1970 by John Pierotti, a cartoonist for the pre-Murdochian New York Post and an Ed Koch from 1988, by Jerry Schlamp, who worked for the Daily News. For more cover art, there's some spotty coverage here.
Randy's work includes four Giulianis from 1995, 1996, 1998 and 1999, and two Bloombergs from 2004 and 2011.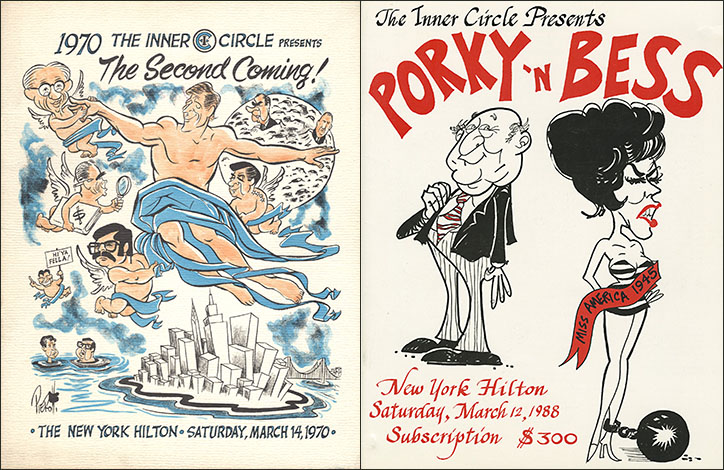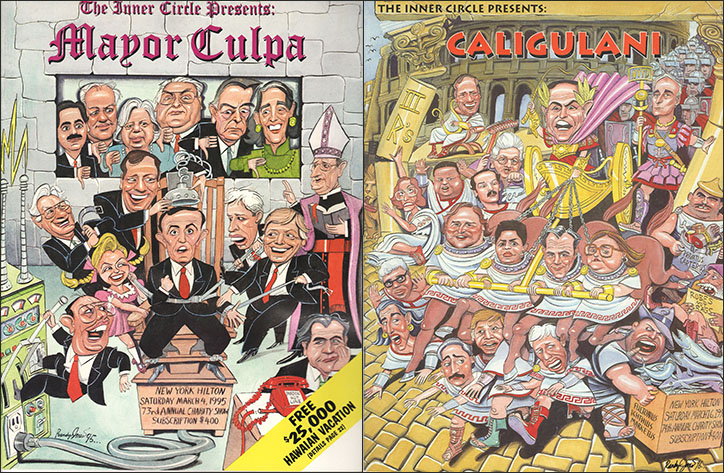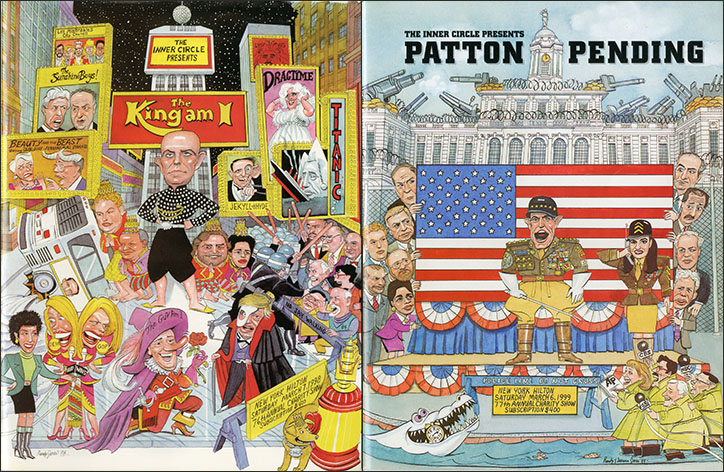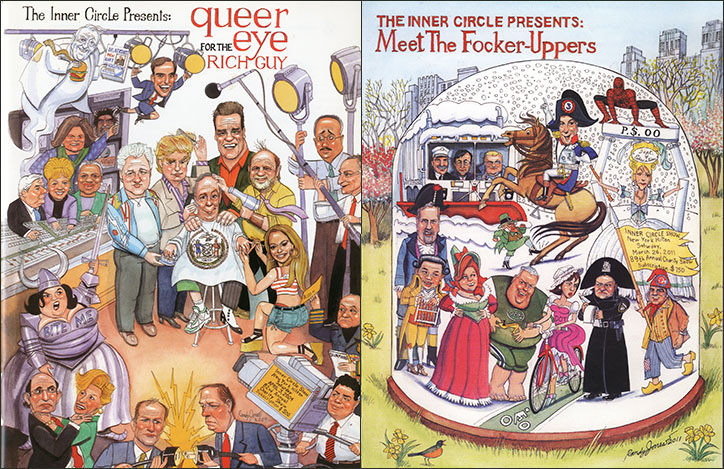 03/28/2016
---
BLYTH SPIRIT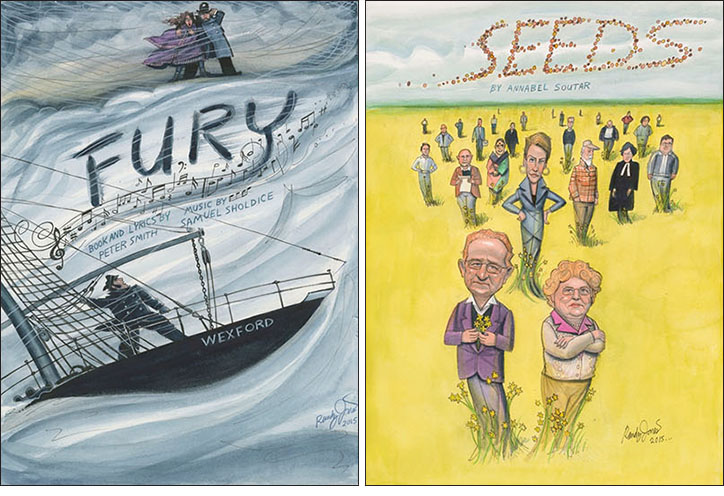 An hour and a quarter north of London, Ontario, in rustic Huron County, the Blyth Festival is flourishing this summer. Running from June 24 (the first budding tree) until September 12 (the first snowflake), it's a theatrical season of five original Canadian plays.

Now What's brightest Northern Light, Randy Jones, was commissioned to create posters for four of the plays.The stunning results are pictured here. E. Basil St. Blaise, our critic and a favorite subject of Randy's, has written of the Festival, 'What Blyth glory?'
If you're vacationing up north this summer, it sounds like an intriguing alternative to the nearby Stradford and Shaw Festivals.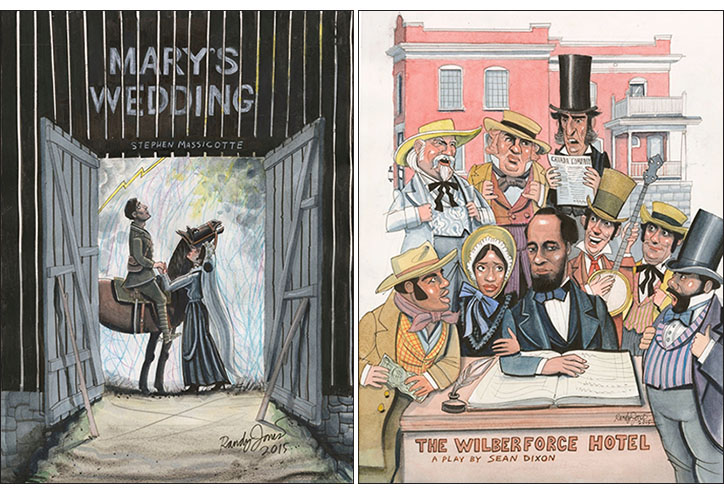 05/21/15
---
TOBY OR NOT TOBY?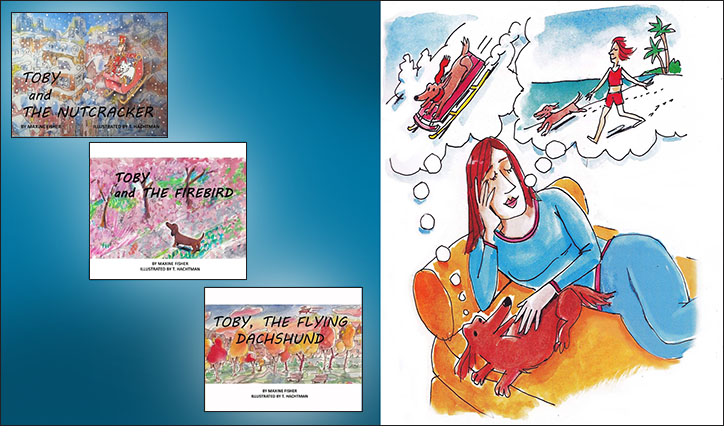 The answer is definitely Toby! Toby and the Nutcracker, the latest in a series of delightful children's books concerning the adventures of an intrepid weiner dog, has just been published. It's described as 'a re-telling of the Christmas tale "The Nutcracker" featuring Toby, the dachshund and his canine friend Babka.'

It follows Toby and the Firebird and Toby the Flying Dachshund, two other whimsical adventures written by Maxine Fisher and illustrated gorgeously by Tom Hachtman, creator of Gertrude's Follies. They seem like ideal gifts for a doxie lover of any age.
12/10/14
---
THINK AND DIE 25th ANNIVERSARY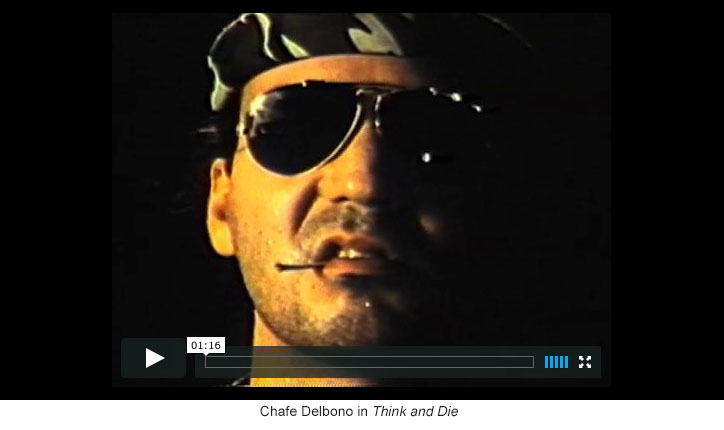 After being left to rot for twenty-five years on VHS tape, the never-whispered-about, seldom remarked upon, subterranean, almost-sorta-kinda-maybe minor classic short, Think and Die, has resurfaced on the Internet to almost universal indifference.
Undeterred, Producer Tom Scarpino is humping the flick like he's praying for a sequel. He lightly dusted off the original print, added a meandering insider interview, a few scattered notes, a list of the complete cast and crew, and little else. How can you resist? Menahem Golan, where are you when we need you? Click here NOW!
10/31/14
---
THE SHUNGA GAMES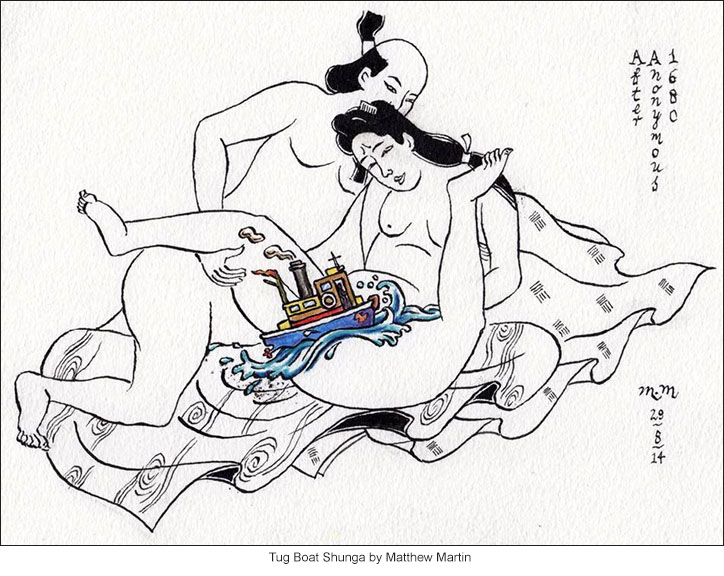 Master cartoonist Matthew Martin, who contributed mightily to INX in the day, has a new show Down Under billed as
a drawing exhibition of sex, humour and the joy of making lines on paper.

It's entitled Shunga and includes a tasty selection of his takes on that unique style of Japanese erotic art. If you're local or on walkabout be sure to stop in.
Shapiro Gallery
162 Queen Street Woollahra NSW
Exhibition Dates
Sunday 14 - Sunday 28 September 11am - 5pm

9/19/14
---
SECURITY LEAK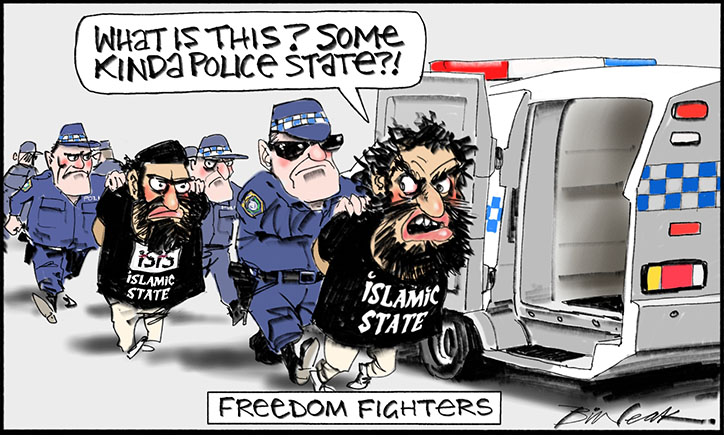 Another satirical wizard of Oz, Bill Leak, published this cartoon in The Australian. Note the t-shirt on the second suspect –– it features a reproduction of Tom Hachtman's ISIS logo from Levant on the Edge on this site's What Not page. Tom tells us the legendary illustrator Robert Grossman provided inspiration for the cutting-edge design. Thanks all around.
9/19/14