Robert Grossman

(1940 - 2018)
The news of the prolific and brilliant caricaturist's death prompted this email exchange between Tom Hachtman and Martin Kozlowski:
MK: I was saddened to hear about Robert Grossman's death (March 15) when we spoke on the phone recently. I always thought he was one of the premiere caricaturists of the last 50+ years, in the same company as Levine, Hirschfeld, Drucker & Sorel (there's a powerhouse law firm). When did you first meet him?

TH: I cannot remember how I met Grossman or when I began visiting him on Crosby St. I do remember playing the piano, drinking fresh squeezed orange juice, watching topless women news anchors on TV, going out to a diner around the corner for lunch and smoking a lot of pot. The pot may explain my not remembering how it began. I do remember he was working on a gorgeous series of paintings of sexy chicks on bicycles.
MK: You mentioned taking an out-of-towner to visit him –– Grossman being one your two favorite caricaturists.
TH: My agent Betsy Nolan introduced me to the Australian cartoonist Bill Leak and asked me to show him around town, so we were doing a kind of Manhattan walkabout and I thought he might enjoy meeting the best caricaturists I knew in the city –– Bob Grossman and Randy Jones –– so we dropped in on Bob on Crosby Street and then walked up to Tompkins Square and dropped in on the Joneses.
Bill Leak died in March last year. I can't believe Bob and Bill are gone. Randy is still with us, if you can call Canada 'with us'.
MK: The New York Times gave Grossman a respectful obit, but I think we both thought a more knowledgeable Steven Heller was going to write it. They talked about his career as the editor of the Yale Record as a student and I always thought he was a funny writer of comic strips, one with a very relatable weakness for puns. Were you a fan of his strips?
TH: Yes, I did like his strips –– in New York mag. And O-Man more recently. Oh, some color strips in the NY Observer.  I'd look for them if there had not been the flood after Sandy. I think they must be gone.
An interesting thing about Grossman's style –– when Toy Story came out, the look of Pixar animation –– it looks like airbrush. Of course there is no air involved. I think Grossman changed his style –– continued to use his airbrush but his drawings now
had a nice brush line –– a paint brush –– and the airbrush. I believe he didn't want his work to look like a Pixar cartoon. I believe we talked about this –– but, as I mentioned, we were smoking pot so don't ask me to remember.
I thought Heller's comments in the NYT obit were good –– and true –– about the sculptural feel of his caricatures –– and of course Bob was a sculptor too.
Have you seen the Daumier sculptures at the Zimmer Gallery in New Brunswick –– they have a nice collection of them? When I saw them I thought, "My God, they look so much like Bill Plympton drawings."
I should sculpt a Trump for reference –– since I stopped watching TV.
MK: No, I need to see his sculptures in New Brunswick. I got a kick out of Zoonooz in New York and then Rolling Stone. Maybe it was from an earlier incarnation of the strip, but my brother and I always laughed over the remembered line 'Nixo likee Chinee food', concerning Nixon's craven pandering to Mao –– a line so un-PC autocorrect barely let me spell it out.
Those nice covers (despite the salmon stock) were for the pre-Jared Kushner New York Observer, of course. Did he influence your work with airbrush –– you did so much great stuff with it?
TH: Absolutely an influence. He was like a guide (teacher?) to where you could go with the tool as an illustrator. I don't know what DoubleTakes would have looked like if I didn't learn something from Grossman.
MK: I didn't know him all that well, just enough to call him Bob when we'd meet. I did hire him several times when I art directed the Op-ed page for the NYT. It made me cringe to have to ask him to 'tone down' a drawing of Netanyahu at the behest of the editors in 1999. He was a total pro, but it was the death knell for caricature on that page. His stuff was biting, but not nasty –– there was a lightness to it, don't you think?
TH: I thought about that Netanyahu you mentioned when I saw the Lampoon cover in the NYT obit, with the Jiminy Cricket Kissinger –– Kissinger's schnozzola is of hilarious enormity.
Gary Hallgren emailed –– he's bummed out about Bob. Gary was even a better student than I in the Grossman School.
Another airbrush wiz who, I believe, worked as an assistant for Bob –– is Overton Lloyd.
MK: You mentioned Superstorm Sandy and losing printed treasures –– he was kind enough to contribute some drawings to the book we did on the aftermath, entitled Downtown Drowned. His O-man riding the whirlwind is below. I always included his party-pooper Jimmy Carter and his Mickey Mouse Reagan when I'd lecture on caricature. Any final thoughts?

TH: He was among the most responsive recipients of Redhead du Jour (note: a more or less daily email Tom sent friends/fans w/a ginger image) usually just a few words, like, "oh la la" for a photo of Isabelle Huppert, or 'what a concept' for my Woody Alien drawing.
Sometimes he sent his own comic strips (O-Man,Twump and Pooty). Sometimes he would send song parody lyrics. I am sorry now that I discontinued that pointless RduJ exercise –– it kept us in touch.
And I liked the sound of his voice. I may not have realized how much before having it taken away. He had a comforting voice.
Note: Grossman's final project, published posthumously, is Life on the Moon, a fascinating graphic novel based on the real, but wacky Great Moon Hoax. It's well worth a read.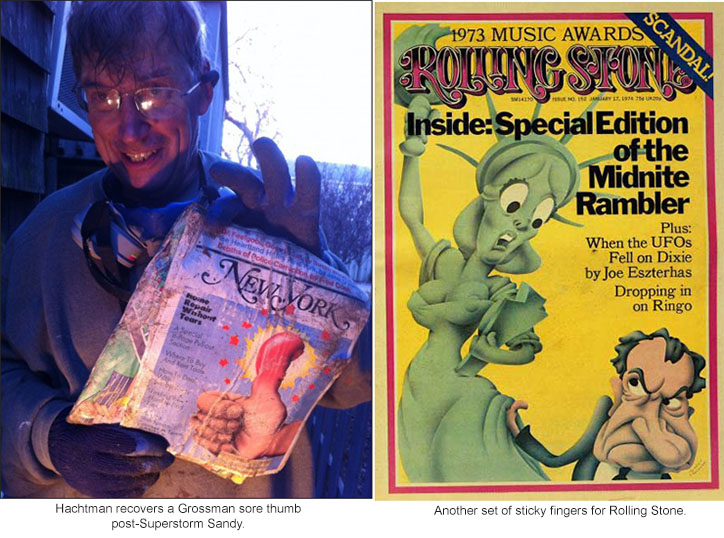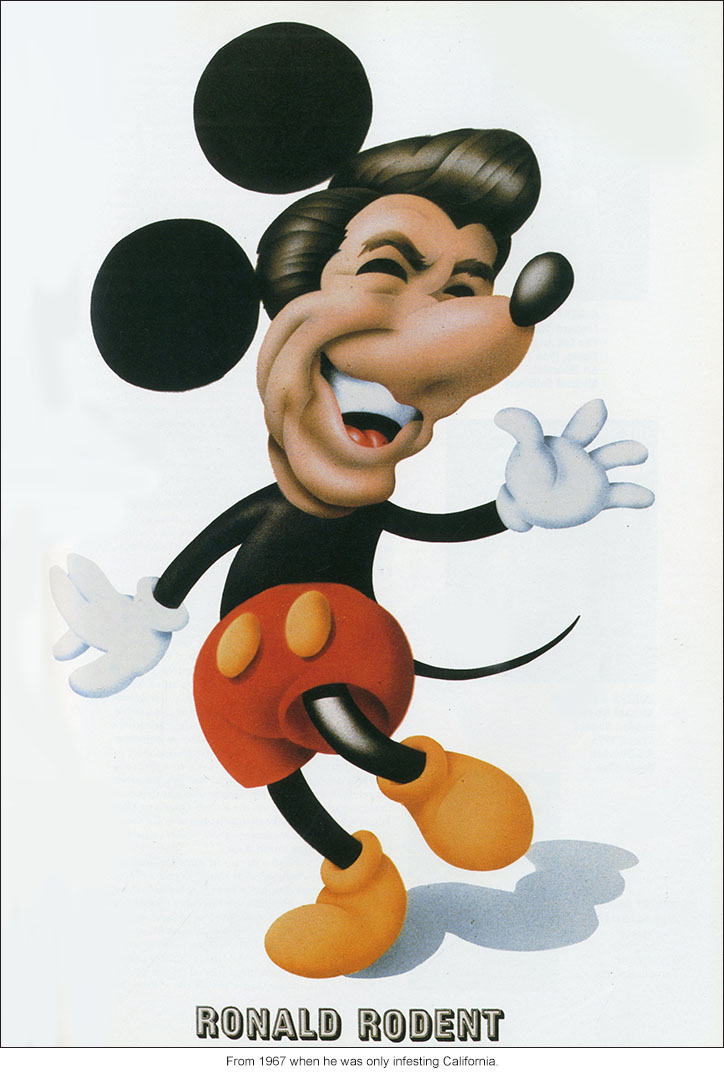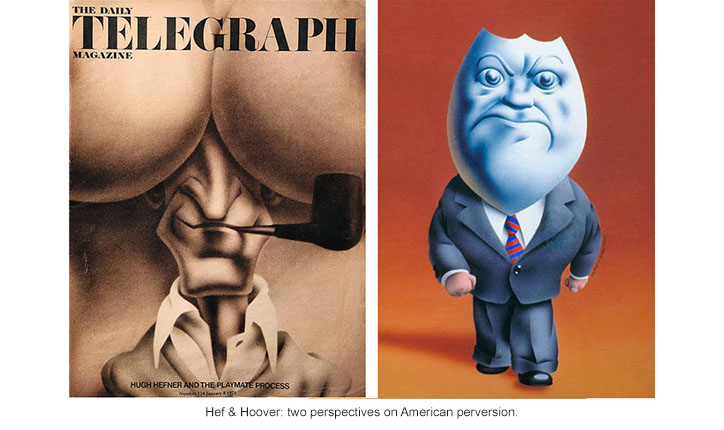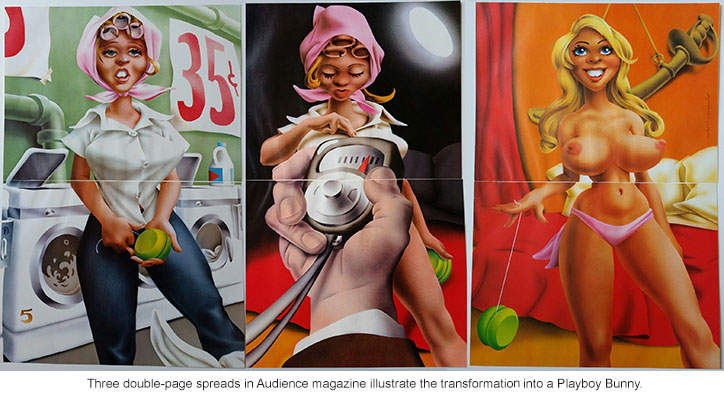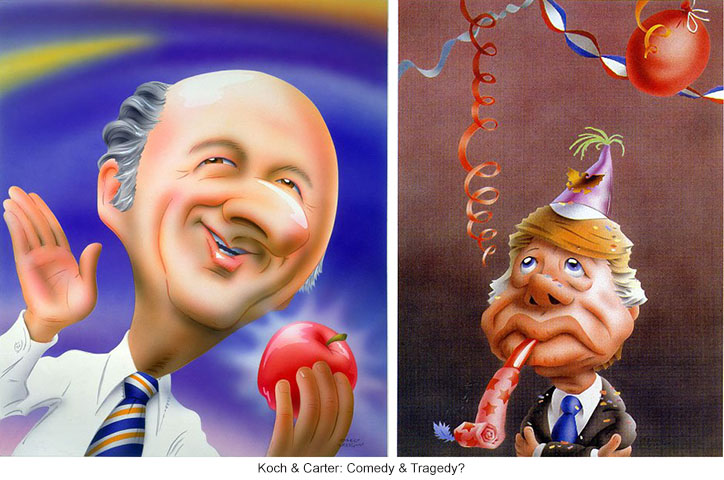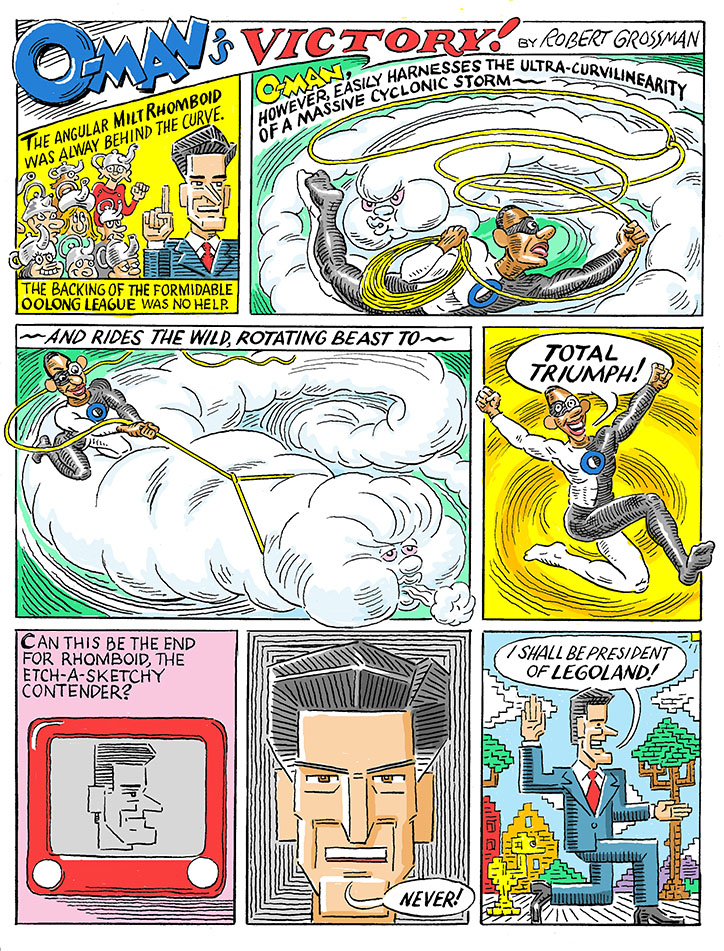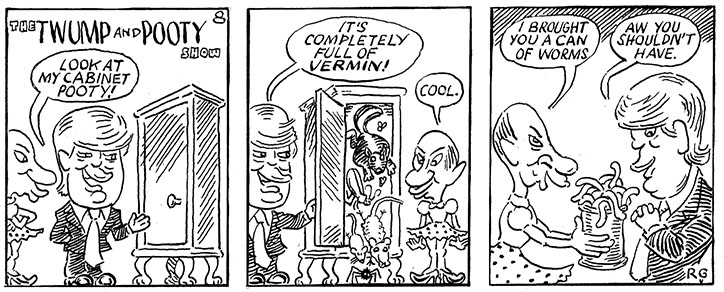 3/21/18