Monsters of the Ivy League
The great Randy Jones has illustrated a new book entitled Monsters of the Ivy League by the very funny Ellis Weiner and Steven Radlauer. The writers, who have independently worked for The National Lampoon, Spy, and The New Yorker and have authored several best-selling humor books between them, offer up a rogue's gallery of the very worst graduates of America's most elite schools.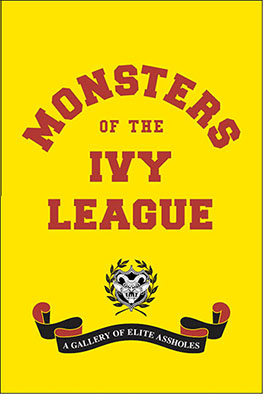 Here's their description:
Everybody knows that the schools of the Ivy League –– universally touted as the pinnacle of American higher education-have graduated countless political leaders, corporate titans, and global power brokers. But did you know these schools have also produced murderers, warmongers, traitors, plagiarists, slave traders, pederasts, and every other variety of moral reprobate?

Whether you're a high school student grinding away in the hope of gaining admission to one of these institutions, a parent propelling a child toward Ivy glory, a current Ivy League undergraduate wondering "What the hell is this place?" or even an Ivy League alum, professor, administrator, or dropout-this book was written specifically for you. As a warning. Because there are certain things-monstrous things-that go unmentioned in the catalog, campus tour, or employment package.

And if your Ivy League application was rejected, here's compelling and consoling evidence of how lucky you are.
We interviewed Randy Jones about his work on the book.
NW: How did you get involved with this project?
RJ: Steve Radlauer and Ellis Weiner met and remembered my art and asked me to illustrate their book. We collaborated on a couple of things in the mid 80s.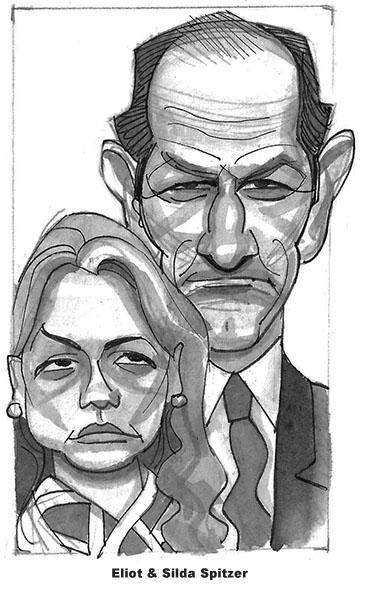 NW: Did you work with Ellis Weiner at the National Lampoon?
RJ: We never worked together at The Lampoon. We did work on two separate projects that were never published.
Steve and I worked on a book called How To Live In The Suburbs Without Being Like Your Parents. Ellis and I worked on a book called Fly On The Wall about the Bush Sr. White House.
You can buy this funny book on Amazon.
NW: What kind of deadline did you have? What media did you work in?
RJ: I started the project in August 2016. Most of the drawings were drawn at The University Hospital waiting room in London, Ontario while my father was having dialysis treatment three times a week.

Drawing Monsters was very therapeutic for me at that difficult time. I really enjoyed working with Ellis and Steve.
I used Micron pens and Schmincke watercolors.
NW: Which of the caricatures are you most happy with?
RJ: Some of my favorite caricatures are John C. Calhoun, Jason Bohn the bloody-nosed murderer, Elliot Spitzer and his wife…and Donald J. Trump.
NW: How do you feel about the finished product?

RJ: I think it's a very cool book with some spicy words, and it's a good read for waiting rooms.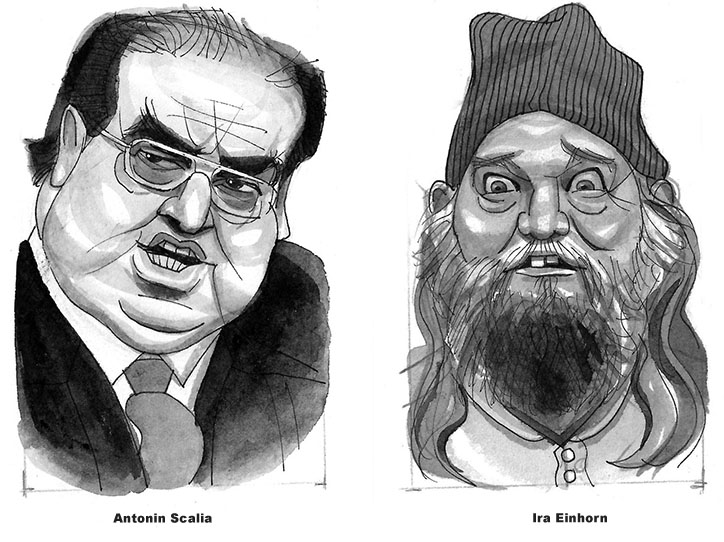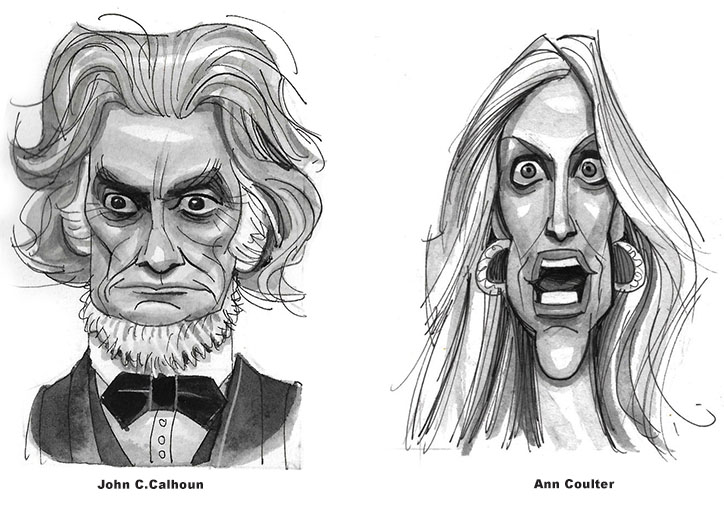 7/20/17