The Da Vinci Cold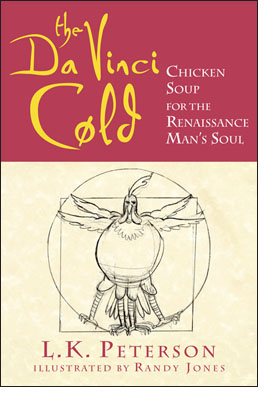 Thrills! Chills! A Slight Fever!
The shocking story behind The Last Supper's deterioration and Leonardo Da Vinci's secret attempt to cure the common cold!

A ruined masterpiece, a doctor on the run, a genius in peril, a shadowy and secretive organization, a missing notebook, another doctor, the French army, some guys with leeches, 11 herbs and spices, a cookbook deal worth millions of dollars, and lots and lots of chickens....
What does it all add up to? A mystery 500 years in the making!
L.K. Peterson, author of Go the F••k Back to Work! and Fairly Grim Tales, teams with illustrator Randy Jones for a probing look into the mind and nostrils of a Renaissance genius.
Order from amazon.com or with the widget to the right.

Order from barnesandnoble.com
To request a Review Copy please write to nowwhat@nowwhatmedia.com
Hardcover • 46 pages • Black & White • 6"x 9"