Fairly Grim Tales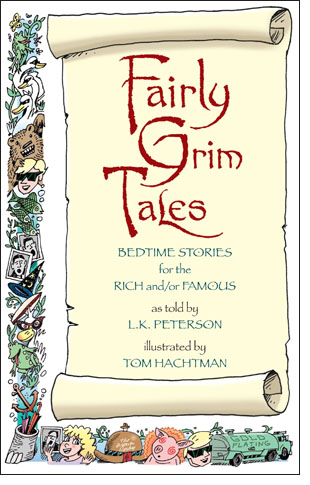 A hilariously twisted collection of nine classic fables that have been given the reboot as satiric bedtime stories for the rich and famous. From Goldilocks and the Three Tenors to The Six Blond Men and the Elephant, these fractured fairy tales, as told by L.K. Peterson, will have you laughing from cover to cover even if you're not rich or famous.
This book should not be read by — or to — anyone who still sleeps with the lights on or thinks that life is supposed to be fair. You probably already knew that, but our lawyer insisted we spell it out.
Illustrated by Tom Hachtman, creator of the comic strip Gertrude's Follies.
To request a Review Copy please write to nowwhat@nowwhatmedia.com
Order on Amazon:
Fairly Grim Tales

Order on Barnes & Noble
Order on IndieBound

Paperback • 80 pages • Black & White • 5"x8"