Flick and Flak

More Poison Capsule Reviews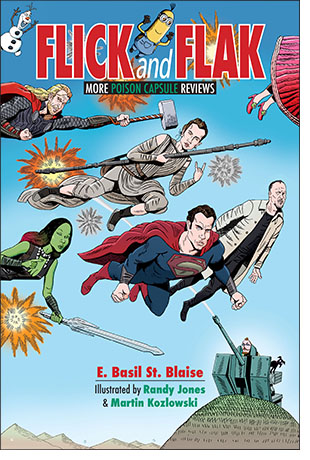 E. Basil St. Blaise returns with his irrepresible canine mascot Josef to put the bite on the mediocre movies of the past five years in in a cornucopia of his patented Poison Capsule Reviews.
This sequel to Love the Sinner, Hate the Cinema, drawn from St. Blaise's Critic's Corner, is truly bigger and better than the original (faint praise in itself) with:

An additional 6 pages!
An added .5" in height & width! (and not just on the diagonal like a smartphone or something)
Full-color artwork!

With over 1,000 nasty notices including pot shots at Horror and Superhero Classics and more than 100 cartoons by Randy Jones and Martin Kozlowski.
So join the Flakmaster General and Go to Great Pans!
Sample reviews:
• Frankenweenie –– Dawg of the dead.
• Fifty Shades of Grey –– Semi-hard cheese.
• Cinderella –– EllaOL.
• Inside Out –– Emotional wreck.
• Fantastic Four –– Four on the floor.
• The Martian –– Maroon jive.
• Spectre –– AutoBond.
• Creed –– Rocky blah blower.
• Dawn of the Planet of the Apes –– Monkey seize monkey doo.
• Star Wars: Episode VII - The Force Awakens –– Force square.
• Kung Fu Panda 3 –– Pander bare.
• Zoolander 2 –– Pose and cons.
• Zootopia –– Animal crappers.
• Batman v Superman: Dawn of Justice –– From Bat to versus.
What Critics are Saying:
Pan seer.
–– E. Basil St. Blaise
Order on Barnes & Noble
Order on Books-A-Million

To request a Review Copy please write to nowwhat@nowwhatmedia.com

Paperback • 110 pages • Full Color • 6"x9"