Love the Sinner, Hate the Cinema

Poison Capsule Reviews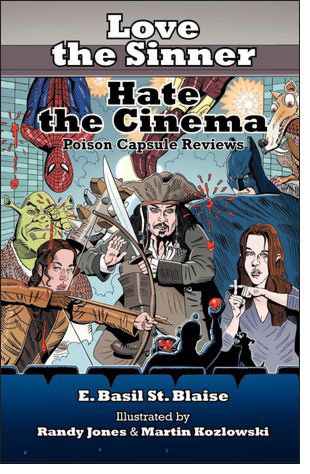 E. Basil St. Blaise, Now What's own curmudgeonly movie reviewer of few words and less tact, skewers everything from the biggest blockbuster to the artsiest indie in short, but sour reviews. In the new collection Love the Sinner, Hate the Cinema, culled from the Critic's Corner, he stares down the Not-So-Good, the Bad and the Ugly in the world of Cinema, and tears 'em all a new sprocket hole. Crix nix prix pix in over 1,000 nasty notices and they are accompanied by more than 100 illustrated send-ups of all the stars and their flicks by ace cartoonists Randy Jones and Martin Kozlowski.
Sample reviews:
• The Dark Knight Rises –– To the level of mediocrity.
• Dark Shadows –– The kiss of Depp.
• The Lorax –– Seuss and desist.
• Thor –– Thunder-achiever.
• Bridesmaids –– A three-skanky affair.
• The Hangover Part II –– Heir of the dog that bit.
• Rango –– Coma chameleon.
• Black Swan –– Swan flake.
• Twilight Saga: Breaking Dawn Part 1 –– Breaking down.
• Avatar –– Army vs. Na'vi.
• The Amazing Spider-Man –– Web drowser.
• Total Recall –– Total reek hole.
• The Bourne Legacy –– Intelligence leak.
• The Expendables 2 –– Sly and the Family Stone Age.
What Critics are Saying:
Recently we received a copy of a (very humorous) book of movie reviews that contains some of the most entertainingly hilarious and so, so true movie reviews that we wish that we had written it ourselves! Seriously.
–– Robert Sodaro / examiner.com

Pans labyrinth.
–– E. Basil St. Blaise
To request a Review Copy please write to nowwhat@nowwhatmedia.com

Order on Amazon:
Love the Sinner Hate the Cinema

Order on Barnes & Noble
Paperback • 104 pages • Black and White • 5.5"x8.5"