We were at MoCCA Fest 2022 on April 2 & 3 from 11:00 a.m. - 6:00 p.m. at the Now What Media table B176. It was great to be out and about again and it was a pleasure to see old friends like Bill Plympton, Rick Meyerowitz, Steve Brodner and Sam Viviano while peddling our books.
MoCCA Arts Festival took place at
Metropolitan Pavilion
125 West 18 Street
between 6th and 7th Avenues
in New York City.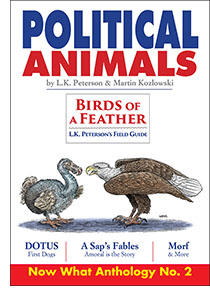 We premiered the long overdue
Political Animals: Now What Anthology No. 2
Fully-illustrated takes on the unnatural political order with talon-sharp wit. Including:
Birds of a Feather: L.K. Peterson's Field Guide
High-flying satire in an avian vein.
DOTUS
Modern Presidents and their pups.
Morf
A Kafkaesque tale of creepy-crawly demagoguery.
Lame Duck Theatre
The fowl aftermath of electoral defeat.
A Sap's Fables: Amoral is the Story
The parables of Jestus Equivicus aka A Sap get a modern retelling.
The National Zoo: A Mildlife Gallery
The very best beastly illustrations from inxart.com.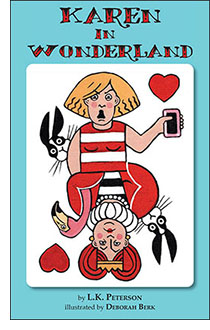 Plus the rioutous retelling of the Lewis Carroll Classic by L.K. Peterson
Karen in Wonderland
A trip down the rabbit hole sends Karen on a quest to speak to the manager, but everyone she meets along the way, from the Caterpillar to the Cat and some Mad Tea Partiers, just makes her furiouser and furiouser.
With drawings by Deborah Berk.
And we featured a wide selection of our other humor books and comics collections including Trump Tweets Alt-American History, Gertrude et Alice, and The Golem's Voice.
Creators Tom Hachtman, David G Klein, L.K. Peterson, Deborah Berk, Felipe Galindo and Martin Kozlowski were on hand to sign copies of their books.
For more info on the Festival, visit the official site.
Please like our Now What Media Facebook page.