Used/Reused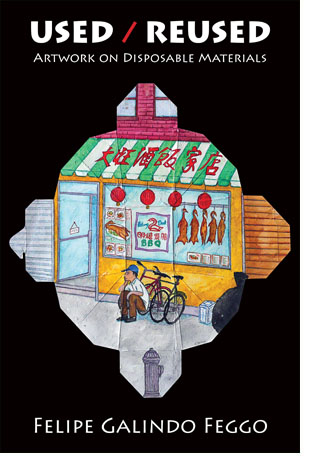 Renowned cartoonist Feggo, whose work has appeared in the New Yorker and numerous international publications, presents a delightful collection of indispensable drawings created on disposable materials. Upon arriving in New York City from his native Mexico, he was amazed by the diversity of packaged foods available, but appalled by the waste left behind. Thus Feggo began collecting interesting paper bags, boxes, cans, labels, cartons and food containers on which to create his Used/Reused series that captures the full range of pulsating life in the Big Apple.
This volume accompanies an exhibition of his drawings that transform these sad symbols of consumerism into deft, sympathetic and funny visual insights into his adopted home town. As he likes to say "one person's trash is another person's canvas."
From the back cover:
"Although the artists all share the immigrant experience, few apply themselves to studying their adopted land as thoughtfully as Felipe Galindo of Mexico. His drawings, in ink, watercolor or pastel, are on materials that most people discard as trash. Thus, on a cake box he depicts a delicatessen with beer signs using the plastic insert as a window; a bus transfer is grounds for a vignette of a couple waiting at a bus stop, and so on. For an adult, changing countries is like learning to walk again. Mr. Galindo's scratchy little observations sum up the awkwardness of it all."

– Vivien Raynor, The New York Times
Order on Amazon:
Used Reused
Order on Barnes & Noble
For more on the work of Felipe Galindo, please visit felipegalindo.com
To request a Review Copy please write to nowwhat@nowwhatmedia.com
Paperback • 82 pages • Color • 6"x9"