Taking Liberties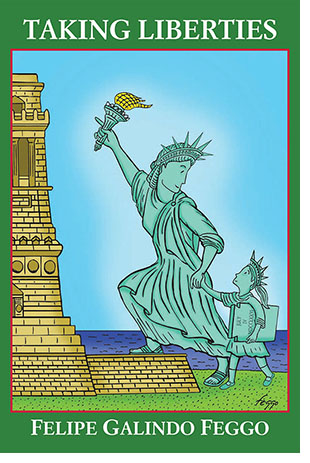 Renowned cartoonist Feggo, whose work has appeared in the New Yorker and numerous international publications, presents witty and engaged images inspired by the Statue of Liberty. It is an homage to the iconic symbol and a celebration of all it has come to represent from the perspective of an artist who came from Mexico to live and work in New York. Feggo's delightful illustrations cleverly place Lady Liberty in a series of imaginative scenes, and spark commentaries in both English and Spanish on issues such as social justice, immigration, and American life.
From the back cover:
"Few of the artists, in fact, make hay of their biculturalism, Felipe Galindo (aka Feggo) being a notable exception for his cartoony pictures, including one depicting the Statue of Liberty done up as a Day of the Dead skeleton.
On the bright side, Felipe's comic watercolors seem fresh, their delicacy is sympathetic to so much drawing these days. And what a wicked sense of humor Galindo has. Mexican artifacts enact absurd acts of revenge on Big Apple institutions."

–– Jessica Dawson, The Washington Post
Available at barnesandnoble.com
For more on the work of Felipe Galindo, please visit felipegalindo.com
To request a Review Copy please write to nowwhat@nowwhatmedia.com
Paperback • 82 pages • Color • 6"x9"