PK in the Terrarium

A Life in Books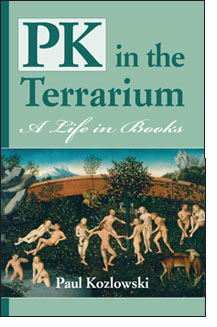 PK in the Terrarium collects the best posts from five years of Paul Kozlowski's blog on his life in books. It's a deeply felt and witty set of essays by an engaged reader, collector, champion and all-around lover of the written word. It is also the tale of a proud bookseller eager to share his passion with a distracted public, navigating a trade in the throes of upheaval and unpredictable change.
The diaristic entries deepen and darken as the author's musings on the books he's loved open up to the autobiographical reflections of a man of a certain age in an uncertain time.
The book begins with this simple passage and proceeds to chart a course through the terrain that lies between the mind and the heart:
Monday, February 16, 2009
The eternal desire for reciprocated love.

"That's what it's all about," said Quist. "That's why you do the things you do." Then he slapped his tobacco pouch on the armrest and took another sip of whiskey. "And the things you're gonna do."
Order on Amazon:
PK in the Terrarium

Order on Barnes & Noble
To request a Review Copy please write to nowwhat@nowwhatmedia.com
Paperback • 160 pages • Black & White • 5.5"x8.5"