Further Adventures

Now What Anthology No. 1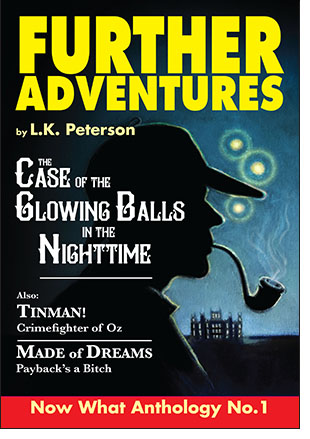 Suspense, Mystery & Revenge!
A Trio of Thrilling Tales Featuring Familiar Characters in All-New Adventures by L.K.Peterson.
Grab Now What Anthology No. 1 today for devilishly clever spins on three different pulpy genres set in London, Oz and Frisco and illustrated in classic comics style.
The Case of the Glowing Balls
in the Nighttime
From Dr. Watson's long-lost secret case files, the truth behind his cover story of what didn't happen to Sherlock Holmes. Illustrated by Thomas Kerr.
Tinman!
Crimefighter of Oz
A new witch in Oz and a string of daring robberies disrupts flying monkey business as usual. Can Tinman! save the day? Illustrated by Randy Jones.
Made of Dreams
Payback's a Bitch
Out of the past and into the noir future, a cold-blooded femme fatale heats up the streets of San Francisco in her quest for revenge.
Illustrated by Martin Kozlowski.
Order on Amazon
Further Adventures

Order on Barnes & Noble

Order on IndieBound
Paperback • 104 pages • Black and White • 7"x10"