En Pointe of Purchase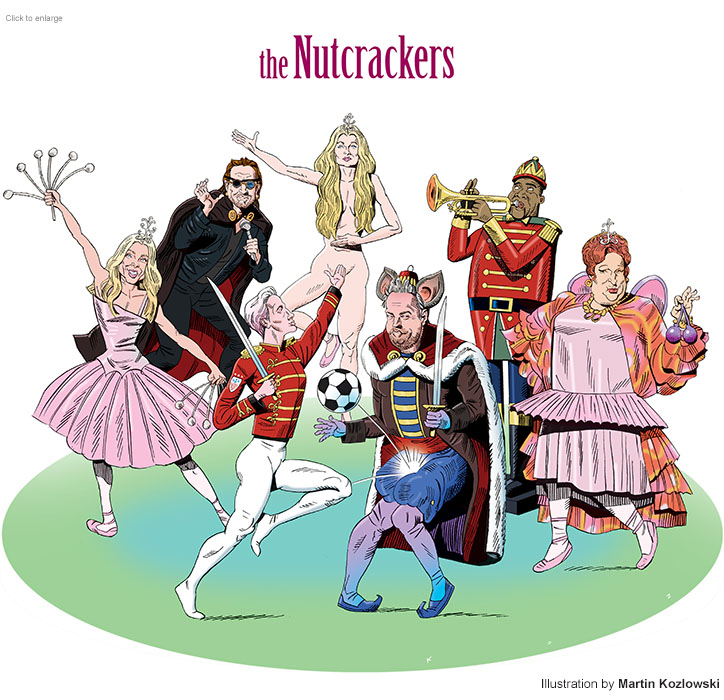 It's once again the Holiday Season when we generously gift you with a helpful buyers' guide for the reader or listener in your life. Not the reader who is constantly holding your mail up to the hallway light to see if you've received cash from your relatives nor the listener who has his ear pressed against your apartment door late at night, a rivulet of drool escaping his slack-jawed mouth. No, we mean those near and dear to you –– folks you're excited to bestow a holiday gift upon. Or perhaps those merely nearby to whom you've convinced yourself, through pretzel logic and corn chip guilt, you owe a debt of gratitude.
E. Basil St. Blaise, the shit in lit-crit and an audiophile with ears sharper then Mr. Spock's here offers Instacart Blanche like your personal shopper for a selection of Celebrity Memoirs (or Celemoirs) and Christmas Albums (or Crap.) Hunkered down in his mobile HQ parked somewhere in the Midwest, as close to an Amazon distribution center as possible, he's preparing for the latest Polar Vortex or Bomb Cyclone.
He explains, "I've got plenty of that de-icer that doesn't sting your precious pet's feet, but when I take Josef, my Affenpinscher, for 'walks' in this hellish weather I carry him all the way, holding him aloft and away when he needs to…y'know –– like Rafiki with Simba. Inside the RV, I've put weather stripping all around the door and windows and fortified myself with a Santa's Sack cocktail which is stuffed with every alcoholic goodie the old boy fantasizes about when he's sipping all those glasses of milk. And these meterologists with their apocalyptic lingo! It's like they're writing for the MCU and trying to outdo Thanos. What's next? Nuclear Tempest? Mega Maelstrom?"
Oh, and I note that the editors are illustrating this edition with a spoof of Tchaikovsky's The Nutcracker ((1892) –– Sucker plum fairy.) which I believe is fairly accurate when you consider all the sheer fantasy and ball-busting these bios contain. Plus what Harvey's holding usually ends up in my cocktail.
I've helpfully split the books by gender –– itself a risky proposition in the current climate –– because I wanted to sequester the real drama queens. In category number two."
Memoirs: Hers-ish
The Queen: Her Life by Andrew Morton –– Mes Liz.
No Filter by Paulina Porizkova –– Not even for nude selfies?
Dying of Politeness by Geena Davis –– Geena therapy.
Live Wire: Long-Winded Short Stories by Kelly Ripa –– Jack the Ripa.
One Life by Megan Rapinoe –– To loathe.
Making a Scene by Constance Wu –– Fresh off the bloat.
Lady Gaga: Applause by Annie Zaleski –– Gaga black sheep.
The World's Worst Assistant by Sona Movsesian –– Solo bad O'brien.
St. Blaise reflects on his literary and musical choices. "We eagerly read the lives of the glamorous Other with all the joys and tragedies of the human condition laid bare like any mortal's for one reason and one reason only –– schadenfreude. And those Christmas albums? I have no idea."
Memoirs: His-sy Fits

Friends, Lovers and the Big Terrible Thing by Matthew Perry –– Perry wankle.
A Heart That Works by Rob Delaney –– Grief sicken.
Number One Is Walking by Steve Martin –– Number Two is talking.
I Was Better Last Night by Harvey Fierstein –– Wit-crit.
The Nasty Bits by Anthony Bourdain –– The naughty bites.
Waypoints: My Scottish Journey by Sam Heughan –– Scotch on the knocks.
Like a Rolling Stone: A Memoir by Jann Wenner –– Wenner and losers.
Bibi: My Story by Benjamin Netanyahu –– Let it Bibi.
Beyond the Wand by Tom Felton –– Slytherin succotash.
Boldly Go: Reflections on a Life of Awe and Wonder by William Shatner –– Kirk ass review.
Surrender by Bono –– I give up.
Wild: The Life of Peter Beard by Graham Boynton –– Blue Beard.
The Extraordinary Life of an Ordinary Man by Paul Newman –– Newman's land.
Waxing On by Ralph Macchio –– Waxing off.
How Y'all Doing?: Misadventures and Mischief from a Life Well Lived by Leslie Jordan –– Don't get shorty.

Slipping on his headphones, St. Blaise intones, "I never read the set list or liner notes before I listen to these collections. I merely close my eyes, open my heart and pray for a Christmas miracle. That it doesn't contain Little Drummer Boy ((1941) –– Bah rump, bum bum bum.)"

Christmas Albums
Santa Baby / Alicia Keys–– Treble without a Claus.
Everybody Knows It's Christmas / Chris Isaak –– Isaak haze.
A Neil Diamond Christmas / Neil Diamond –– Neil down.
Louis Wishes You a Cool Yule / Louis Armstrong –– No Satch luck.
A Very Backstreet Christmas / Backstreet Boys –– Backstreet abortion.
Winterlicious / Debbie Gibson –– Eats the yellow snow.
this is our Christmas album / Switchfoot –– Sole-less.
Merry Christmas, Love / Joss Stone –– Joss-dropping.
A Nelson Family Christmas / Nelson –– Empty Nelson.
Another Kind of Christmas / Ne-Yo –– Ne-yo Natale.
Christmas Songs / David Foster & Katherine McPhee –– The old man and the C.
Spirited: Soundtrack from the Apple Original Film / Various –– Spirited oy vey!
Listen to E. Basil St. Blaise on his Critic's Corner Podcast.

12/23/22